Nissan's track-based grudge match with Porsche has involved Skylines and GT-Rs of various types over the years. But this neat little video from Nissan telling the story of the first on-track encounter back in 1964 at Suzuka is a fascinating history lesson in where it all began.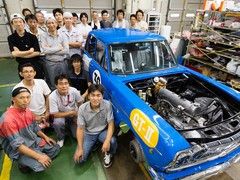 Nissan's unlikely Porsche challenger is back
Namely with a seemingly mis-matched battle between the very first Skyline - based on the three-box Prince saloon - and the sleek and beautiful 904 Carrera GTS. Seeing the two on the same track seems bizarre enough, that the Skyline GT was able to get anywhere near the Porsche the more so.
The full story is in the video so brew up, grab the seasonal accompaniment of your choosing and enjoy.