With one eye on the lucrative US market, the second-generation MR2 was bigger, heavier, faster and better-equipped than the first - much more baby Ferrari than Fiat X1/9. But the UK was the second-biggest MR2 export market after the US, so Toyota did fine-tune the car's handling on UK roads, and added twin-piston front brakes from its JDM turbo model - albeit without ABS.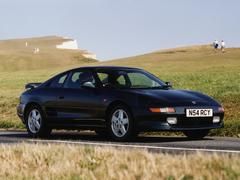 To think this came out 27 years ago
Two UK versions were available at launch in April 1990 - a sluggish 119hp base model at just £14,000 (recognisable by the lack of a rear spoiler) and the more popular £15,440 137mph GT model, which had 160hp and hit 60 in just 7.6 seconds. A top-of-the-range leather-clad targa GT T-Bar model followed later, at £16,650.
Lucky Japanese and US markets got a real gem in the form of a turbocharged 2.0-litre model, initially with 228hp and 224lb ft of torque. That hit 60 in just 5.7 seconds, while later 248hp models beat it in just 5.4 seconds. Toyota UK never offered the turbocharged model, no doubt worried about the potential impact on sales of their already slow-selling Celica GT-Four coupe, but many examples subsequently found their way to UK shores as personal imports.
Few buyers opted for the optional four-speed auto, as with the Mk1. Power from the normally-aspirated 3S-GE engine rose to 173hp from 1994, and the Japanese NA model saw another power hike to 200hp in 1998 just before Gen 2 MR2 production ended.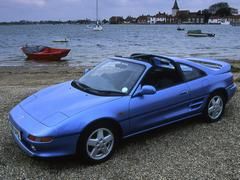 Many drivers found the switch from under to oversteer in the early Mk2 models came just too quickly for them, especially in wet or icy conditions, and many were crashed as a result - I can vouch for this myself! But the second-generation MR2 boasted a brilliant driving position with the driver's left arm resting conveniently on the transmission tunnel, a lovely short-throw gearshift, strong standard brakes, and highly enjoyable handling in the dry. The bigger boot takes a full set of golf clubs and a folded trolley too - if you're that way inclined.
JDM models included a base model G, a better-equipped G-Limited similar to the UK GT model, a GT-S - effectively a turbocharged G Limited - and the range topping GT with turbo power plus leather and Alcantara trim. Successive revisions over the years saw improvements in all aspects of the car and owners still identify each model like this - e.g. revision 2 - right up to the final 1998 rev 5 version which featured the new 200hp base engine. Key changes were an improved suspension and revised tyres for MY1993 rev 2 cars (to reduce the snap oversteer tendency) and rev 3 for MY1994 which brought greater power for all models. A 10th Anniversary MR2 GT UK was launched in February 1996.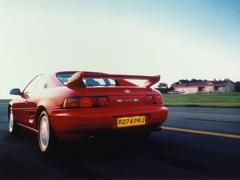 Later the better as far as Mk2 MR2s go
The Mk2 turbocharged car had much motorsport success in Japan's GT Championship plus various US motorsport competitions, as well as forming the basis for Toyota's Le Mans Car - the SARD MC8-R, which carried a 600bhp twin-turbo V8 engine. A huge sales success, around 140,000 Mk2s were sold worldwide, and Toyota Racing Development (TRD) also offered official bodykit from 1998 to match its TRD2000GT Race Car, along with many other tuning parts.
17,647 Mk2 MR2s were sold in the UK and prices for good examples now start at £3,000, but the most popular JDM turbocharged variants command a good deal more. "Originality and condition are key whether you're looking at a UK or a Japanese model," Robert Redman confirms, "And personally, I'd probably go for a post-93 T-bar manual, keep it standard, but enjoy using it!"
Many feel the second-generation car makes the best track car: "The longer wheelbase and wider track make the handling a bit more predictable, and there are more tuning options for the engine and running gear," Robert points out. And Luke Bliss feels that the Mk2 Turbo offers superb value too: "300hp, mid-engined, rear-wheel drive with a limited-slip diff for a couple of thousand pounds - where else could you get a similar setup?"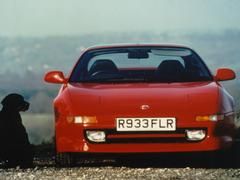 There are some MR2 pups out there, so beware...
The most sought-after Mk2s are the late-model rev 5 turbos, with very few examples in the UK. Some owners of UK models added forced induction but these just don't have the same kudos. The Japanese run-out edition of the normally-aspirated model is also in demand - it featured a race-inspired revision of the 3SGE engine "With the addition of variable valve timing, coil-on-plug ignition, velocity stacks and a phenolic barrier. These are the rarest of the rare and easily identified by their bright red cam cover and inlet manifold and the BEAMS (Breakthrough Engine with Advanced Mechanism System) decals." Patrick Mortell explains.
A full service history is essential - pre-1994 cars should be serviced every 6,000 miles, with the post-1994 models only requiring a service either every 9,000 miles or 12 months. Make sure all electric toys work properly and there shouldn't be any suggestions of a blown head gasket. Turbocharged models have been modified to well over 400bhp and are popular on the Jap performance scene, whilst a few owners have even swapped engines to produce a V6 NA car, usually using either a Toyota unit from a Camry or a Lexus RX300. So, double and triple-check the provenance of the Mk2 you're looking at.

---
Buy if: performance, practicality or tuning potential are important
Don't buy if: you're after a collectable classic - unless it's a mint, low-mile rev 5 or JDM turbo
We found: 1993 Red Rev 2 UK GT, full-service history, 76K miles, £3,500
Price Guide
Poor: Under £3,000
Good: £3,000 to £8,000
A1: £8,000+
Special Editions: Rare Rev 5 GT-S and GT Turbos can fetch up to £10,000

---