Some cars have a knack of lying under the radar. The Mazda Xedos 6 is one of them. Combining fine quality with a sweet little V6, this neglected 3 Series rival should pique the interest of any self-respecting Shedman.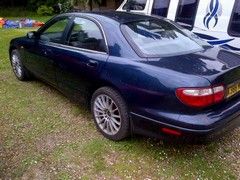 Xedos 9 Miller? No, nor us but Shed's excited
To that end, Shed had not one but two very nice late-model Xedos 6s lined up for your delectation this week.
Then out of nowhere, or Melton Constable in Norfolk to be more specific, came this: a Xedos 9 Miller. Which, for them as don't know, is a rather interesting car. So much so that Shed has put his Xedos 6 story on the spike for now, just next to his mucky book collection. He assures us there'll be more 6s along later, but decent examples of the 9 Miller just don't come around often enough for them to be ignored. Especially when they're under £1,000, with plenty of tax and MOT, like this one.
The sub-brand known as Xedos - pronounce it how you will, Shed refuses to get involved -was Mazda's V6-powered, front-driven attempt to take on the best Euros in the exec and compact exec markets. The 140hp 2.0-litre 6 was its 3 Series, the 170hp 2.5-litre 9 its 5 Series. Both were launched in 1992 and put on sale the following year.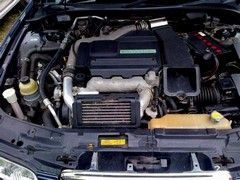 Twin-screw (fnarr, etc) supercharger livens things
Build quality was great, as was the kit count, but nobody really got the Xedos thing and the Germans were largely untroubled.
Then, in October 1998, something weird happened. Mazda sneaked up on its 9, rudely ripped out the 2.5 and shoved in a twin-screw supercharged 2.3-litre Miller cycle V6. It was the only Miller cycle engine in production at the time. Subaru revealed a hybrid concept in 2005 using this same principle, but Shed thinks the only one you might be able to find nowadays is lurking quietly somewhere in the Mazda2 range.
Without getting overly technical, the Miller cycle is a bit like the delayed valve operation of today's increasingly trendy Atkinson cycle engines. It's a sort of five-stroke. By keeping valves open for longer, it requires less energy to complete the compression stroke. The downside is it's not as efficient as the standard Otto cycle motor, but the supercharger fixes that. And the surprising extra upside is that fuel consumption is superior to the old 2.5's: mpg figures in the low 30s are definitely achievable, not bad for a 1,540kg, 143mph saloon.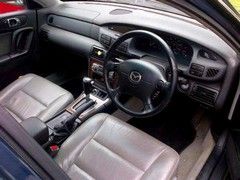 Leather lined luxury with an Oriental flavour
This KJ-ZEM Miller engine was lazier than the 2.5 but, as you'd expect, quite a bit punchier in the midrange. Peak power of around 210hp at 5,300rpm and 214lb ft of torque at 3,700rpm gave the 9 Miller a brisk 0-60mph time of nine seconds. Slightly hesitant kickdown means the auto 'box isn't as smooth as the ride which, courtesy of multi-link suspension, is excellent. This car was aimed squarely at the best Euro execs, remember. Its rigid bodyshell, polyurethane-filled roof pillars and extensive sound-dampening were designed to give it a fighting chance against the Mercedes equivalent. As a consequence the 9 will tick the boxes of even the most demanding wafter.
To celebrate the Miller's arrival, Mazda gave the 9 a quick comb-over inside and out, producing what some might consider to be a clean and comely result. Normally the mention of Wolfrace wheels provokes a weary sigh, but in this case all it means is that the 9's original, easily-buckled BBS wheels have gone the way of (by now probably) all the original Xedos 9 BBS wheels. And those Wolfies have a certain retro charm.
The Xedos 9 Miller lasted for less than three years, which seems a pity, but that mayfly lifespan obviously enhances its rarity value. The KJ-ZEM regularly featured on 'best engine' lists, and now has a very good reputation for reliability. Take the plunge on this one and you can be reasonably sure that it will be the only one not just in your street or town, but most likely in your county. Enjoy the great taste of Miller.
Here's the ad.
MAZDA 4 DR SALOON XEDOS 9 SUPERCHARGED, MOT MAY 2014, TAX NOV 13  , CLEAN IN AND OUT, GOES VERY WELL, EXCEPTIONALLY NICE DRIVE, MINI DISC/MULTICHANGER CD STEREO, GOOD TYRES ALL ROUND ON 17 INCH WOLFRACE WHEELS, LEATHER INTERIOR ALL IN VGC, ALL ELECTRICS IN GWO, E/S/R, E/W, C/L ON FOB, ALARM, IMMOBILISER, AIR CON , IN GWO, CANT FAULT IT , FOR SALE TO FINANCE 7 SEATER. £999.