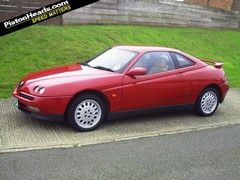 It's red. It's a coupe. It's got that coveted Pininfarina badge. It's even got an MOT until next April. And it's an Alfa Romeo.
And we really should just stop writing about today's Shed of the Week right now, because if we need to say anymore about this car, then you probably shouldn't be reading SOTW. Heck, maybe you shouldn't even be on PH.
But just in case you don't quite understand why we've selected a flaky front-wheel drive Italian coupe with a six-figure mileage as this week's shed of choice (and actually we can see where you might be coming from there), allow us to explain our logic.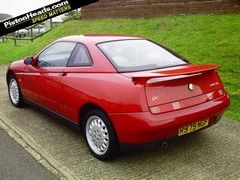 It's a horrific cliche to say that you're not a true petrolhead until you've owned an Alfa Romeo but, like all the most annoying cliches, there is some truth in it.
This is because the decision buy - and then run - an Alfa is something you are far more likely to do with your heart than with your head. Nobody (at least nobody with any sense) has surely ever bought an Alfa Romeo expecting it to provide them with years of faultless, trouble-free transport. From time to time that might [i]happen, but as an Alfa enthusiast you'll be happier living in hope rather than expectation.
But the key is that a good Alfa is more than the sum of its parts (fortunate, in many cases). It looks good, it feels good. It makes you feel good. It's more than just an appliance. And that is why every true enthusiast should own one at some point - because it is the essence of why cars are more than just transport (and sometimes not even that).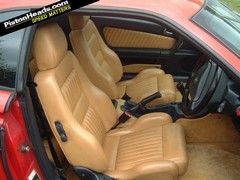 And so we come to why an Alfa Romeo shed is such a gem: it's a genuinely cheap way to scratch that Alfa itch (something, I'm ashamed to say, that I have yet to do). After all, even if it does go epically wrong, you're only going to lose £975 quid.
Having said that, this particular Alfa GTV looks to be a clean, honest car in reasonable mechanical and cosmetic condition. Could be the perfect car for an Alfa novice. In fact I do hope somebody buys it soon, because I can feel my wallet twitching already...
Advert is reproduced below
Alpha Romeo GTV, 2.0 T-Spark 16V (1997)
101,500 miles £975
Leather Interior, Electric Windows, PAS, Electric Door Mirrors, MOT April 2011, Taxed Jan 2011, 101,500 Miles, 3 Prev Owners, New: Tyres (Pirelli P6000), Clutch Master/Slave Cylinder, Front Wheel Bearings, Factory Rear Spoiler, 8 Disk CD Player/Radio/Cassett, Factory Carpet Mats, Original Handbooks & Workshop Manual(CD), Manufactured 1997 & Registered Aug 1999.