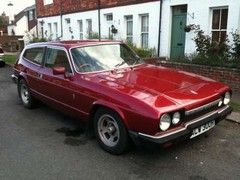 If you've read
Chris-R's first drive of the new Ferrari FF
and love the idea of Ferrari's new hyper-hatch, but your budget is more shed than supercar, then today's SOTW might just provide the answer.
It's got the same four-seat GT MO, the same rakish breadvan looks and - well - that's about where the similarity ends. But for £500 you can't expect miracles, can you?
What you can expect, however, is a reasonably tidy-looking Reliant Scimitar GTE SE6. Okay, so you get half the cylinders of the Ferrari and only two driven wheels. But they are at least the correct wheels (the back two) and that 3.0-litre Ford 'Essex' V6's 138bhp was originally enough to sling the fibreglass-bodied Scimitar to 60mph in 8.5secs and on to a 120mph top speed (although Autocar only managed -60mph in 10.7secs and 117mph flat out in October 1968).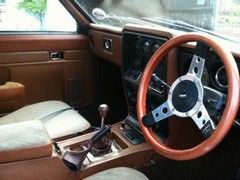 There are issues associated with Scimitar ownership, however. Anyone you meet who knows a bit about cars will tell you that 'Princess Anne had one of those, you know' (eight, actually), while those with no interest in cars will think you drive a genuinely hateful three-wheeler when you say you own a Reliant. Both of which we imagine would quickly become intensely annoying.
Still, if you're thick-skinned enough to ignore the three-wheel/Princess Anne comments the reward is a quick, spacious GT that could provide an easy way into classic motoring, courtesy of a simple Ford V6, plastic body and uncomplicated steel backbone chassis.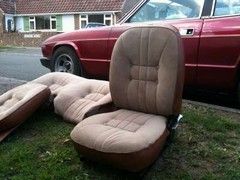 This particular car isn't exactly in concours condition, though. It does have five months of MOT, but the seller admits it's got clutch issues and some electrical problems. Still, you should have at least £500 left over in your Shed budget to sort the worst of the niggles. And it'll still be a heck of a lot cheaper than a Ferrari FF.
So: £500 to pretend you're a royal? Sounds like better value than £230k to pretend you're a footballer...
Advert is reproduced below
1977 Reliant Scimitar SE6 For Sale
£500 ono
Great project car, which I wont be able to finish as I am off abroad to work. Car runs well and has MOT for5 months.
I have a new set of front and back seats in great condition and a full carpet set. I also have various parts to complete the car. Paint is quite good but therer are patches of blistering and crazing but no majpor cracks. The front spoiler is broken and there are a few electrical issues. The clutch gets sticky when the engine is warm. This is not a drive-away purchase. The car runs well but needs some TLC.
Please feel free to come and view. The car is currently on sorn. Good amount of history.