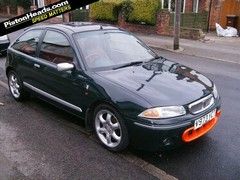 For those who need reminding, Rover was once a marque that did some pretty cool things. Like teaming up with BRM in the 1960s to create a gas-turbine Le Mans racer.
Sadly, finding a Rover-BRM in Shed territory is not going to mean you've stumbled across a hitherto-unknown example of the car that took Graham Hill and Jackie Stewart to tenth place in the 1965 Le Mans 24 hours (the best-placed British car).
No, the far more likely Shed of the Week is going to be the other Rover-BRM. The one that was actually a Rover 200.
But before you throw your laptop out of the window, angrily crying 'SOTW ain't what it used to be', bear with us. Because, although the 1990s-era Rover 200 was hardly a cool car, the BRM version was by most accounts a pretty decent motor.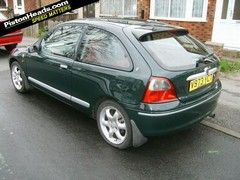 It was based on the 200vi, so provided peppy performance from its 143bhp variable valve timing K-series, and Rover lowered the ride height, sharpened up the dampers, fitted a close ratio gearbox and dropped in a Torsen diff from the 220 Turbo.
The BRM was visually enlivened, meanwhile, with Brooklands Green paint and a bright orange grille (a homage to the trademark orange noses of the 1960s BRM F1 cars). Inside there was quilted red leather, red carpets, and turned aluminium trim.
The result is an odd mix of conservatism and flamboyance but, while the ignorant may think you a bit of a chav, the cognoscenti will realise that you have obtained one of the most underrated performance hatches of the 90s. It's rare, too, with fewer than 800 cars made for sale in the UK.
This particular example has done a moderately average 72k miles, comes with some service history, plenty of MOT left, and is in allegedly good condition inside and out.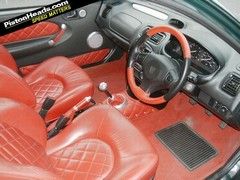 However, it also comes with
that
notoriously flaky K-series motor, so we'd recommend checking through that service history carefully. Having said that, the K-series is often unfairly maligned and, properly looked after, should give you no undue trouble.
So, provided you can bear the occasional accusation of chavviness, and can put up with all those bores who insist your engine will implode every time you drive to the shops, you could have a BRM on your drive for less than a grand. You'll just have to pretend it's a 1960s F1 car...
Advert is reproduced below
RARE Rover BRM Limited Edition (1 Of Only 700 In The UK) (1999)
71,648 miles £995
ROVER 200 B.R.M LIMITED EDITION
3 DOOR HATCHBACK
1.8 VVT 16v TWIN CAM ENGINE

BROOKLANDS GREEN
POWER STEERING
ELECTRIC WINDOWS
ELECTRIC MIRRORS
ELECTRIC SUNROOF
REMOTE CENTRAL LOCKING
ALARM/IMMOBILSER
JVC CD PLAYER

FULL RED QUILTED DIAMOND STITCHED LEATHER INTERIOR 
RED CARPETS
FULL CHROME TRIM INSIDE & OUT
ORIGINAL B.R.M 16" SIX SPOKE ALLOYS
GOOD TYRES ALL AROUND
ORIGINAL RED AND BLACK SPORT STEERING WHEEL
FRONT FOG LIGHTS
CHROME GRILL
VERY GOOD CONDITION INSIDE

147 BHP
LIMITED EDITION
ONLY 700 WERE SOLD IN THE UK

LOW MILEAGE
SERVICE HISTORY PRINTOUT

12 MONTHS MOT
5 MONTHS TAX

NEW DISCS AND PADS
NEW WHEEL BEARING

DRIVES BRILLIANT

BODYWORK IS GOOD FOR ITS AGE
NO DENTS