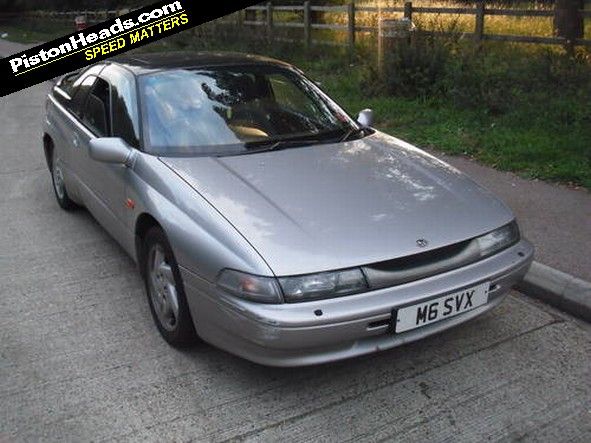 Not wishing to miss out on the quirky Subaru coupe fun that we've been indulging in recently, Shed has come up with its own take on the theme, rummaging through the darker, deeper recesses of the UK's classifieds listings, and emerging with this, a leggy-but-tidy Subaru SVX.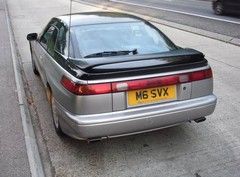 This car is actually the direct successor to
the origami-tastic Subaru XT we featured as a 'spotted' the other day
, only this time around Subaru and parent company Fuji Heavy Industries looked to legendary Italian designer Giorgetto Giugiaro to give it something resembling a pretty body shape. Given the past and future performances of Subaru's design team, you've got to say they made a good call with that one...
...The car itself was probably not quite such a good call, however. During its six-year life, fewer than 25,000 examples found customers, and Subaru reportedly lost a hefty sum on each one sold.
Which was a shame, really, because with those concept car looksand a 3.3-litre quad-cam boxer six, the SVX was an appealing cruisy coupe. It was built for comfort and refinement but, with 230hp and 228lb ft of torque, the SVX still managed a decent turn of pace.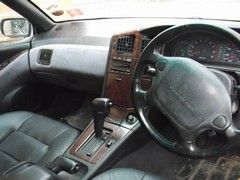 Early cars were plagued by transmission failures as the automatic gearbox was prone to overheating, a problem that was later rectified. Other known problems include the excessive wear of rear wheel bearings due to insufficient lubrication and water seepage.
This particular car has a fairly leggy 192K miles beneath its belt, and has the battle scars to prove it, from the sound of things. But most things seem to be in working - especially that notoriously flaky gearbox - although the slight oil leak from the rocker covers would have us mildly worried.
Still, it's a lot of very rare GT for the money and, provided you actually like having to tell everybody you meet exactly what it is (we presume the registration plate would help a little with that) could prove a most waft-tastic companion.
Cheers to C8H18Head for the spot!
Advert is reproduced below
1994 Subaru SVX, original UK car not a grey import. £850 

MoT'd until September, although the tax has just run out. It's done 192,000 miles - the flat-6 SVX engine is known for being long-lived though and it runs fine and pulls like a train. The gearbox and four wheel drive are all working fine. The only mechanical issues are the usual slight oil leak from the rocker covers that all Subaru boxer engines seem to develop, and the power steering belt slips when cold - I have a replacement but haven't got around to fitting it. It drives well and has been completely reliable during my ownership. It's also better on fuel than I'd expected, thanks in part to fairly high gearing which means it's a very relaxed cruiser on the motorway.

The interior is in pretty good shape for the age and mileage, although there's some wear on the driver's seat side bolster in the usual place. Everything works as far as I'm aware, including the cruise control, but I think the air conditioning could do with a regas as it doesn't get very cold.

The body and the underside are very sound. There are a few odd rust bubbles, mainly around the rear arches, but nothing major. There are also a few scratches and scuffs as you would get on any car of this mileage, most noticeably on the front bumper, but nothing that couldn't be easily tidied up.

For any more information please call or email.