A delightful aspect of Lotus ownership is never quite knowing whether the next drive is going to involve agony or ecstasy. Some people might consider this unpredictability to be a flaw, and they tend to become ex-Lotus owners rather quickly. I guess the fact I've still got mine means I'm slowly learning to accept it as part and parcel of the Lotus experience.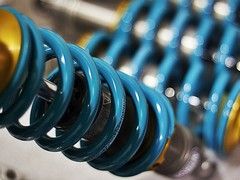 New dampers brought a spiky edge to handling
Last month began with some welcome highs. It's been just over a year since I had the
on the Elise. Alongside refurbished wishbones and a full complement of new bushings and balljoints the old Bilstein fixed rate dampers were replaced with Nitron NTR units. These units feature a simple damping adjuster that tunes both compression and rebound in ratio via a single dial. Of course, despite paying a premium for all the bells and whistles I've not touched them since they were fitted.
My trip to Scotland, however, gave me the motivation I needed to, er, get underneath the arches and have a fiddle. On amazing roads, which should have perfectly suited the Elise, I was treading on eggshells. If I'm honest, I've lacked a bit of confidence in the car ever since the suspension was overhauled. Undoubtedly the damping had much more control, and the ride over small bumps was considerably improved, but I always felt that the limits were uncomfortably angular and abrupt, that push too far and it would snap without warning. Consequently I've always been pretty circumspect behind the wheel. This narrowing of the performance window was something alluded to in one of the comments when I took it to Brands Hatch last year, but I'm ashamed to say it's only now that I've gotten around to doing anything about it.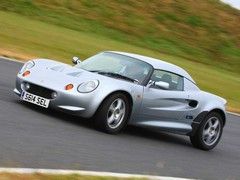 Softening things off has transformed confidence
Getting at the adjusters was pretty simple, and after a few minutes fiddling I had gone from 10 clicks front/12 clicks rear from full hard to five clicks front/four clicks rear from full soft. And what a difference it has made. The car is completely transformed. Obviously I've still got the excellent compliance I had before, but now there's a much greater depth to the suspension travel. There's now a small amount of body roll, and the dampers now load up progressively, really communicating the forces being channelled through them. Where before there was a wall of silence leading up to a massive tantrum, now there's a constant dialogue. I'm happier, the car feels happier and all it took to make things click were ... a few clicks.
The handling transformation came just in time for an enjoyable (and roofless, you'll be pleased to hear) drive down to Goodwood for the Festival of Speed followed by a track day at Bedford accompanied by an Elise owning colleague. His car is an immaculate S1 TT190 with the Turbo Technics Supercharger kit and it's also running the Nitron NTR damper, but set up much closer to standard ride height, so there's a bit more suspension travel.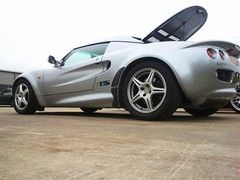 And then something else went pop...
This extra body movement on his car was noticeable even from the passenger seat, although it felt like the dampers took equally good care of controlling that travel as they moved through the stroke. More obvious still was the extra power and torque; while my S1 Sport 135 is all about the top end, the TT190 just surges away from lower revs, despite its taller gearing.
But if that sounds like the prefix to another round of upgrades, it's not. I've reached a point where everything seems to be gelling perfectly, and I'd be mad to jeopardise that balance. It's more at home on track than it's ever been - poised, communicative, adjustable - and on the road it's better still. So, does that mean there's harmony at last in our relationship? Sadly no, because on the drive home from Bedford I lost all power and the car spluttered to a halt just half a mile from my house. The likely cause is a melted alternator, but I've yet to get it in for the full diagnosis. Highs and lows; the bread and butter of Lotus ownership.
---
Fact sheet
Car: 1998 Lotus Elise Sport 135
Run by: Danny Milner
Bought: October 2010
Purchase price: £9,500
This month at a glance: Suspension fettling brings new levels of confidence and enthusiasm, only for the bubble to burst thanks to alternator problems.

---