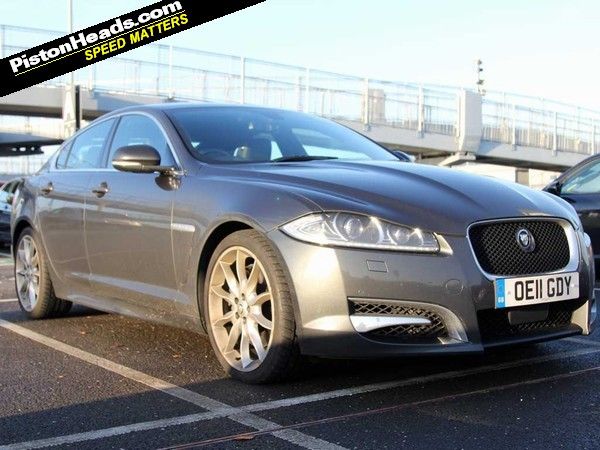 As Jaguar strives to find its niche within the rapid Germanification of the luxury car sector, it's an interesting time to be using an XF Diesel S on a regular basis. I have now covered 3,500 miles in the fastest diesel Jag - even in those few months the relentless pace of model launches from BMW and Audi has seen the
monster M550d
and Audi's impressive bi-turbo A6 leave the XF's 275hp looking a little second division.
In truth the XF does now feel like the twilight product it actually is - last year's clever facelift has left it looking, to my eyes, very attractive - but it is ageing with uncommon grace and in a strange way its age lends it a sage-like feel from behind the steering wheel. Audi, BMW and Mercedes will offer you more modern, accomplished electronic navigation and general in-car electronics, but for pulse-lowering deportment this car takes some beating.
The low-speed ride issues from a cold start I reported a few weeks back still persist. I am now convinced the dampers need to warm-through on colder mornings. Once at operating temperature the car becomes a firm-riding sporting saloon capable of hitting 0-62mph in a claimed, and believable, 5.9sec. According to the trip computer it will average 39mpg on longer motorway trips. For someone who travels long distances, balancing the personal needs of performance with crippling fuel costs, I have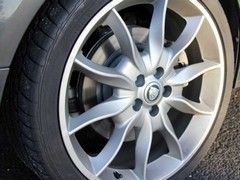 Ride better when warm but are 20s too much?
to say it's a hell of a trick. I know the Germans claim to go faster with greater frugality, but to anyone like me accustomed to fuelling and living with V8 petrol-powered machines for several years, this car is a bit of a revelation.
But the petrol boys are fighting back, and I recently averaged 26mpg in the new bi-turbo E63 AMG. To travel at a similar speed in the XF-S sees consumption drop to 33mpg.
I do wish this car's chassis was a little more comfort-biased though. My mate and journalist Andrew Frankel is running the smaller 2.2 diesel XF for Autocar and on its smaller 19-inch wheels and less aggressive spring rates it flows over bad surfaces in a way this car does not. With a lazy 442lb ft and the brilliant eight-speed ZF automatic, the rest of the XF package is perfectly set-up to welcome a pillowy ride. I would love to try a non-Portfolio spec car on the smaller 19-inch wheels, rather than these 20s and their Dunlop tyres.
Depending on your outlook, at night the cabin either defines a brave new Jaguarness, or looks like a Tron-themed brothel. I'm in the first camp. The way the blue LEDs follow trim lines and architecture is a brilliant diversion from the norm. It brings about a serenity and sense of wellbeing missing in any of its rivals. Daytime robs it of the chance to play that trick, but then the rotating air-vents are a good substitute. It all feels slightly cut-price-Rolls-Phantom, and that's meant as a big compliment.
There are frustrations with the control interfaces. The universal touchscreen-jobbie isn't the most intuitive or fastest way to get things done, but once you know its limitations and afford it some patience, it works fine. It also offers one of the best sat-navs for simply inputting UK postcodes and pressing 'go', a function I find very valuable.
The B&W hi-fi is good, if nothing like as impressive as the amazing kit found in the XJ. I'm wrestling with the iPod interface though. If my iPhone is Bluetooth linked to the car, the iPod will play for about 20 seconds then cut out. The upside to this is a (forced) introduction to the wonderful world of BBC 6Music through the optional £300 DAB radio. I don't use the wheel-mounted volume control because my thumb doesn't like its location. This might be the fault of my simian thumbs, so I am actively investigating the situation and will report back.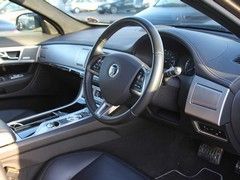 Plenty to enjoy here and full of character
The seat is a little unsupportive for a shorty like me, and I have never liked the current Jag steering wheel with its five-inch thick 'spoke'. That said, I spent seven hours in the car last Thursday and didn't feel remotely fatigued. This I put down to the XF's one truly remarkable trait, its lack of wind noise. At a motorway cruise, this car is so quiet that Whisper from
Live and Let Die
would need to lower his voice to avoid startling fellow occupants.
I never opt to select gears manually, partly because the gearbox appears already to be hardwired into my brain, partly because the plastic paddles have the texture of an ice scraper. It's an example of perhaps the XF's biggest problem: if you scratch beneath the surface some of the trim just doesn't match the standard of the German brands. That's not to say it feels badly flimsy, more that the new 5 Series has upped the game standard.
There are several options fitted to this test car. They range from the genuinely useful (that DAB radio and the £240 heated steering wheel) to the completely forgettable £450 'JaguarVoice', all the way down to the drastic depths of the £460 Blind Spot thingy that confidently guided me into the path of a spiritedly driven Luton van. Apologies to the driver.
If the XF Diesel S doesn't quite match those newer rivals, it does pose an interesting question to potential buyers in that it offsets nearly all of its objective inferiority in being so damn attractive too look at and in not being another grey German saloon car - I know, just imagine this particular example isn't metallic grey.
£49,100 is big money, but then traveling in near silence with 442lb ft to blow away dawdlers with the prospect of nearly 40mpg is quite a repertoire. I just wish the ride was sweeter.

---
FACT SHEET
Car: 2012 Jaguar XF Diesel S
Run by: Chris Harris
On fleet since: March 2012
Mileage: 12,500
List price new: £53,670 (base price £49,110 plus £1,275 for Adaptive Cruise Control with Intelligent Emergency Brake and active seat belts, £460 for Blind Spot Monitor, £240 for heated steering wheel, £700 for digital/analogue TV, £300 for DAB, £275 for heated windscreen with timer, £360 for 60/40 split/fold rear seats, £450 for JaguarVoice and £500 for front parking aid with visual indicator and reversing camera)
Last month at a glance: Still curious about the dampers' cold weather behaviour, mainly impressed by comfort and refinement