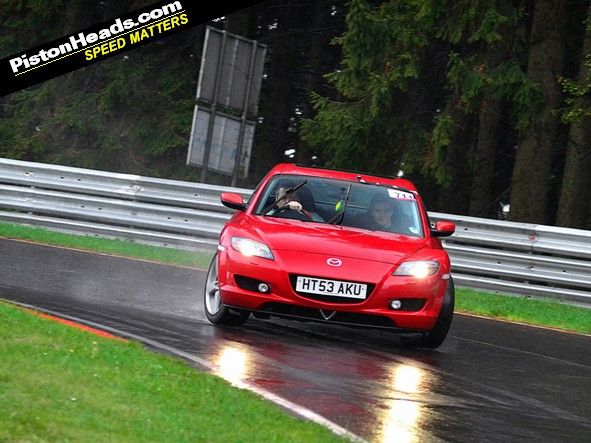 My last update mainly involved boring paperwork and dealing with tedious stuff like insurance and tax. The rewards for putting myself through the tedium of the German registration process were a shiny new set of D-marked plates and a 100 per cent insured and road-legal car for Nurburgring Nordschleife public sessions.
Time to plate up
In fact the photo above may well be the last known exposure of my wankel-engined Mazda on UK plates. A rainy session on the 'ring is basically my idea of heaven (see why on this video). But only a day after this was taken I was rolling around with my AW-RX84 plates on, with the de-reg part of my old V5C winging its way back to England. AW is the geographical tag for Ahrweiler, the county in which I reside. And the RX84 part was the closest I could get to RX8 on the rather simple 16-euro German pick-your-own-numbers vanity plate system.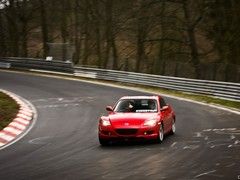 New Michelin tyres were ordered to replace the terrible Kendas that I've been using since January , and I just had time to test-fit my new stainless exhaust system before everything went pear-shaped with a big bang.
A bang, but not the sort you'd think
Nope, it wasn't the rotary engine living up to the forum predictions. It was an on-track incident during a public session that put my RX-8 inside the local Mazda dealer with a whole heap of parts to be ordered. Including another exhaust system. D'oh!
I can't really go into the details, but suffice to say I stopped on the Nordschleife and some poor chap on a bike didn't. Well, he tried to, but pulling the brake lever in the middle of a turn is never a good idea on a motorbike. And his sliding superbike travelled over 20 metres before wedging itself underneath the back of my parked RX8. Most importantly, he wasn't hurt.
But both of our summer toys are spanked-up right now, and the posturing and negotiating between insurance companies and drivers isn't even half-way done yet.
So no more videos of sideways shenanigans this month, just a return to paperwork, phone calls and planning again...

---
FACT SHEET
Car: Mazda RX-8
Run by: Dale Lomas
Bought: December 2011
Mileage: Only 180 miles since last report!
Purchase price: £2,800
Last month at a glance: Got German plates, got bumped, got bored

---
Previous reports:
Ordering pieces of paper to pass the German MOT
Dale makes a new RX-8 mate
PH fleet intro: Mazda RX-8
Epic drift photo by Dennis Van Der Meijs