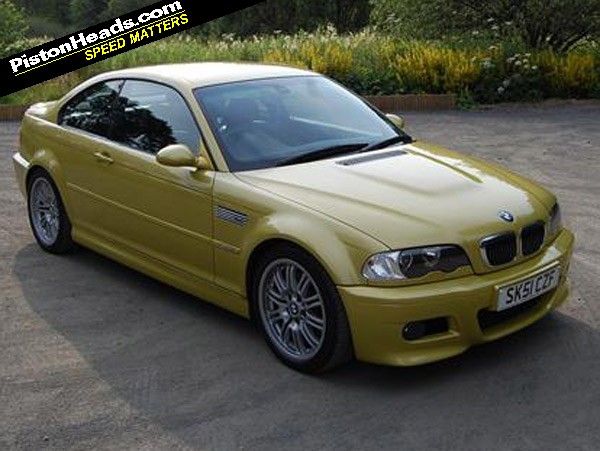 Sorting ads in the PH classifieds by 'Price low to high' is a risky strategy; each well written and comprehensive listing is frequently outnumbered by hordes of adverts featuring dreadful grammar and pictures seemingly taken with a 10-year-old phone. In the dark.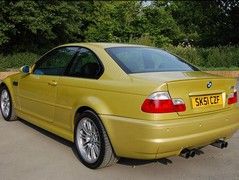 Phoenix Yellow and 18s a rare spec
Still, with some persistence, bargains can be found with the cars listed by ascending value. Bargains such as this
£5,995 BMW E46 M3
.
First of all, it conforms to some key personal 'good advert' criteria; all 12 available images have been used, the vendor can string a sentence together, there's a contact number (rather than an email) plus there are details on the tax and MoT. The car has even been run on V-Power and comes with four Michelin Pilot Sports.
Moreover, it's an M3 in a desirable spec. A manual car on 18-inch wheels (recently refurbished) is the PH double whammy, and Phoenix Yellow wins it a few extra points from some round these parts. [Hello! - Ed.]
Of course, 11 years and 103,000 miles after it was made, this M3 isn't flawless. There's apparently some minor rust and the interior isn't the freshest. But, from the photos at least, it looks far more presentable than the age and price may first suggest.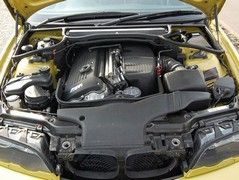 One of BMW's finest straight-sixes, surely?
Behind those quite dainty looking rims now sit a fresh set of OEM discs and pads, fitted at a recent service. So at least the brakes are as good as BMW intended, even if that standard is probably lower than it should be...
Nobody needs us to elaborate on why a cheap E46 M3 is a very alluring car indeed. The next M3 will return to six cylinders but will add turbos, and three pedals appears unlikely. Sure, the underrated CS or mesmerising CSL make the E46 package even greater, but neither of those will ever drop to such an affordable level.
Other options? A Nissan 350Z is fun but a rather blunt instrument compared to M Division's effort, whilst a Boxster S will match the M3 for enjoyment in a far less practical package. Whilst unmolested E46s aren't exactly rare, this looks like an exceptional M3 for the cash. Grab it whilst you can.

---
BMW M3
Price: £5,995
Why you should: It's one of M Division's greatest cars in a good spec for £6K.
Why you shouldn't: Oh, it's in Falkirk. Road trip perhaps?
See the original advert here