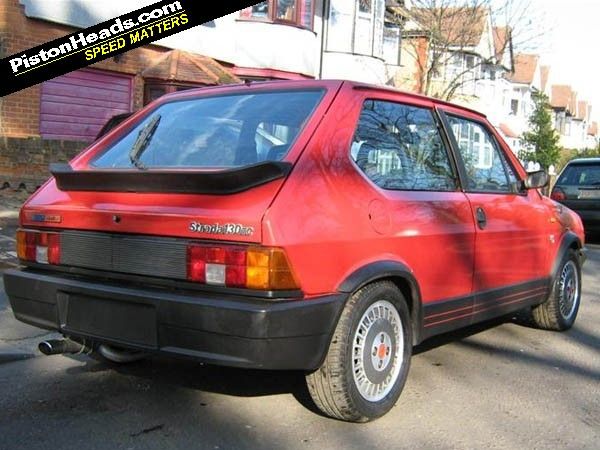 Pity the Fiat Strada Abarth. Launched in 1982, its claim to fame was, for around a year, that it was the fastest hot hatch on the market. Until, that was, the Mk2 Golf GTI came along and eclipsed it. And with that, the Strada gradually began its inexorable slip from the public's consciousness as a hot hatch of choice, falling beneath the waves of
GTI
s,
XR3i
s,
GTE
s and
GSI
s that managed to gain a stronger foothold in our collective memory.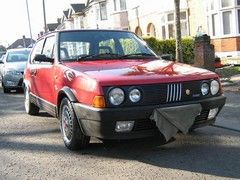 Reg plate rag is, we suspect, optional
Unfairly so, some might say. There were many reasons why the Abarth was forgotten more readily than the rest, but one of them wasn't that it was a bad hot hatch. Powered by Fiat's cracking twin-cam engine, its twin-carb setup, almost unique in the hot hatch world, gave it plenty of brawn; character too, with a snuffly lumpiness lower down the rev range that gave way to grunty pulling power and a superb engine note as the revs rose. Its eager chassis and involving steering, meanwhile, made it more fun to drive than the Mk2 Golf GTI, then the benchmark car in the class. And inside, the Recaro bucket seats were about as hardcore as a hot hatch got. In fact, the few reasons you'd have rejected the Abarth as a potential purchase – noise levels, build quality, reliability, badge kudos – were all fairly prosaic, and had nothing to do with the way the little Fiat drove.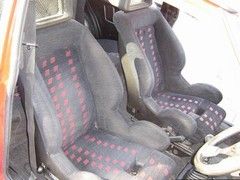 Hip-hugging seats look superb
This example
doesn't look cheap at first glance, especially as it looks as though the pink paintwork could do with a polish. But it looks clean and rust-free (though as with any Italian car of this age, that's worth checking thoroughly), and when you consider that an
8v Golf
or an
Escort XR3i
of similarly low mileage will set you back even more, it suddenly doesn't seem so bad. A quick chat with the vendor confirms that that low mileage is backed up by reams of MOT and SORN paperwork, and what the advert doesn't mention is that the car will also come with a full year's MOT. It's had plenty of money thrown in the general direction of the engine, too, as the advert suggests; a full engine rebuild and a whole host of good old-fashioned mechanical fettling has been carried out in the current owner's tenure, with the result that the car's now kicking out somewhere around 160hp. Combined with its weight of just 900kg, that should mean it's pretty respectably quick even by modern standards; the standard car's 0-60 time of 7.9 seconds, with 'just' 130hp to its name, was hardly slow. What's more, this car's apparently pretty well-known in classic Fiat circles, with two magazine features to its name; the current owner knows a thing or two about them, too, having owned 30 - yes, 30 - Stradas, as well as a plethora of other classic Fiats too.
In other words, if you're going to buy a Strada Abarth, there'll be few around that have such provenance, or indeed a lower mileage. It seems, in other words, to be one of the nicest examples around of a classic hot hatch that offers the added cachet of relative obscurity. That'll do nicely.

---
FIAT STRADA ABARTH 130TC
Price: £3,500
Why you should: It's one of the best-fun 80s hot hatches you've never heard of
Why you shouldn't: It's old, raucous, a bit fragile, and doesn't look as nice as a Golf.
See the original ad here