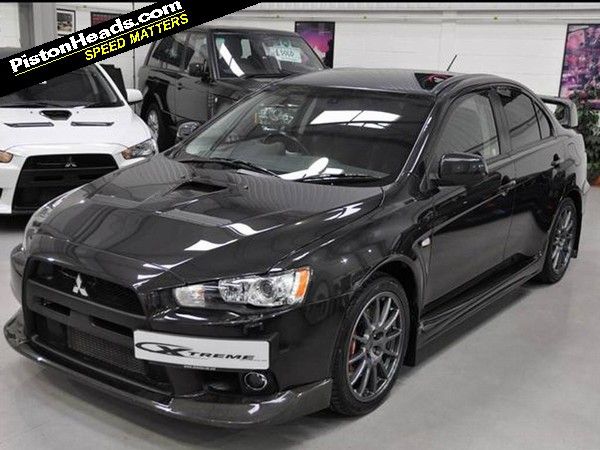 Remember when nearly every other month brought news of another lunatic-spec Japanese super saloon? Upped power, bigger wings and more grip maintained interest and then, before you could say JDM import special, the demand was gone.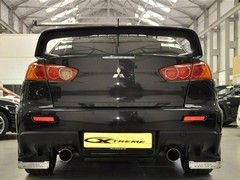 Even in black and debadged, it isn't subtle
It was probably about the same time AMG was renowned for producing V8 barges and V12 sun loungers. Funny how things change, isn't it? Now Mitsubishi is chasing the hybrid route, Subaru is ploughing resources into off-roaders and then up pops (...and ba-ba-bangs) AMG with a 360hp, 4WD rocket.
If the A45 AMG looks like a radical departure for AMG, then the driving experience confirms it. The 4WD replaces smoky drifts with unimpeachable traction, there's a four-cylinder blare from under the bonnet and the ride is pretty uncompromising.
This brings us conveniently to the Mitsubishi Evo X, specifically the FQ330 SST. Like the AMG, it uses a high specific output 2.0-litre turbo, 4WD and, perhaps most relevantly, a dual-clutch auto 'box.
The Sportronic Shift Transmission was first introduced on the 300hp Evo and wasn't received too positively. However, with the 330's extra power and the removal of a torque limiter, the two-pedal transmission was smoother and just better.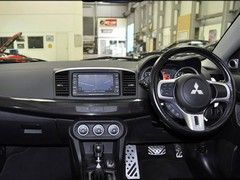 Nothing to make an A45 owner envious here!
Indeed, we found an
Autocar review
written by none other than Matt Rigby proclaiming it as 'bloody marvellous' and possibly the best Evo X available. Praise comes no higher!
Of course, the Evo can't offer the same sort of compelling overall package as the A45. The interior will look and feel terrible by comparison, the fuel economy will be woeful and even the improved 10,000-mile service intervals will be a pain.
But neither is what you'd call a looker, and both are an absolutely devastating on the right road. There are certainly some commonalities amongst the inherent differences, and the CLA45 is technically a saloon too.
The car we've found is at Evo specialists Xtreme UK. It's still under an extended Mitsubishi warranty until March and has couple of nice carbon trinkets also. There's a 2011 example available too if there's a bit extra in the kitty.
If we ever see another Lancer Evolution, it will undoubtedly be very different to the models we've known. The Evo X may not be as raw or visceral as some of the legendary Lancers, but to disregard it on that basis is ridiculous. Moreover, with just two pedals, you've no excuse for anything but a perfect left-foot braking technique...

---
MITSUBISHI LANCER EVO X FQ 330 SST
Engine: 1,998cc, 4-cyl turbo
Transmission: Six-speed dual-clutch auto
Power (hp): 330@6,500rpm
Torque (lb ft): 322@3,500rpm
MPG: 26.2 (NEDC combined)
CO2: 257g/km
First registered: 2010
Recorded mileage: 25,762
Price new: £35,999
Yours for: £19,995
See the original ad here
[Source: Autocar]