Before Ford's Escort Cosworth, Subaru's Impreza Turbo and Mitsubishi's Lancer Evo, the daddy of special stage bred, four-wheel drive, turbo nutter rally slags for the road was the Lancia Delta HF Integrale - homologated from one of the most successful cars in WRC history.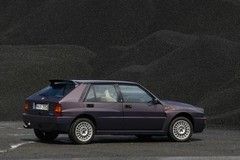 One-off Integrale, one-off price
You'll already know the road-going 8V specification with 185hp (1987 on), the 16V with 200hp (1989 on) and the Evoluzione specials, the 210hp Evo I (1992) and the 215hp cat-equipped Evo II (1993). These wider track, flared arched, big-rimmed, boost-hiked, suspension-tweaked, flash interiored Evo models were the ultimate in 'che bello' Integrale. Or so most believe...
Actually, there was a number of limited edition Evoluzione Integrales (weirdly mostly released in car-loathing Switzerland); the Sedici, Gialla, Blu and Lagos editions, and these are mucho rare.
But not as rare as this ultra exclusive Integrale - the one and only EVO III, the Lancia Delta HF Integrale Evoluzione III 'Viola,' built by Italian coachbuilders, Maggiora, in Summer 1994.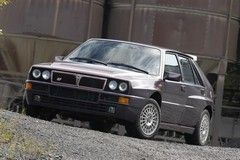 Only one Evo III was made and this is it
Never heard of Maggiora carrozzeria? Shame on you. Created in 1925 and running until closure in 2003, the Maggiora family created some of the best Italian manufacturer special editions for Fiat (Barchetta, 1100 Viotti, Puntograle, 1500), De Tomaso (Pantera & Mangusta), Maserati (Mistral), Alfa Romeo (2000 Spider) and Lancia (B20, Kappa Coupe, Thesis Coupe, Flaminia). Maggiora took over the Lancia Chivasso factory in 1992, as the last Integrale Evoluzione IIs ran off the line, including their own super rare specials: Rosa Pink, Bronze Evo, Biana Evo, La Perla and a gorgeous Black Edition, built for the daughter of the chief Greek Lancia dealer.
When Lancia sadly stopped Integrale production in 1994, Bruno Maggiora decided to pick up the mantle and build a perfect version - and this is it.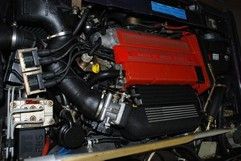 Serious power hike among upgrades
The striking Viola paintwork (think The Joker's pants, done by Italian paintworks PPG) was not the only modification over standard Evo II spec. Magnesium 17-inch multi-spoke wheels from MIM/Tecnomagnesio adorned this one-off, shod in 215/40ZR17 Pirelli P-Zero rubber. A Maggiora plaque sat proudly by the side indicators and on the hand-made carbon fibre centre console, with a beige Alcantara interior from the last EVO IIs.
And it wasn't all Italian chic styling either. Mechanically, this unique EVO III was the peak of Deltas to date. The 2.0-litre engine had a bespoke Weber-Marelli fuel injection system, with an I.A.W P8 integral engine management re-map, raising boost pressure on the Garrett T03 turbo over 1.0 bar, taking power to 237hp (now 2,500rpm higher at 6,000rpm) and torque to 236lb ft, wider ranging from 2,500-6,000rpm.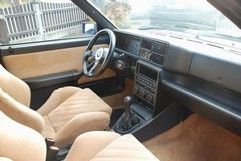 Alcantara and black shiny plastic - mmm!
A one-off front viscous coupling limited-slipdifferential (from Birfield/Bruneck/GKN) was also fitted for the first time along with a bespoke metal clutch on the centre differential. Details like braided brake hosing for extra pedal bite demonstrate the attention to the finer details too.
The result was the finest road-going Delta Integrale ever built - looking, going, handling and stopping better than ever. And here it is, the world's only Integrale EVO III, on PistonHeads for £85,000 - a totally unique, proudly purple, virtually unused (7,000 miles) slice of Lancia and Maggiora Italian motoring history.

---
MAGGIORA LANCIA DELTA HF INTEGRALE EVO III
Engine: 1,995cc in-line four-cylinder turbo
Transmission: 5-speed manual, 4WD
Power (hp): 237@6,000rpm
Torque (lb ft): 236@2,500-6,000rpm
MPG: N/A
CO2: N/A
First registered: Summer 1994
Recorded mileage: 7,000 miles
Price new: 100,000 Euro/$130,000
Yours for: £85,000

---