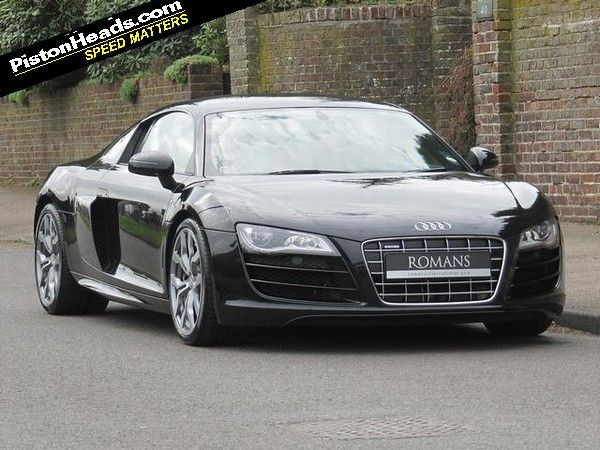 It's just another R8, right?
No, it isn't. Allow me to explain, because the Audi R8 range is a minefield. Every R8 is a talented machine. We're now so accustomed to Audi entering new segments and enjoying instant success that we take it for granted, but what the R8 managed in 2007 remains remarkable. Only the Ferrari 458 spoilt its claim to being the best mid-engined super-sports car on sale.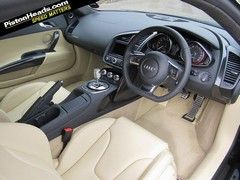 Clickety-clack manual is a delight
If the mix of manual and paddle-shift (R tronic) V8 cars now leaves a decent choice of both
in the PH classifieds
- and I would thoroughly recommend the manual - the same is not true of the V10 version.
The V8 versus V10 argument is much like the old 205 GTi 1.6 versus 1.9 situation: common consensus asserted that smaller was sweeter. I just never saw it that way with the 205, and I certainly don't with the R8. The V8 is fast and agile. The V10 will lay-down 200 yards of rubber in third gear. It's an animal.
The V10 is the most underrated car of its type, but it simply has to be fitted with the manual gearbox, because then it is the most complete driving experience imaginable. Yes the extra weight out back makes it a little keener to rotate and the increased spring rate takes a little comfort away, but the R8 always had some ride comfort to spare. But the key is that manual gearbox - what other car offers over 500hp, perfect weight distribution and the chance to shift yourself? And it's one of the great shifts too, much sweeter than a Gallardo's.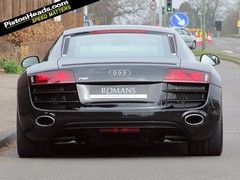 Conservatively it's lost £10/mile in depreciation!
There's currently a glut of the over-priced,
uninspiring R8 GT
models in the classifieds, but the real gem of the R8 range is this car. It's good enough to make me want one over a 997 GT2, even if the claimed 0-62mph time of 2.4sec is a little optimistic.
Interestingly, the website www.howmanyleft.co.uk lists more manual V10 coupes than R tronics sold in the UK, but the stick-shifters seem to come-to-market far less frequently. The owners must want to hang onto them.
---
AUDI R8 V10 Manual
Engine: 5,204 V10
Transmission: 6-speed manual
Power (hp): 525@8,000rpm
Torque (lb ft): 390@6,500rpm
MPG: 20.3mpg (NEDC combined)
CO2: 326g/km
First registered: 2011 (61-plate)
Recorded mileage: 1,600
Price new: £109,120
Yours for: £89,950

---
See the original advert here