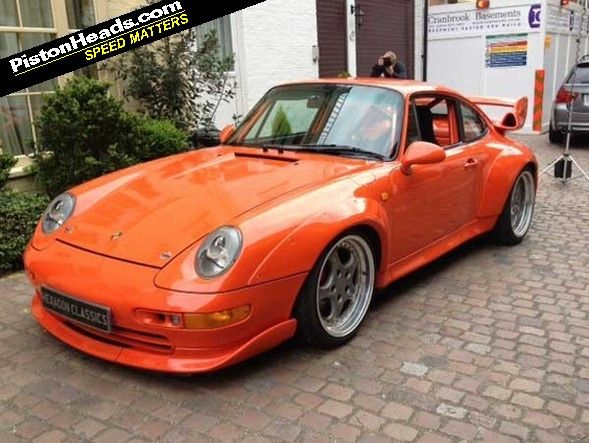 This car is well known to the PH cognoscenti, especially those who lurk in the Porsche forum. But that doesn't mean addicts like me won't travel a reasonable distance just to go and ogle at it - one of the 20 (apparently) 993 GT2 Clubsports that Porsche built. It is probably the most desirable 911 since the 2.8 RSR.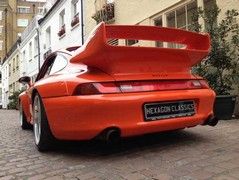 To recap: back in 1994 Porsche decided to homologate its participation in the BPR championship by producing the 993 GT2. It was effectively a two-wheel drive 993 Turbo with extended wheel arches, but there were dozens of important detail changes underneath. These were the days before the trackday scene had become popular, so the idea of ordering one of these vastly expensive machines with no interior trim and a welded-in cage was unusual. Allegedly, only 20 people chose to do so. They were the clever ones.
It is unlikely that Porsche will ever build a more outrageous-looking 911 purely because current legislation stops people riveting bits of plastic to each wing. This is a shame because there is endless fascination to be had just walking around this car and making sense of its dimensions. They are both ludicrous and wonderful.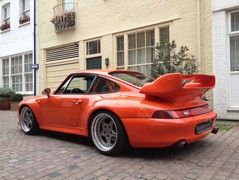 The bare-metal innards are gorgeous; the 993 cabin is probably the over-engineered pinnacle of the Porsche world. This car being supposedly the only 993 GT2 finished in blood orange makes it look even more delectable.
Modifications to this example include turbochargers from the later 450hp GT2 Evolution model and a non-standard exhaust. The former are a fairly common modification the latter sounds nice, but I personally don't like the different-shaped outlets. Otherwise, this is pretty much the Petrus of my car world. Only 28,000 miles. Reckon it'll sell pretty quickly.

---
PORSCHE 911 GT2 CLUBSPORT (993)
Engine: 3,600cc flat-6, turbocharged
Transmission: 6-speed manual
Power (hp): 430@5,750rpm
Torque (lb ft): 398@4,500rpm
MPG: 18.3mpg (combined)
CO2: N/A
First registered: March 1996
Recorded mileage: 28,236
Price new: 276,000 deutschmarks
Yours for: POA
See the original advert here, or check out the othe 993 Porsches available via the new PistonHeads classifieds beta