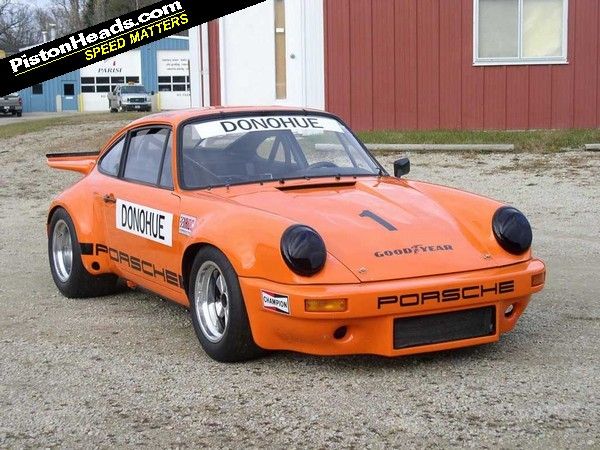 I have a
new favourite car
. If the history checks out, this is a piece of Porsche history that I would do extremely bad things to own.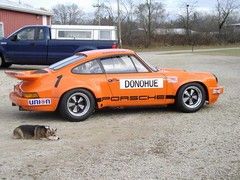 Classic 911 for sale, hound not included
Many of you will know what the International Race of Champions was - a competition devised by Roger Penske as a cross-discipline event that would pit the best drivers from all around the world against each other in identical cars. Penske chose Porsches because his favourite driver at the time, Mark Donohue, told him they were strong and fast.
The cars were effectively hybrids between the 1973 2.8 RSR and the 1974 3.0 RS, running the latter's engine with high butterfly injection and not the later slide injection. There are pictures of the cars being delivered to the US with ducktails, which were removed for the tea-trays that would be sold in the 1974 model year.
You probably get the idea that I could gas about this for a few hours.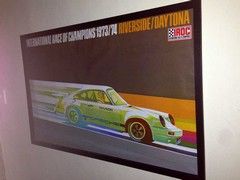 Yes, this is a picture of Chris's landing
Mark Donohue is the man most closely associated with the IROC Porsches. He won the first race, and the enlarged 'championship' the following year. He announced his retirement at the end of that last race in 1974 and was tragically killed when he reneged on the decision and crashed in practice for the 1975 Austrian Grand Prix.
The IROC Porsches were driven by Hulme, Revson, Fittipaldi and Bobby Unser who, a few years ago, told me the Porsches were a 'heap o'trash'. I think he was still sore that Donohue, a Porsche factory driver at the time, had used his famous unfair advantage strategy to dominate those races.
If I had half a million quid, I'd buy this. I have this poster outside my bathroom.
Here's some footage of race two in 1973.
---
PORSCHE 911 RSR IROC
Engine: 2,994cc flat-6
Transmission: 5-speed manual
Power (hp): N/A
Torque (lb ft): N/A
MPG: N/A
CO2: N/A
First registered: 1974
Recorded mileage: N/A
Price new: N/A
Yours for: £560,000 ono

See the original advert here.