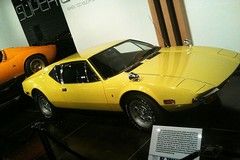 What do you do if your car wont' start? You could open the bonnet and see if you can sort the problem out yourself, or call your breakdown/recovery service...or perhaps just take another car if you own more than one. Elvis Presley had a different solution: shoot it.
On a recent trip to Los Angeles, the Petersen Museum kindly let us take a closer look (...and actually sit in) the car in question - a 1971 De Tomaso Pantera. The story goes that Elvis bought the car in 1974 and had never been happy with it.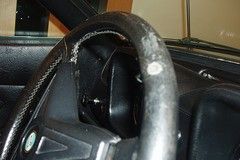 The early Panteras were reputedly badly finished and generally unreliable and, having been recovered back to Graceland after failing him in Memphis, his Pantera still wouldn't start. One day he was standing by the car telling his good friend George Klein about the De Tomaso's insubordination when he pulled out his gun and shot the steering wheel, after which it started right up.
Would this work for you? It's doubtful...although if you must try it you're probably better-off getting out of the car first before discharging a firearm inches away from your nether regions...