Our man in the motor trade - HonestGuv - tells it like it is. (Or isn't.)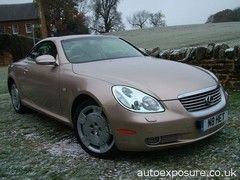 Prejudice is a terrible thing - unless it's in the motor trade. Then, if I might mangle a popular phrase, it can make stars out of reasonably-priced cars.
Take the Lexus SC430. When it was launched in 2001, this plumply-buttocked boulevardier was rubbished by journalists for failing to meet their handling expectations in the less than relevant environment of the racetrack.
A decade's worth of common sense has passed under the bridge since then, so it's high time to pay homage to the undreamt-of delights of a pre-owned SC430. No, really. Let's set our preconceptions aside for a moment and calmly examine the SC's component parts.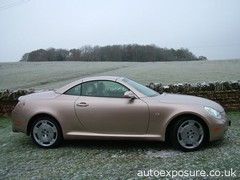 Under the bonnet, a surpassingly refined and bulletproof 4.3-litre engine. Producing up to 300bhp, it's good for six-second 0-60s all day long and a 150mph top end with a following wind. It's a V8 too, so lots of burble potential should you opt for a high-flow intake and exhaust package.
Move inside to discover a lovely cabin properly assembled from real trees and cows, and packed with all the toys necessary to keep your lady entertained for the evening, including climate control, heated leather seats, stunning Mark Levinson sound system and X Factor on the telly/satnav screen behind that surprisingly convincing slab of Japanese walnut or maple.
If your female companion is of a nervous disposition, there's even room to fit her mate sideways across the back seats until the treble voddies kick in and you can find a convenient bus stop. (HonestGuv, you're a true knight of the road... Ed)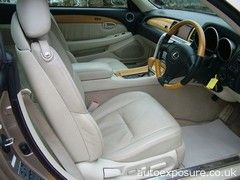 Warming up yet? Go back outside. I reckon the styling is coming into its own in a Bangle-like way. Compare its back end to a 370Z or a slightly-inflated new model Audi TT without doing a double-take. Check those striking alloys and the folding aluminium roof which, because it's a Lexus, will still be working perfectly.
And there's the final inducement: Lexus quality. Gone are the days when your Lexus parts and individual service advisor would be delivered directly to you by helicopter, but the company's customer mollycoddling will still be pleasingly out of kilter with the value of your motor, which for a Y-plater can (incredibly) be under £7k. Lexus Centres are 'hostessed' by comely members of the fairer sex who will bend over backwards in their efforts to bring you to the corporate bosom. The thirsty visitor can always get something hot and sweet there. I had a most agreeable experience with the hostess of Lexus Oslo only last year, in fact.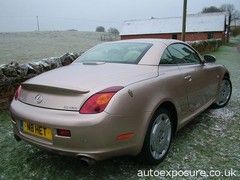 I've selected two examples for the purpose of illustrating this article.
This low-miler in Jewish racing gold
is decent value at £8799.
This one has more miles
but you'd never know it. See how nice the cabin is, and how good it looks top down - but then, which fine filly doesn't? There's no shortage of private cars around, either.
Having owned three examples myself, I never saw (or had) a problem with the SC. Nor did the 70,000 American and Japanese folk who bought one new.
It's only a few months since the SC was officially canned from the Lexus GB roster, and it's still on sale in the US at $69k, so it's effectively a current model. Rumour has it that it will be returning in hybrid form in the not too distant future - more good news for resale values. Downsides? The front end has a little of that Morgan/Scorpio astigmatism going on, but you won't be seeing that while you're shmoozing up the High Street.
For those who can see beyond bigotry and the ability to deliver fully-resolved body control at three-figure speeds around Becketts, this SC is undiscovered motoring gold. Buy now while stocks last.
(*NB. Opinions expressed in this article should be taken with a stiff whisky. Ed.)