Fresh - and still a little wide-eyed - from enjoying the
coupe when the man from Gaydon said 'would you like to try
?', it wasn't a tough call.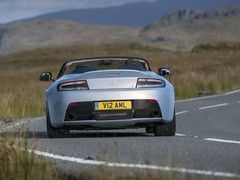 Whoever took this pic would be getting an earful
Unlike the one posed by the seemingly simple question: which is better?
Second time round for the V12 Vantage Roadster this new one is no longer a limited edition (they only made 100 of the 2012 original), has a starting price £3,000 less and yet increases power from 517hp to 573hp and torque from 420lb ft to 457lb ft. This means the new version is a bona fide 200mph car - by just 1mph - beating the previous 190mph vmax and chopping four tenths out of the 0-62mph time to just 4.1 seconds. Unlike the first V12 Vantage the new one, as we already know, isn't a manual and is only offered with the automated single-clutch Sportshift III transmission. Old tech in this day and age but a significant 20kg lighter than even the manual, if you're looking for justifications for the odd thwack of skull against quilted seat back.
Faster, cheaper, lighter and (assuming you have the necessary £147,000 kicking about) less restricted in supply - all good news then.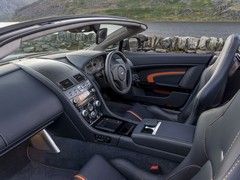 Form before function perhaps but nice to show off
There's also the fact you can drop the roof and fully appreciate the guttural bellow of that 6.0-litre V12. Some may be snooty about its Ford origins but in an age of neutered turbocharged lumps it's one of the few proper supercar engines out there and possessed of might and character in abundance. Not to mention the temptation for hapless hacks to construct tortuous analogies to describe its sound. In for a penny - we'll settle for a 'Tom Jones gargling hot coals having just dropped an anvil on his foot' or something along those lines.
Like a cloud on the horizon greyer than the paint on the coupe we drove recently you've probably sensed a 'but' looming in all of this. And it's a predictable one.
New-school supercars like the 458 Spider and 650S Spider seem to have nailed the traditional compromises of going topless by minimising the traditional weight and flaccidity issues. But the Vantage is far from new-school and the Roadster, for starters, weighs 80kg more, like for like, than the V12 Vantage S Coupe.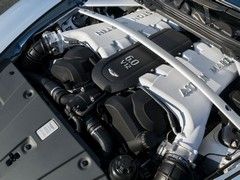 Doesn't just sound good - looks it too
At least that extra metalwork has been put to good use and there's commendably little shake through the V12 Roadster's bodywork, even with the combined efforts of the V12's torque and typical British B-road potholes doing their considerable worst. Whether you'll want to go delving into the two stiffer settings beyond the default one on the adjustable dampers is another matter; where on the coupe you'll trade a bit of additional harshness for a vague sense of being able to put some of that power down neatly in the Roadster it seems a rather redundant exercise that just exacerbates what little shake and shimmy there is.
You could never accuse 573hp or a power to weight ratio of 315hp per tonne of being tardy either. But there's just enough blunting of the coupe's manic edge and 329hp per tonne to give you time to think about the bigger picture. Yes, you get to enjoy more of that operatic performance with the roof down and a suitably reflective surface from which the sound can bounce back into the cabin. But rather than being a participant you feel relegated to mere spectator. Or even critic, that odd quiet patch around 2,000rpm even more noticeable and annoying.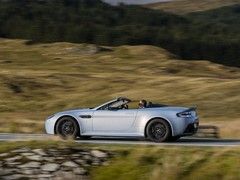 Noise is pretty epic, performance similarly so
Less distracted by the bombastic nature of the coupe you also become more aware of the gearbox's shortcomings. What seems tolerable in the more hardcore feeling coupe becomes rather less attractive in a (relatively) cruisey roadster, the head-wobbling shifts in auto mode around town obvious to all if you've got the roof down. You could carefully select your music to make it look like you're nodding your head in time but that's all a bit of a faff really. And you'd look like a prat.
Attack speed
Up to attack speed and these compromises fade more into the background, simply because at this stage you'll be going really rather rapidly and with less time to quibble over details. Even with the addition of Servotronic variable assistance there's still a deliciously natural weighting to the hydraulically assisted steering which, as per the coupe and all facelifted Vantages, has moved to a faster geared and more decisive 15:1 from the original's 17:1. This and the standard Corsa tyres give front end bite to offset the additional 80kg V12s carry in the nose over V8 Vantages but when you arrive at the corner there's no escaping the fact you're in a heavy lump of metal, even if it's not an especially big one. Just as well the standard ceramic brakes have power to match the excellently modulated bite.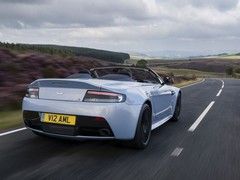 Loudest, fastest and most lairy Vantage to date
Like the coupe all that power in such a short wheelbase makes attitude changes rapid and snappy if you're not ready for them - poser's choice or not this is still a proper car that makes real demands of a driver doing more than admiring his own reflection in shop windows. With Sport mode selected and manual shifts from the paddles it becomes a much more serious proposition too but, with such recent memories of the coupe, it's impossible to escape the sense the Roadster is just a little more compromised as a driving tool.
A £9K saving at this price point probably won't be a deal breaker when it comes to choosing between the coupe and the Roadster but for the former's more undiluted taste of the V12 Vantage madness it's the one we'd pick every time. Operatic noise is all well and good but in this case we'd rather be the one holding the baton than up in the stalls.

---
ASTON MARTIN V12 VANTAGE S ROADSTER
Engine: 5,935cc V12
Transmission: 7-speed automated manual (Sportshift III), rear-wheel drive
Power (hp): 573@6,750rpm
Torque (lb ft): 457@5,500rpm
0-62mph: 4.1sec
Top speed: 201mph
Weight: 1,820kg (with driver)
MPG: 19.2mpg (NEDC combined)
CO2: 343g/km
Price: £147,000 (£171,05 as tested comprising carbon fibre seats £2,495, Mako Blue paint £995, Dark Knight leather £995, Californian Poppy carpet binding £395, carbon facia trim £995, B&O BeoSound £5,495, carbon shifter paddles £1,995, black brake calipers £995, exterior carbon trim £2,995, carbon grille £695, front parking sensors £395, black grille mesh £495, reversing camera £995, black tailpipe finisher £395 and forged wheels with Pirelli P-Zero Corsa tyres £3,745.)