Not so long ago, the luxury car decision was fairly simple: sportier types bought an elegant two-door coupe in the Maserati GranTurismo kind of mould, or you plumped for the more traditional three-box saloon. An S-Class, an XJ, an A8, that sort of thing.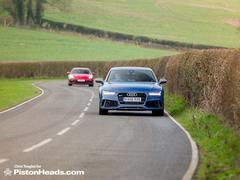 Both massive, even from a distance
With the arrival of the Mercedes CLS, that all sort of changed; saloon underpinnings with a slinkier coupe body combined (in theory) the best of both worlds could be sold at a premium - many saw the appeal. Coupe saloons (soupes?) are now big business, and nothing proves the point more emphatically than the latest Porsche Panamera.
A whole new platform, a radical interior and a range of new powertrains have shown how important this car is to Porsche. They've proved their worth too, the car as broadly talented as we've come to expect from a contemporary Stuttgart product.
But a test in isolation is one thing - the real challenge will be how the Panamera fares against rivals. And you won't find a car better matched, on paper at least, than the Audi RS7 Performance. Both have 4.0-litre twin-turbo V8s (albeit different units), both are four-wheel drive, both offer a wide variety of driving modes and both aim to combine a level of dynamism with great luxury. Which does it best?

---
In some ways you have to feel a little sorry for the RS7. After all, if you want a large, fast (really, really fast) V8 Audi, then the RS6 Performance is available for less money. And in the bizarre and entirely arbitrary cool rankings, the more practical estate is surely the one to have.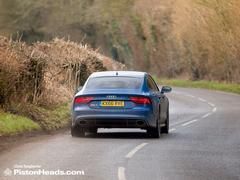 You'll see (and hear) it coming!
However there remains a good deal to like about this mega A7, even in the autumn of its life. While a familiar design it's no less appealing for it, low-slung and brooding with the RS embellishments.
Furthermore, while the twin-turbo 4.0-litre V8 is no longer a new engine, it remains an absolute monster. In Performance spec it's boosted to 605hp and feels good for every single one of them; in conjunction with 553lb ft, the RS7 is capable of quite staggering, well, performance. Power is there from almost idle, the thrust swelling through the mid range and ripping through the last few revs seemingly unencumbered by the two turbos. It's rampant, faster than almost anything else on the road and surely a match for the Porsche even without driving it. Hold that thought, in fact...
It's paired to an eight-speed auto that's hard to fault, the shifts crisp and well-timed regardless of the mode. That it will allow full manual control up to and including crashing into the rev limiter also appeals, if you're that way inclined. The RS7 sounds immense too, all air-shredding V8 thunder and menace. How the downsizing (or otherwise) revolution goes from here it's hard to know.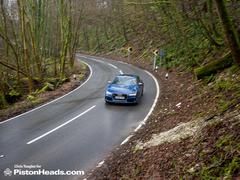 Sport Diff helps in conditions like these
Fast Audis always do the lower-case performance thing pretty well though. Where the RS7 struggles is where so many have followed before, with the touchy-feely bits of driving fast. Hardly vital criteria for buying these cars, granted, but there are elements that can't be overlooked. Steering this light sits awkwardly with something so powerfully built, the Dynamic mode only adding resistance rather than the confidence you need to drive such a big car. And for a car with some luxurious ambitions too, the crashiness of the Dynamic suspension mode is simply unacceptable. And very uncomfortable. Auto is probably the best compromise, Comfort struggling to deliver the authority of control you really want when driving faster.
However there's a saving grace for the RS7, and it's called the Sport Differential. Introduced in the previous generation S4, it's proved a welcome addition to many Audis since and the RS7 is certainly one. This hasn't transformed the car into a V8 Focus RS, but the way you can feel the diff tighten the car's line under power is very entertaining. It's typically subtle but effective, offering a degree of involvement and excitement so often found wanting from Audi Sport products. Alright, it also went a bit sideways off a roundabout with all the systems on. That was quite cool.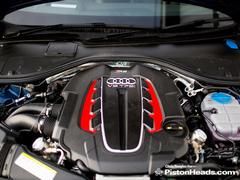 Mega engine still holds appeal
Spending two days in the RS7 before even sitting in the Porsche is especially useful for thiscomparison. Put simply its interior struggles to justify the price even in isolation, a remarkable statement as far as Audi goes. Such is the rate of progress in the Audi empire that the RS7 doesn't feel all that special, the MMI a generation behind and the design fairly stoic. Of course the next A7 and RS7 will see to this, though for now it's a relative disappointment in an unexpected area.
Despite those notable flaws, the RS7 appeals to everyone who drives it. That devastating engine is a big part of the appeal, along with handling that's a little more... interesting than expected. In certain areas it feels its age though, even before the Panamera's appearance - can the Porsche capitalise?

---
It's not often that an Audi enters into a twin-test as the underdog, the older and less advanced car that you feel almost sorry for given the opposition it faces. That's the impression that's hard to escape when the Panamera first rumbles up to Petersfield services. By the numbers it's faster, cleaner and more efficient, packing more technology and luxury into an ostensibly similar car to the RS7. That naturally happens when a new car faces an older one, but the gulf here seems wider than usual.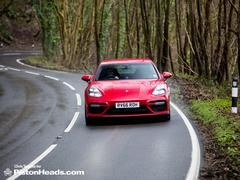 Well of course it's fast. Really, really fast
Nowhere is that more evident than inside, where the Panamera makes the RS7 seem like an A3 by comparison. An old A3. The irony here being that it's apparently Audi drivers that don't drive the car before purchase, such is the perceived cabin quality. Rotary dials are there for the major controls, with everything else replaced by gloriously high definition screens and swish haptic buttons. It looks and feels like huge step on for interiors, particularly with the technology and look repeated for the rear seat passengers too. It should be noted however that some of the controls are initially a little bamboozling and take familiarisation. More user friendly ventilation would help on the road as well.
That being said, the more pressing initial concern on the road with the Panamera is not crashing it. Partly that's due to the speed of it (a point we'll return to) but mostly it's due to the sheer size of the thing. A reasonably narrow glasshouse, thick pillars and a low seat are great for putting you in the mood to drive, but terrible for seeing out of. While there are all manner of sensors to (hopefully) spare your blushes, the Panamera's driving environment is oddly welcoming and intimidating at the same time.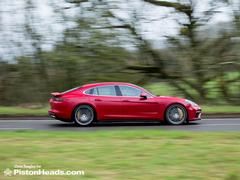 And it's also really massive!
To put the Porsche's on-road performance bluntly, it simply does everything better that the Audi appeared to do well. Its engine is even more responsive and perhaps even faster, the gearbox is sharper without being compromised as an automatic, it's better damped, it's gripper, it has better brakes... The list goes on. The rate with which a Panamera Turbo can cover ground, and the incredible composure it displays while doing so, is mind-boggling. A car as large and heavy as this has no right to steer as precisely as it does, to control its mass as it does and accelerate as it does; it's freakish and extremely impressive.
Here's the rub, though: more people probably smiled more of the time in the Audi. These things are all relative, of course; that's not to say the RS7 is some kind of Evo with a better interior, or that the Porsche is dull, but by the standards of this test the Audi is more entertaining. Does that matter? Wafting along in the Porsche in greater luxury, comfort and (arguably) style, one could certainly argue that it doesn't.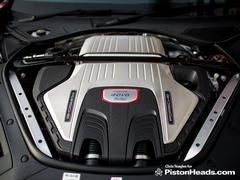 Which super saloon is fastest can be answered with more authority, though. On the road they feel not only unhinged but also uncannily close in terms of performance. Even when we took them to Santa Pod they were fantastically well matched. Having been told off for going too fast (and struggling to launch a pair of automatic four-wheel drive cars), we recorded best times of 11.4 seconds (!) for the Panamera and 11.7 for the Audi, with the RS7 (121mph) scoring a fractionally higher terminal speed than the Panamera (119mph). Both felt ludicrously rapid though, the ability to metronomically run sub-12-second quarter miles with heated seats, air conditioning and Bluetooth music on as entertaining as it is incongruously daft. Can the drag race affect the final ranking though?
---
Within the next couple of years the Panamera looks set to face a wealth of new rivals. As well as another A7, there will in theory be another BMW M6 Gran Coupe, an AMG CLS replacement and other cars we don't know about yet.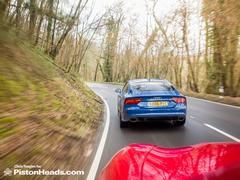 Expect a fresh RS7 to continue this battle soon
For now though the Panamera, particularly as a Turbo, feels like the class of the field by a comfortable margin, taking on a bigger than expected leap from first to second generation. That it doesn't quite engage the driver as a Porsche perhaps should remains a little bizarre, and there's never any escaping just how physically large it is. For combining sumptuous luxury with outrageous performance and superb dynamics however, it's a mightily capable car and the winner of this test, even allowing for the price difference.
The RS7 is a clear second, with the obvious caveat that this is a car launched four years ago. There's little doubt that the next RS7 will be an even more opulent, even more advanced car than this one; it may even borrow from the Panamera to do so. If those attributes can be added along with a little more dynamic finesse - while keeping that walloping V8 - then it promises to be more than a match for that bloomin Porsche.

---
AUDI RS7 PERFORMANCE
Engine: 3,993cc, twin-turbocharged V8
Transmission: 8-speed auto, four-wheel drive
Power (hp): 605@6,100rpm
Torque (lb ft): 553@2,500rpm
0-62mph: 3.7 seconds
Top speed: 155mph (limited)
Weight: 2,005kg (EU with driver)
MPG: 29.7 (NEDC combined)
CO2: 221g/km
Price: £90,725 (as standard. Price as tested £105,830 comprised of Assistance Pack for £2,100.00, Audi hands-free boot opening system with Advanced key for £750.00, Speed limit display for £250.00, Parking Pack Advanced for £1,110.00, RS Sport suspension plus with Dynamic Ride Control (DRC) for £1,000.00, Bang & Olufsen Advanced sound system for £6,300.00, Night vision assistant for £1,510.00, Audi Connect and Audi Phone Box for £750.00, 'On The Road Costs' (including Delivery charge, half a tank of fuel, and number plates) for £630.00, Road fund licence for £650.00, First registration fee for £55.00
PORSCHE PANAMERA TURBO
Engine: 3,996cc, twin-turbocharged V8
Transmission: 8-speed PDK, four-wheel drive
Power (hp): 550@5,750-6,000rpm
Torque (lb ft): 568@1,960-4,500rpm
0-62mph: 3.8 seconds
Top speed: 190mph
Weight: 2,070kg (EU with driver)
MPG: 330.4
CO2: 212g/km
Price: £113,075 (As tested £136,853 comprised of £2,808 for Carmine red, £764 for LED main headlights with matrix beam including Porsche dynamic light system plus, £1,005 for Park Assist including surround view, £1,478 for rear-axle steering including power steering plus, £6,449 for Porsche ceramic composite brakes, £1,515 for Sport Chrono package, £2,439 for Sports exhaust system including tailpipes in black, £2,370 for 21-inch 911 Turbo design wheels, £206 for ioniser, £1,107 for four-zone automatic climate control, £1,013 for 18-way adaptive sports seats with memory package, £,1683 for Night vision assist, £129 for ISOFIX child seat mounting points on front passenger seat, £194 for Steering wheel heating and £618 for Carbon interior package)