Perhaps more than any other brand, the experience of a Ferrari is about so much more than the driving. A curious point to make given the current calibre of cars maybe, but you don't need to go fast in a Ferrari - or indeed drive at all - to adore the car and the fanfare that comes with it.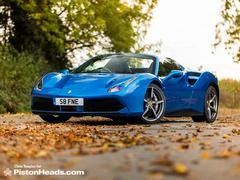 Pretty car. Very pretty car.
we had chats in traffic jams, at petrol stations and at a Sunday Service; a man in a van wanted it revved up in a services; a Qashqai driver beamed after hearing it through Holmesdale tunnel and a lady kissed the car, wishing it good luck on Fulham high street. Kids sprint over to see it and even stoic middle-aged men can't help but raise a smile. For making you feel good, for showing that cars can still make people happy, just being in the presence of a 488 Spider works a treat.
Part of that will come from how it looks - it really is a beautiful car. The £7,104 optional Blu Corsa paint will contribute, but there's enough LaFerrari influence in this new look to make people stop and stare at the 488. Previous modern Ferraris have arguably been too much about the science at the expense of true style; here Maranello appears to have struck the perfect balance.
However what if you're the kind of Ferrari customer who wants to actually drive your 488 Spider, rather than just admire it? Signs from last year's launch were encouraging, the car apparently eradicating the dreaded shake that has afflicted so many drop-top Ferraris. But the British B-road has been the undoing of many a fast car in the past, including one notable Italian recently...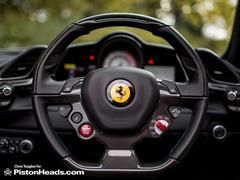 Sadly enough, the 488 Spider isn't quite as dazzling on the B1117 just outside Framlingham as it was in Emilia-Romagna. The creaks, tremors and wobbles that were so tricky to uncover back then rear their ugly heads at much lower commitment levels now, the steering column in particular suffering for a lack of rigidity. It's bizarre given how convincing the car felt then, plus Ferrari's claim that the car has identical torsional stiffness to the GTB. Smaller bumps are typically dealt with by the very clever magneto-rheological dampers, but larger imperfections or successive bumps see you backing off as the body doesn't feel able to keep pace.
Which is a shame, because it undermines both confidence and fun in what is largely a fabulous car. Predominantly this is due to what's been carried over from the Berlinetta, a point we'll return to. The twin-turbo V8 - 2016 Engine of the Year, no less - is even more astonishing after greater exposure, its effervescence, razor sharp response and staggering performance without rival in this world of new-school turbos. It's very nearly the perfect turbo installation, offering huge low-down torque but also, thanks to Ferrari's Variable Torque Management and an 8,000rpm power peak, an incentive to chase every last rev and every last shift light. Perhaps that last percentile of feral energy from the old V8s may have been lost, but if this is how Ferrari V8s now have to be then you'll find no complaints from us.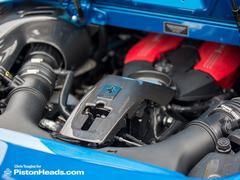 Worried about Ferrari turbo V8s? Don't be!
And what of the noise? Away from the isolated bubble of a launch event (where comparisons will inevitably be made to its predecessor) and in the real world of diesel Transits and hybrid Priuses, the 488 sounds fantastic. Again it's a case of spending more time with the car, hearing the odd crack from the exhaust and the turbos spooling, that make it seem more thrilling than on first experience. A few tunnels may have helped too. Put it this way: while a Huracan V10 may still be more exciting, Ferrari's integration of turbos for its V8 is more successful in terms of retaining the naturally aspirated sound than the efforts of M Power, Honda, and perhaps even Aston Martin.
Wibble wobble
Certainly with the roof down and the sun coming up, the exhaust howling with each downshift and the outrageous speed, it's hard to think of many better four-wheeled experiences. Until you hit a mid-corner bump. Any large bump, in fact. Despite the flex issues though, what Ferrari has done so well with both the 488 Spider and GTB is to make 670hp not only approachable, but exploitable and enjoyable as well. The way the manettino settings, Side Slip Control 2, F1-Trac and E-Diff are all calibrated and integrated to allow you to push the car and yourself as far as you feel comfortable is a mighty achievement. Traction is huge given the power output, but Race mode allows a degree of slip that works fantastically on the road. It challenges you but keeps you safe, massages your ego but never lets you get complacent. It's stunning, in fact.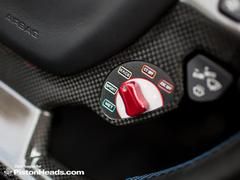 Ferrari the master of configurable settings
The brakes are excellent, whether you're going for a confidence dab or trying to imitate a Ferrari Challenge driver. And it's geared sensibly too - third in this runs to the same speed as second in a Cayman - meaning you can be up and down gears on a B-road and having an absolute riot. The 488 Spider is as engaging, as involving and as exhilarating as any sports car you care to mention, only with 670 flippin' horsepower.
Two's company
But Ferrari will tell you that Spiders are not made for early morning solo drives; that's what the GTB is for. The drop-tops are for more sedate drives with company which, wouldn't you know, the 488 excels at. As my dear mother so neatly opined on a 70mph cruise: "It don't mess your hair up much, do it?" a credit to the air management when the Retractable Hard Top is lowered. The seats are comfortable, the stereo is great and passengers can even keep an eye on your speed with the display similar to that seen in the GTC4 Lusso. The roof raises or lowers swiftly on the move, making it a very refined cruiser one way or ultimate poser's choice the other without having to slow to a crawl. Also handy if your Nan wants to go out and it starts raining. The sense of occasion and theatre is fantastic - as you might reasonably expect for an as tested price of £282,728 - and when driving at lower commitment levels the Spider is pretty damn convincing and very easy to love.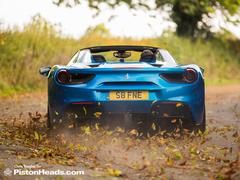 Not perfect, but extremely good nontheless
Which, let's be honest, is what the car will be used for. Arguably the 488 Spider is already better than it needs to be, despite the dynamic gap between it and the GTB being greater than first appeared. As a convertible for turning heads, attracting attention and flooding the driver with adrenaline, the 488 might just be the best around. But for a drop-top super sports car that more closely retains the dynamic integrity of the coupe, McLaren's carbon-tubbed
is a more convincing effort. And for perhaps the best car that £200,000 or so has ever bought, the 488 GTB remains totally compelling. What a decision to have to make.
---
FERRARI 488 SPIDER
Engine: 3,902cc V8, twin-turbo
Transmission: 7-speed dual-clutch auto, rear-wheel drive
Power (hp): 670@8,000rpm
Torque (lb ft): 560@3,000rpm
0-62mph: 3.0sec
Top speed: 203mph
Weight: 1,420kg (with "lightweight options")
MPG: 24.8 (NEDC combined)
CO2: 260g/km
Price: £204,400 (£282,728 as tested, comprising Apple CarPlay £2,400; Adaptive Frontlight System £1,440; Aluminium brake calipers £864; carbon fibre engine compartment £4,512, carbon fibre B-pillar trim £2,112; carbon fibre diffuser £5,472; carbon fibre sill cover £4,896; carbon fibre driving zone inc. LEDs £4,320; carbon fibre 'tunnel bridge' £1,632; carbon fibre door panels £3,396; carbon fibre kick plates £1,152; carbon fibre upper tunnel £2,304; carbon fibre dash inserts £3,840; embroidered headrests £720; titanium exhaust £1,440; carbon fibre front spoiler £4,320; floormats with embroidered logo £768; Scuderia Ferrari wing shields £1,056; electrochromic mirrors £960; parking cameras £3,456; passenger display £2,592; special colour £7,104; 20-inch chromed forged wheels £3,552; aluminium rev counter £557; Daytona carbon fibre race seats £6,144; sport seat lifter £1,440; premium hi-fi system £3,552; colour on request for seat stitching £432; interior colour for upper part of passegener compartment £1,344)