Some - ourselves included, in fact - have been a little cynical about recent Lotus products, the frequency with which they arrive somewhat diluting the significance of each one. 10hp here, a new set of wheels there - how much difference could it actually make?
The buck stops with the Exige Cup 430. Well, it seems to. For the Exige at least. Lotus describes this as "a new car in every respect" and so great is the leap, so comprehensively overhauled is the dynamic package and so complete is the finished product that it's hard to imagine much more being possible for this car. Famous last words...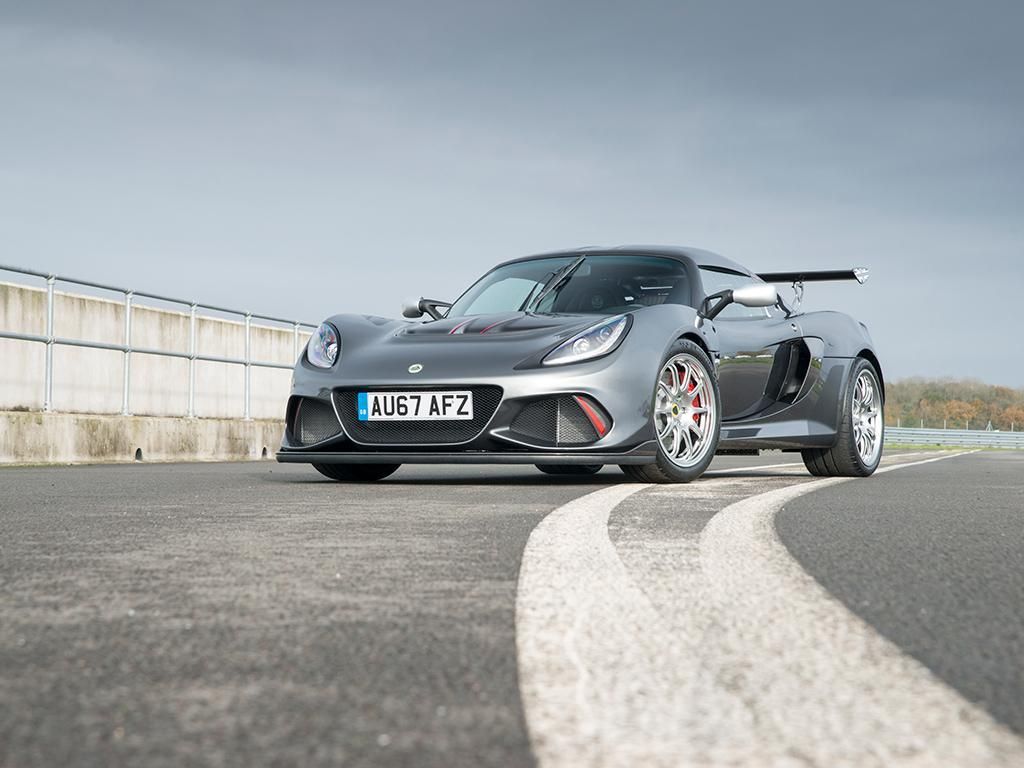 The Exige gets serious; really serious
In terms of numbers it's an Exige that's 15 per cent more powerful than the previous flagship, 1.2 seconds faster than that car around Hethel, and with a 0-60mph time that matches a McLaren F1. As a product it's one of the most intensely desirable and wildly exciting Lotuses ever produced. Seriously.
It starts before you've even completed the embarrassing collapse into the new carbon seat. There's so much to admire on this Cup 430, from the higher rear wing to the glossy exposed carbon to the fantastic 'J-hook' AP Racing brakes (which are more effective than drilled or grooved discs). It's drenched in track focused details, elevating the Exige's look from exciting sports car to proper track renegade. Secretly we all want a car that has tow hooks and cut-off switches as standard, don't we?
There's no losing sight of that circuit focus on the road either. The Cup 430 uses three-way adjustable Nitron dampers, a first for Lotus and including both high- and low-speed compression, and the damping on a Norfolk B-road is exquisite. The kerbweight keeps the car just about lithe and fluid enough, the dampers tying down every movement flawlessly. In all honesty a degree of extra suppleness might suit for longer journeys; turns out the road set up has a good few clicks on the dampers front and rear to go (the rear rebound setting is on 14 of 24, with 1 the firmest) so some additional compliance is surely there to discover.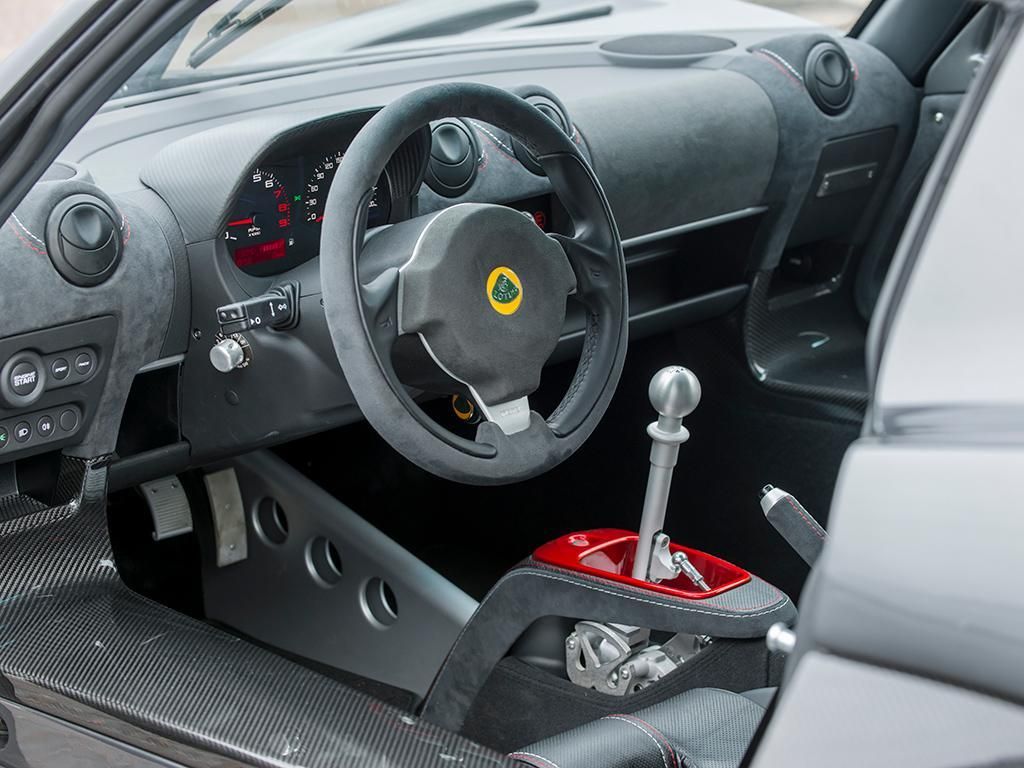 Airbag delete means a harness can be fitted too...
It's savagely fast too, this Exige, which you should expect from a car with a power to weight ratio not far off a McLaren 570S; the shock is that it's coming from a still relatively small Lotus, the juxtaposition of tiny car and big power as exciting as it is arresting. The size makes it accessible on a B-road, the visibility is good and the additional torque means you don't have to drive with the shift lights (and your underpants) ablaze.
There's a circuit for that sort of stuff, anyway. While pitched as the ultimate road and track car, the Exige Cup 430 is patently more focused than something like a GT3. Look, made it this far without mentioning the Porsche. That you have to pay for air conditioning, a stereo and sound insulation hints at that, and the road drive confirms it: the Exige is acceptable on the road, but it wants to be on circuit.
It's all about compromise, and your priorities. A GT3 will be easier on the road, the Lotus more exciting on a track. Tangibly more exciting too, even allowing for an engine that doesn't thrill quite like that flat six and a manual gearbox that, though vastly improved from the old days of Lotus, still isn't quite as crisp.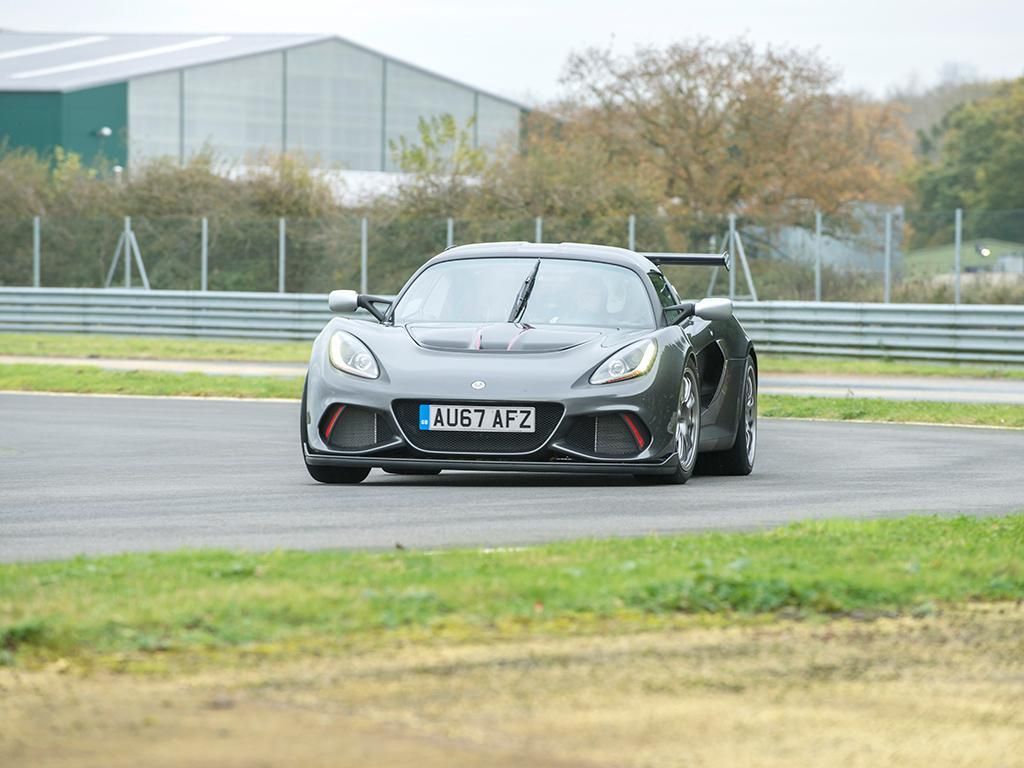 Want fast? Got it. Want involving? Got it
You'll know what's good about a Lotus on track: the communication, the poise, the involvement, the feel. They are of course all present in this Exige, only ramped up further and accompanied by an oh-my-god-that's-quite-quick turn of speed.
Turn in with a little too much momentum and the steering goes light in your hands; even on a greasy track you know about the understeer. Brake hard and you'll feel the millimetre the ABS gets involved, so you know where to work to next time. Jump on the throttle too abruptly and the wheels will spin; but you'll have heard and felt it, so it's not a surprise. The Exige can catch you out, but you'll know absolutely why.
The traction and stability control are motorsport inspired, never impacting on your enjoyment and giving as much freedom as you could want. You can push and push and push and the Exige keeps coming back for more, challenging and captivating its driver in equal measure. It really is a sensational track car, the combination of finely honed dynamics with mechanical toughness a deeply appealing one. And it sounds awesome, too.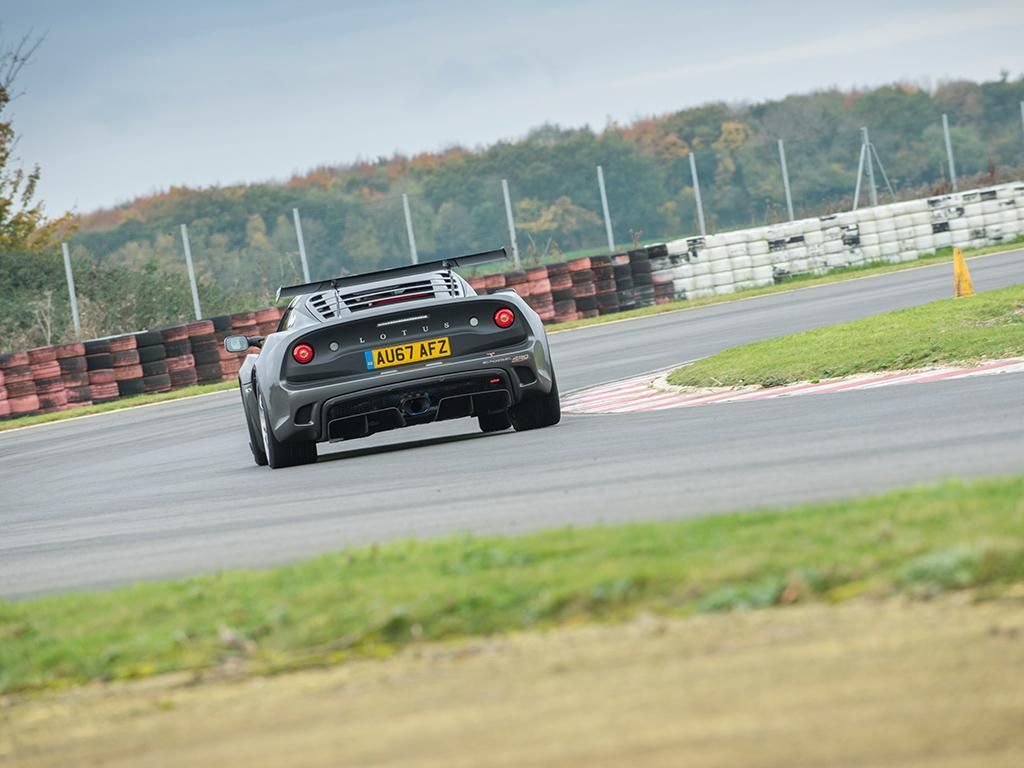 No, really, it is that good
So there you have it: a Lotus with almost all the delicacy of an Elise, supercar performance and the circuit aptitude of a genuine motorsport product. That has to be worth £100,000, doesn't it? Or a bit more once you've added air-con and a radio back in. To many it may look like a far cheaper car; to those who appreciate what a Cup Lotus is all about, however, this Exige more than delivers on the hype, excitement and, yes, the list price it brings. When Cayman GT4s are still available for the same money, the Exige looks all the more attractive. A track-focused Lotus road car comes with very high expectations; that this Cup 430 comfortably exceeds them should tell you just how sublime it really is.
---
LOTUS EXIGE CUP 430
Engine: 3,456cc V6, supercharged
Transmission: 6-speed manual, rear-wheel drive
Power (hp): 436@7,000rpm
Torque (lb ft): 325@4,000-6,800rpm
0-62mph: 3.3secs
Top speed: 180mph
Weight: 1,093kg (unladen)
MPG: N/A
CO2: 242g/km
Price: £99,800