While the latest four-cylinder 718 models were always going to face a tough time on PistonHeads, this particular Boxster test was more gruelling than most. Not only is the noise under closer scrutiny without a roof, this 2.0-litre Boxster was loaned to PH at the same time as a rather more expensive Porsche. The 911 that shall not be named, the one with the stripes. While they couldn't be directly compared, swapping between the two - or rather, being forced from one - was always going to expose any flaws, particularly around the engine, very harshly.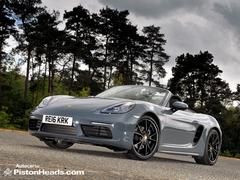 So where better to begin than
? It's where everyone wants to start the discussion, after all. Remember the key difference with the entry level car is the use of a conventional turbo rather than the variable vane item
. While both engines are oversquare units, this engine's reduced capacity does mean it's less pronounced than in the 2.5 (both share a 76.4mm stroke, this car's bore 91mm as opposed to 102mm and the same as the six-cylinder
Given how similar the statistics are - peak power at the same 6,500rpm, torque plateaus within 50rpm of each other - it's not a surprise to find the 2.0-litre engine behaves in a similar way to the 2.5. Of course a back-to-back comparison would provide the clearest answers, but the most obvious commonality is that there is turbo lag. Which is always rather tricky to discuss. Note when journalist likes the car, turbo lag is exciting and builds anticipation for the speed that's coming; when journalist doesn't like the car lag is lazy and frustrating and hinders progress. Whatever your opinion on lag though, the 718 does have it.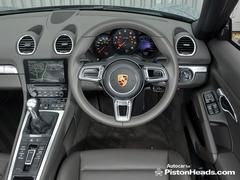 Don't mistake lag for a lack of response though. This car reacts to the smallest throttle openings at very low engine speeds, remarkably so for a turbo in fact. It's just that the meaningful performance - and it really is meaningful, especially compared to an old 2.7 - isn't really with you until about 3,000rpm. Furthermore, while the way it zings to the 7,500rpm makes all other turbo installations looks a bit flat, fact is this Boxster doesn't quite have that willingness of the old flat sixes. So you end up relying on the mid-range. Which isn't very sports car.
Or rather it isn't, until you change tack and drive it a little differently. While the old engines were great when you could extend gears and really let the car come alive, certainly the lower powered six-cylinder Boxsters could feel a bit overtyred and not enough of a test for the chassis. Not anymore. The big leap in torque has rejuvenated the Boxster chassis, meaning there's genuine throttle adjustability at road speeds and commitment levels in the non-S model. Not just when someone's booked out a track for you. And this isn't motoring journalist bravado, instead small sensations like feeling the (optional) limited-slip diff tighten the line out of bends and perhaps just begin to breach the limit at lower speeds and within the traction control's threshold. That never really happened before.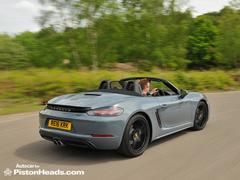 By giving the chassis more of a challenge, the turbo engines have actually made the 718 Boxster a more enjoyable and involving sports car. There, it's been said. Trouble being - there had to be something - that the noise accompanying you on your (very enjoyable) drive simply isn't that pleasant. And that's a big problem for a drop-top. There are interesting motorsporty noises higher up the rev range but largely it sounds a little grumbly, a bit a like a GT86 at points and just not that exciting for a convertible sports car. With an as-tested price of £53K, this Boxster competes directly against the entry price of a TT RS Roadster (£53,550) and is close to the F-Type V6 (£57,260). And if you're looking for a great noise from your sports car...
But if you want a great drive from your sports car, there's still a lot to recommend the Boxster. An obvious point perhaps, yet one that rather appears to have been forgotten in the downsizing fracas. It feels lithe and agile in a way neither the Jag nor Audi will, responding beautifully to every input from the steering, throttle and brakes. The pedal weights and gear shift are spot on, meaning you will change gear for the sake of it and despite there now being very little need to. Put simply the Boxster is still a damn fine car to drive, in some ways better than it ever was, even if the engine in this particular car is smaller than you will find in a Mini Cooper S. Yes, really.
Moreover, as an everyday sports car - which is surely what Boxsters, TTs and SLCs are bought as - the new engine brings further benefit. Without wishing to come across all Which? on you, it's more assured on the motorway and less effort at urban speeds too. The gearing becomes less of a problem when you feel less compelled to wring out every last rev too.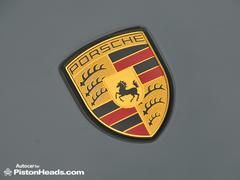 Let's leave it this way: if you want a sports car to use for a Sunday morning thrash and weekends away, get an old Boxster GTS now. It will fulfil your needs better than either 718 Boxster or Boxster S and probably prove a lovely car to own.
, for example. However, for buyers wanting to use their car in all scenarios including commuting, motorway slogs, B-road blasts and track days, they will find a lot more to like about this four-cylinder 'base' Boxster than they may have initially thought. The noise will remain an issue, and there is no doubt that the flat-six cars will be preferable in certain situations. That isn't all the time though, and it isn't as frequently as you might expect. Give one a try, you might just be surprised.
---
PORSCHE 718 BOXSTER
Engine: 1,988cc, 4-cyl turbocharged
Transmission: 6-speed manual, rear-wheel drive
Power (hp): 300@6,500rpm
Torque (lb ft): 280@1,950-4,500rpm
0-62mph: 5.1sec
Top speed: 170mph
Weight: 1,410kg (EU with driver)
MPG: 38.2
Price: £41,739 (As tested £53,093 comprising of £558 for Graphite Blue metallic paint, £599 for front and rear park assist, £971 for Porsche Active Suspension Management (PASM), £890 for Porsche Torque Vectoring (PTV) and mechanically locking rear differential, £1,530 for sports exhaust system, £1,700 for 20-inch Carrera S wheels, £615 for wheels painted in satin black, £322 for automatically dimming mirrors with integrated rain sensor, £186 for GT sport steering wheel, £1,292 for Sports seats Plus, £284 for seat heating, £122 for Isofix child seat mounting points, £138 for Porsche crest embossed on headrests, £1,052 for Navigation module for Porsche communication Management (PCM), £284 for digital radio and £801 for Connect plus)