The Mazda 3 MPS is one of those cars right under the radar of most hot hatch fans. Whether it's the restrained looks or Mazda's on-off relationship with the fast hatch breed, the 3 MPS is not a car we hear a lot about. That's a little odd given this was one of the most powerful hot hatches of its day when launched, with 260hp.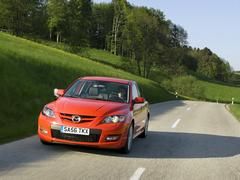 Subtle looks appealed to most...
With that sort of power, the £18,995 3 MPS was good for 0-62mph in 6.1 seconds, which was faster than a Volkswagen Golf GTI in 2006 at the time of the Mazda's launch. It was also quicker than the contemporary Ford Focus ST, which shared the same platform as the 3 MPS but used a five-cylinder engine.
The Mazda's engine is a 2.3-litre four-cylinder unit, which is a larger capacity than most rivals and their 2.0-litre motors. It shows Mazda's propensity it go in its own direction rather than follow any trends. However, the 3 MPS did stick with front-wheel drive instead of using the four-wheel drive system from its 6 MPS big brother. Perhaps if this had been used, the quick 3 might have gained more headlines and favour from the press at the time of its launch. It might also have helped tame the torque steer that can afflict the car.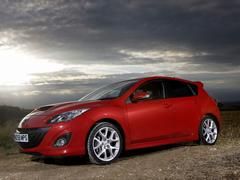 ... but the Mk2 is more dramatic if desired
Still, the 3 MPS carried on through a facelift of the Mk1 model in 2007 and then into the second generation 3. The MPS version of this car arrived in 2009, with a £21,000 starting price. Another range-wide facelift for the 3 arrived in late 2011, while the MPS was further enhanced a year later with Xenon headlights, larger front brake discs, new secondary rear spoiler and a gunmetal-effect finish for the alloy wheels.
Throughout its life, the MPS in first and second generation guises didn't change dramatically. It sold in small numbers but has gained a faithful following among those who like the subtle looks and strong mid-rev punch provided by 280lb ft of torque. The MPS Owners Club is where you'll find most like-minded enthusiasts and where the best cars are for sale. If you fancy a Mazda 3 MPS and joining this dedicated band of owners, early cars start from £4,000 and prices rise to a peak of £14,000 for the very last made in 2013.

---
PHer's view:
"It was a great first modern hot hatch to buy but for me, but it needs to be a car bought by somebody who wants a sleeper and also has a bit of money to put into the car to get it performing as expected."
Paul Taylor

---