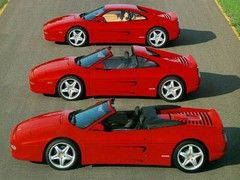 Introduction:
The
Ferrari F355
was first shown to the world at the 1994 Geneva Motor Show and it immediately became the most desirable supercar this side of the McLaren F1. It went on sale shortly afterwards in Berlinetta coupe and GTS targa guises, with a full convertible Spider arriving a year later. Prices started at £83,031 at launch and production ran until 1999, when the car was replaced by the 360, which means the 355 is now relatively affordable by Ferrari standards.
In total, 11,522 355 models of all types were made, including 104 stripped-out and roll-caged Challenge race cars. This made the 355 the first Ferrari model to sell more than 10,000 units and 496 Berlinettas were sold in the UK, with 88 of those with the F1 gearbox. A further 434 GTS models went to UK customers (74 of them with an F1 transmission), while 454 Spiders were sold through Ferrari's UK agents (139 Spiders with the F1 gearbox). This ubiquity, in Ferrari terms, makes the F355 a popular entry point to the make.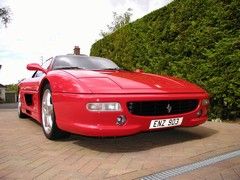 Choosing the
F355
as a first foray into Ferrari ownership need not be daunting. There are plenty to pick from and a number of dependable specialists.
However, any car capable of 0-62mph in 4.7 seconds and 184mph needs careful consideration. So if you haven't got a decent contingency fund, you'd better make sure the family is up for missing out on the odd trip to Disneyland.
Meanwhile, before you dive in to fulfil your own Ferrari fantasy, check out what fellow PHers have to say about buying and owning these desirable machines.
Editor's note: We hope this new Ferrari F355 'knowledge bank' will attract contributions from current and past owners, and anyone who knows these cars well. If you have something to say that will help fellow PHers,please add your comments to the forum thread in the relevant sectionbelow.
We'd also love to illustrate this guide with photos of PHers' own cars, so please email contributions to F355pics@pistonheads.com - we're looking for complete cars from all angles, as well as 'detail' images that illustrate specific items discussed in these pages. Thanks, folks!
Ferrari F355 Buying Guide
Section Menu:
Introduction (viewing now)
Ferrari F355 - Powertrain
Ferrari F355 - Rolling chassis
Ferrari F355 - Body
Ferrari F355 - Interior
Ferrari F355 - General experiences
Ferrari F355 - Search the PH classifieds...