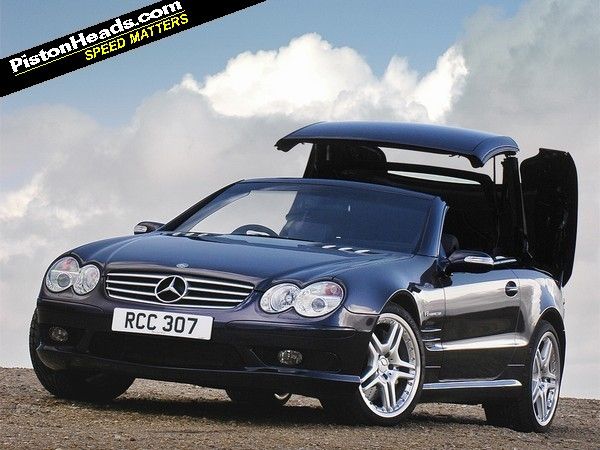 Off the back of Chris Harris's multi-generational SL drive there's a lot of love in the PH office for the venerable Mercedes roadster. One of the best of the breed is the one you see here and, with the weather taking a turn for the sunny, perhaps the time to consider taking the plunge.
The SL55 AMG was the most powerful road car ever built by Mercedes when it was launched in 2002 and, clearly, one of the most PH-worthy SLs ever. It arrived in the UK in the summer of that year, following on from the R230 SL500 on which it was based, with 476hp from its 5.4-litre supercharged V8. The £89,040 SL55 covered 0-62mph in 4.7 seconds and had an electronically capped top speed of 155mph.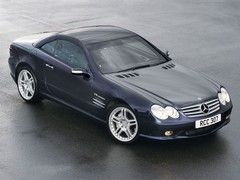 There was immediate speculation about the SL55's true top speed from the moment it was launched. To prove the car's potential, one German car magazine removed the electronic limiter and drove an otherwise standard SL55 to 202mph. However, all UK-spec SL55s come with a speedo reading up to 180mph.
The SL55 AMG proved an immediate hit with UK buyers and the AMG accounted for as many as one in four SL sales between 2002 and the less-than-fortunate facelift of 2008. Power was soon upped to 500hp to prevent the similarly engined E55 outgunning the flagship SL, a further round of revisions in 2006 increasing power further to 517hp thanks to a new higher speed pulley for the supercharger and larger throttle valve.
When Merc brought in its revised styling for the SL in 2008, it took the chance to drop the M113 5.4-litre V8 and replace it with the M156 6.2-litre V8 to create the SL63. For this guide, we'll stick with the M113-powered SL55 that is far more plentiful and popular. Even with this popularity, however, early SL55 AMGs are now into the affordable bracket from around £16,000, which makes them a fine performance bargain.
Owner's view:
"After many years of driving different cars, I eventually realised for me, and possibly others, the compromises Porsche and Ferrari make to obtain outstanding lap times at the track do not translate into good cars for the roads we have. So I thought back to the 55 AMG and realised it did everything you would need in a road car."
Richard Harvey

---
Buying guide contents:
Introduction
Powertrain
Rolling chassis
Body
Interior
Search for SL55 AMGs in the PH Classifieds now