Lord Drayson wants to kick off a debate about electric racing. And he knows where he wants that to take place - on PistonHeads. "It's lively!" he says of PH. "The great thing is you've got people who really do know their stuff and they're passionate and opinionated and we would really love the opportunity to generate some discussion."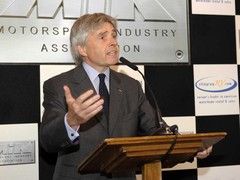 Lord Drayson reckons Britain can lead the, er, charge
So, the floor is open. What do you want of the impending age of electric motor racing, spearheaded with an opening round for the FIA-approved Formula E championship right here in London in 2014? Indeed, do electric motors have a place in motor racing at all? And can the whine of battery powered racers really replace that of a screaming F1 engine revving to 18,000rpm?
Drayson thinks so, his political savvy - following a peerage in 2004 he served as Defence Minister under Tony Blair in 2005, expanded his work to include the Department for Business two years later and from 2008 was Minister for Science and Innovation - matched with a passion for science, technology. And a desire to see Britain at the front of the electric revolution. As a politician he is a convincingly impassioned champion for British engineering talent and as a car fan and racer sees motorsport as a way to get electric cars away from what he describes as the 'greenwash' painting them as eco focused purely city runabouts.
Can petrolheads really embrace electric racing cars though?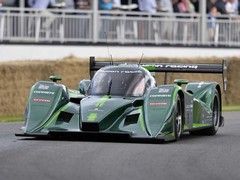 Judd V10 out, electric motors in on B12/69EV
The evening before meeting with us he'd been at a lecture at Oxford held by Ferrari F1 chief Stefano Domenicali. "I said to Stefano, just imagine what would the character of a Ferrari be if it weighed less than 1,000kg and it had 1,000hp electric drive that could drive on one charge from London to Paris?" he says with a grin. "He said 'it's not in the strategy' but we're doing this project with the Royal College of Art sponsoring a project asking what should be the design language of the electric car. You. Will. Be. Amazed. We've grown up with the emotion of the car being associated with the internal combustion engine. I don't know - we don't know yet - how will the thing that we love about cars translate to the electric car if you're given a clean sheet of paper. We're not talking about city cars. I'm talking about the Drayson E Racer, a car that is designed for absolute performance, no compromise and zero emissions. That's it, go to it."
Drayson's passion is clear enough, the tempo and pitch of the conversation rising as we go. Especially when he gets onto the electric B12/69EV that ran at Goodwood last year. In the first season the Spark-built Formula E cars - co-developed with McLaren and with Renault now on board - will use a common design. But after that teams will be able to use their own motors and control systems and Drayson Racing hopes to lead the field, using experience gained on the B12/69EV.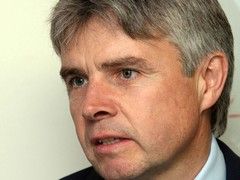 Drayson's first job was at Longbridge in 1978
"Nobody has heard what a Formula 1 car sounds like at 200mph with the engine switched off," he says. "I guarantee you it's a really cool sound and that's what electric racing is going to do - it's going to show you what a car is like at 200mph without the engine drowning everything out."
And what of the driving experience, having removed the previous Judd V10 and replaced it with electric motors?
"It's got 850hp, it weighs 1,000kg and the driving experience is completely transformed," says Drayson. "It's not just about taking out a Judd V10 and putting in an electric drive - it's changed the character of the car and there's something really cool about it because it's really stealthy. There's a total lack of vibration and obviously you don't have the sound of the Judd V10 firing up behind your head. But when you are in the car the feeling of the power delivery ... it's like being in an aircraft on the ground because that push in the back is so smooth it's like being transported by something that's not mechanical. And then you hear, like you do a little bit with the Audis at Le Mans, you hear the aero."
And now's the time to have your say about how all this translates to Formula E. "That's the great thing about Formula E, it's brand new and a clean sheet of paper but in a year's time it won't be," he says.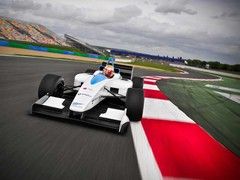 Formula E cars built with input from Renault and McLaren
"Contemporary social media, wireless and smartphone technologies will provide us with the means to offer a more interactive fan experience in Formula E," he's said previously at a press conference at the launch of the Drayson Racing team. "We think there's an opportunity for the fans to be closer to Formula E than any other series so we're taking their input very seriously."
The legacy of wireless charging points in the road circuits used by Formula E - "It's like a giant Scalextric with no wires!" - means cities hosting races could have areas where electric cars, buses and taxis can demonstrate how such vehicles can run without being slaves to heavy batteries. "We're working with some amazing wireless charging technology," says Drayson. "Just imagine if you don't have to plug the damned thing in! It just charges itself while it's moving, it doesn't have to carry 300kg of batteries because you don't have to carry all of the energy on board, it's topped up as it goes so now you've got a car with 1,000hp and it's weighing 600kg."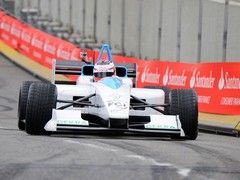 Street racing to bring Formula E to the masses
Which is an interesting way of turning Chris Harris's argument about the 918 Spyder on its head. Not, what would it be like without all the batteries and electrical gubbins destroying the weight gains of the clever carbon tech. But rather, what would it be like without that lump of V8 metal and a big tank of fuel? Clearly there are still significant infrastructure questions to be answered, not to mention safety ones. Drayson highlights the reluctance of marshals to approach Anthony Davidson's wrecked hybrid Toyota after last year's epic Le Mans shunt as one example of how electric cars can freak out a business ruled by internal combustion.
Can we really learn to love the hum of an electric motor as much as a screaming V8 though? Drayson reckons so. "Don't fight it, embrace it! Let's make cars which we can fall in love with and be passionate about but let's just make them with the new technology."