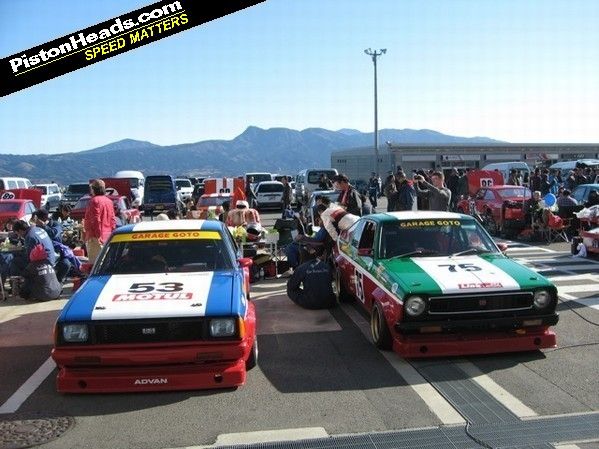 Saturday, 0605h
There was a reasonable sized earth tremor apparently. I was fast asleep so didn't hear a damn thing.
0800h
72 hours ago I was being bombarded by the LED drenched stands and eco-focused future propaganda of Tokyo's motorshow. Today I'm trying to sniff out something a bit more rebellious - the largest gathering of modified antiques in Japan.
The 20th Mooneyes annual hot rod, custom and chopper show is over in Yokohama. Leaving my Tokyo hotel (via its magnificent oriental Koi pond and raked gravel garden) for the underground station, the heavens open. Every commuter is armed with a clear plastic umbrella apart from me.
The raindrops are Sumo gauge, so I relent and hail one of Tokyo's thousands of early 1980s box saloon taxis. It's a Nissan Cedric Super Deluxe - which is kind of Japan's equivalent to America's Ford Crown Victoria cab.
0815h
900 yen gets me to the station in warm, doily seat covered, LPG-powered glory. The white Disney-gloved driver swings open the back door by use of what appears to be a secondary handbrake lever. All cars are weirdly clean and dent-free in Tokyo, and this yellow Ced' is no exception.
1025h
Should have been in Yokohama by now. Trains don't do late here, but western idiots with stinging tired eyes do sometimes misunderstand signs and get OFF the right one. All trains are electric, near silent and look like aerodynamic slippers.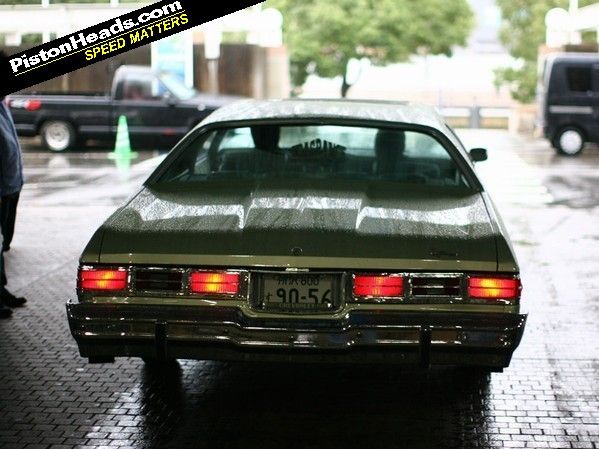 1110h
Walking from the subway over the bridge towards the Pacifico Hall (Yokohama's Birmingham NEC basically) it's still slashing down. Out of the fog comes something very un Kei. It's a 1976 Chevrolet Caprice lowrider. Nothing looks more at odds with its cutting-edge skyscraper-strewn surroundings than an 18-foot slab of pinstriped American land-yacht riding on hydraulics.
1112h
A pair of Japanese greasers are smoking and chomping sushi at the entrance. Wallet chains, leather back-patch jackets, quiffs, neck tats and Doc Martins. I really admire this nation's determination to take a lifestyle, fashion or hobby and explore it to the nth degree.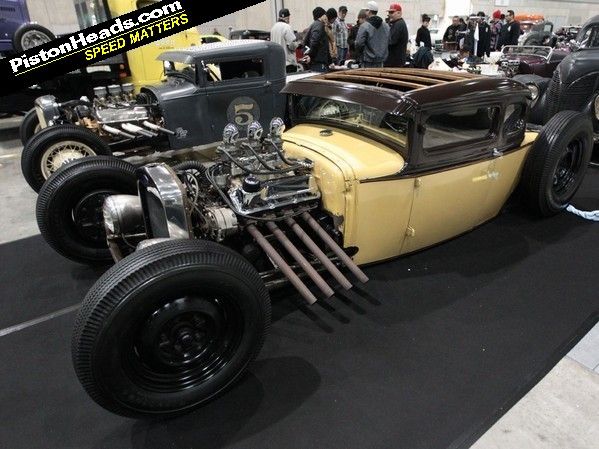 1115h
There's no security on the gate, so I walk straight in. Luckily today is setting-up day for the show, so you get to see stuff moving and hear it running. I follow in a 1968 Toyota Crown estate with arrow-straight paint and distinctly 21st century exhaust note. Turns out the thing is packing a Lexus Soarer motor between the front strut towers.
Wow. Despite the dim lighting (electricity saving has become a priority in Japan since the quake/tsunami/Fukishima power station disaster), the hall is glittering with nearly 300 of the most detailed custom cars in Japan.
I love the fact the Mooneyes organisers embrace such a spectrum under one roof. A polished alloy '70s MV Agusta rubs shoulders with Bonneville salt flat roadster, a weather-beaten '20s hot rod parks alongside a ridiculously polished 1970 Datsun Bluebird coupe.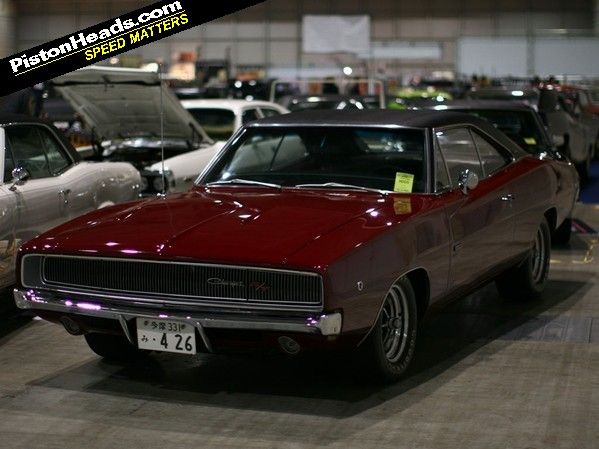 1550h
A 1968 Dodge Charger 426 Hemi manual. Muscle cars don't get rarer. That's scarce, even in its homeland where it would make $250,000 easily...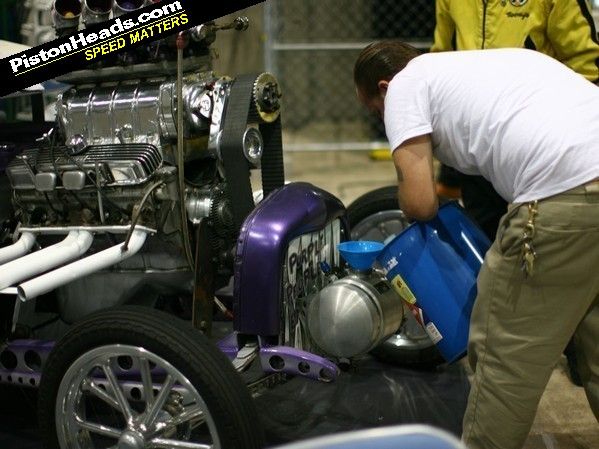 1559h
Guest vehicles have been shipped from Australia, US, even Indonesia. One American star exhibit - Marky Idzardi's The Purple People Eater - gets filled with C16 race fuel and started up. Eight carbs. No exhausts. Ears broken.
In a nation known for its population density, miniaturising and extraordinarily expensive real estate, these owners clearly sacrifice a lot in order to own/build over-sized, OTT road-going relics. Massive respect.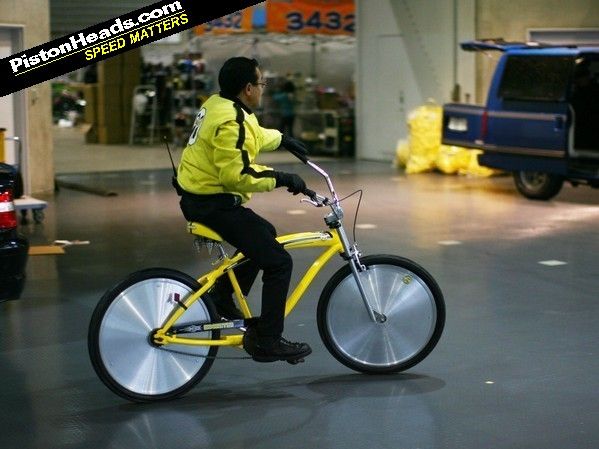 1700h
Mooneyes organiser Shige cycles past on a cruiser bike addressing everyone with a tannoy. Closing time. Cars are parked on neat oblongs of carpet, owners tip-toeing around with shoes off, jacking them up to polish undercarriages or finish their stand 'theme'.
1710h
Tomorrow the hall will be crammed with 20,000 people with cars roped off. Glad I came today. Time now for a 2.5-hour bus ride from Yokohama station to Fuji for tomorrow's Sunday performance Nissan worship.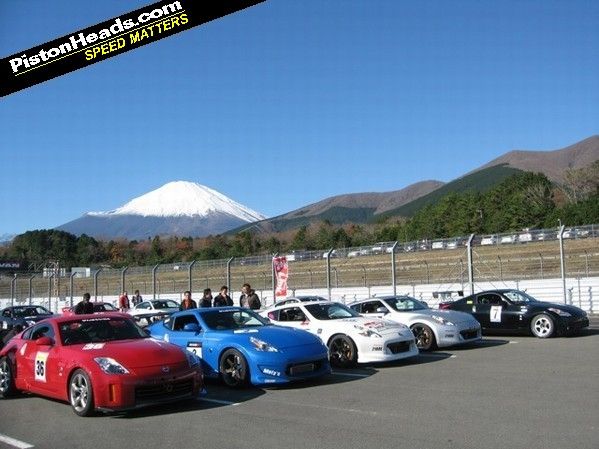 Sunday, 0710h
Ah so THERE'S the mountain. I'd arrived at my hotel in the dark and never saw it last night. Breakfast can be odd in Japan - they seem to like chicken nuggets and lots of vegetables.
0805h
We can't be far. Japanese bus windows slide open and through them I can hear the warble of Skyline straight sixes. GT-RRRRRRRRR.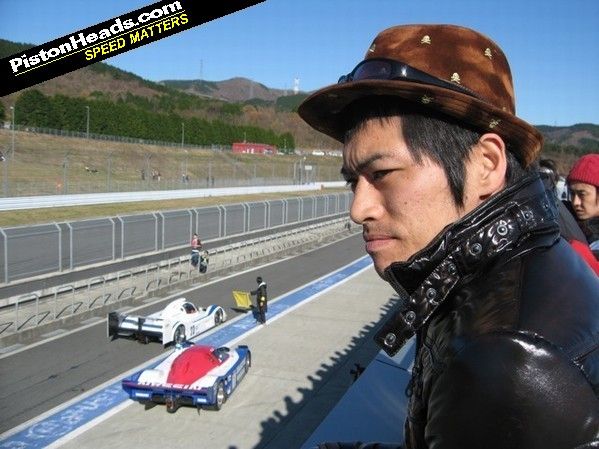 0815h
The snow-capped Mount Fuji against blue sky is just epic. The bus winds through some potentially awesome drifting roads and arrives at Fuji International Speedway.
This is the annual NISMO festival - one of Japan's largest motorsport events - celebrating all that is good about Nissan's (past and present) racing accolades. It's a one-make Goodwood Festival of Speed, basically.
0900h
Racing starts on track (which has amazing elevation in places). I say racing, but it's largely exhibition for crowds rather than wing mirror conkers.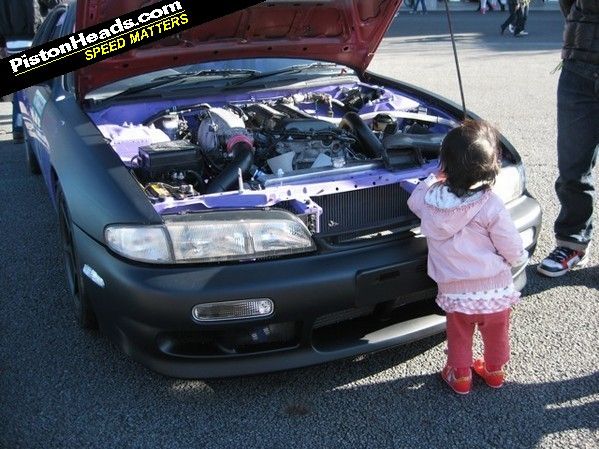 0945h
This is a family show. The kids are poring over Tamiya models and Nissan keyrings while mum and dad can shop for a limited-slip diff, 13x10J split rims or one of 20 varieties of vending machine cold coffee.
1115h
Lines of ex-works Datsun Sunnys - Japan's answer to the Ford Escort Mk2 - had me captivated. One owner insisted on having a picture with his daughter. I resisted the urge to pull the peace sign. He seemed chuffed his lairy 1.3 was getting attention from a westerner. The Japanese are nothing if not immensely polite and modest.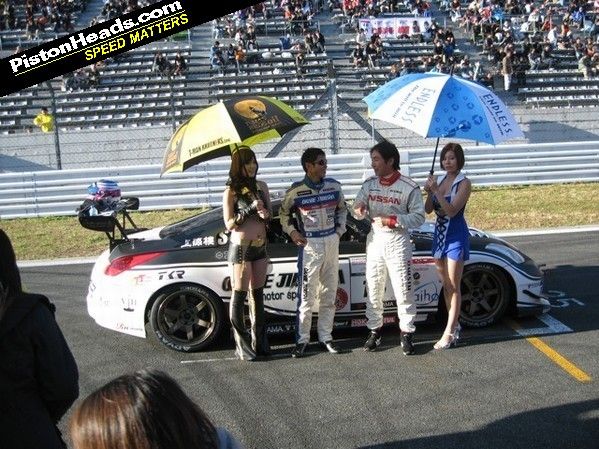 1205h
I have the privilege of interviewing NISMO's 'Race Queens'. These are like Moto GP brolly dollies, but are as popular as the drivers with fans. They got mobbed for pictures all day. They were giggly and wore plastic skirts.
1300h
The main race - Japanese Super GT and Le Mans weapons swarm for a warm-up lap. Iconic Pennzoil R34 and Reebok R32 Skylines meet champion German driver Michael Krumm in his GT1 winning GT-R. Tons of synchronised flag waving on the start/finish straight.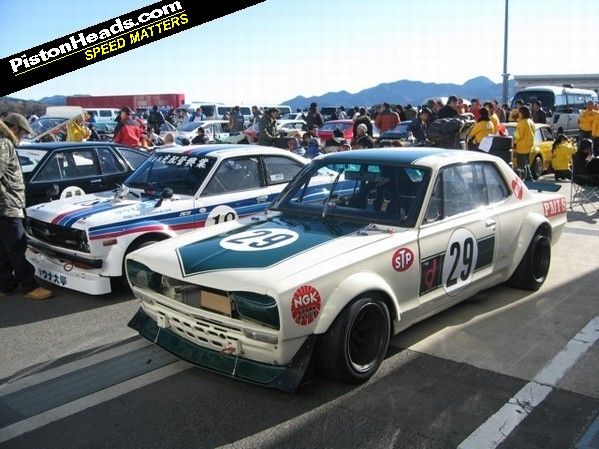 1425h
My favourite car of the event. This is what started the GT-R bloodline back in '69. The white/green stripe cars are Nissan works machines. 220-ish hp apparently.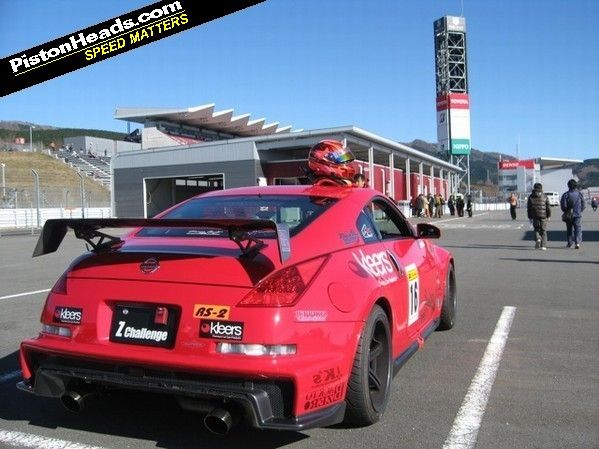 1500h
People sitting down. They are politely waiting to walk out on the start/finish straight for photos next to their favourite race 350/370Z or GT-R. When security blow a whistle there is a cameraphone-wielding stampede!
1630h
Leave for Narita airport hotel - the bird flies tomorrow. Massive traffic, but most of it interesting cars (which eases the pain). Heard about this over dinner. Absolutely nothing to do with me...
Pics: Jonny Smith and Dino Dalle Carbonare