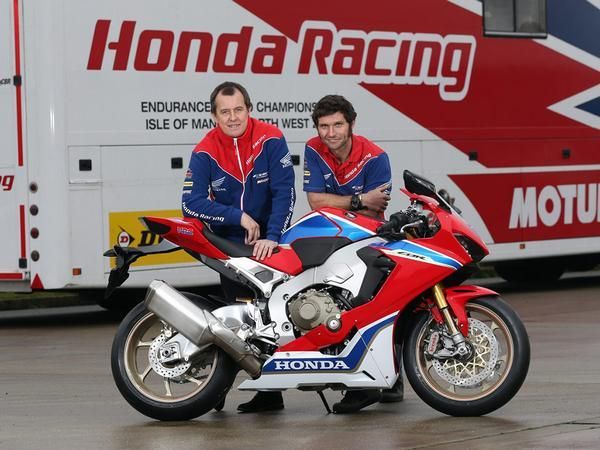 Honda announced today that it has signed Guy Martin to partner
John McGuinness
at the TT and various road races in the Superbike classes during 2017. Yep, after a year out, Guy is set to return to road racing and do it alongside TT legend (and 23-times winner) John.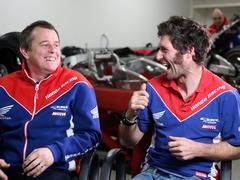 It's all smiles for now...
McGuinness of course commands huge respect among the road racing community and beyond but Honda will be keen to benefit from Martin's star quality and genuine - if seemingly reluctant -
TV celeb status
to help publicise the new Fireblade they'll both be riding. As such Martin and McGuinness are only to race in Superbike classes on the 'blade SP2. The big question for Guy's fanbase is, of course, whether or not this partnership can at last bring him the long-awaited TT success he's craved.
With 15 podiums under his belt, Guy is one of the most successful TT racers not to stand on the top step. While the vastly experienced Honda team are certain to give Guy the bike and technical back-up to make this year his best shot to date, there is one Morecambe based obstacle in his way - McGuinness!
"I had a lot of thinking to do before I committed and said yes to joining the team," said Guy. "I spent a lot of time on my push bike to and from work, thinking about what to do. I didn't want to grow old regretting not giving the Honda a go, and the more time passes since making the decision, the more time I've thought it is the right decision. John is the man, I've got massive respect for him and I'm looking forward to racing on the Fireblade against him."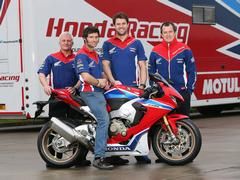 New Fireblade certainly looks the part
McGuinness shares the anticipation too. "I'm excited to have Guy as my new teammate; we've enjoyed many a racing battle over the years and I'm looking forward to seeing what we can both do," says McGuinness. "I know the old model like the back of my hand and have taken a lot of my TT wins with the old girl, so I can't wait to get out on track and try the new machine out. I have a good feeling about this year and think we have a really good package to show that we mean business. I of course would like another TT win and I would quite like my lap record back! I always say when it's broken that the lads are just borrowing it and I hope this year that this is the case."
There is one interesting point left unresolved - will Guy race in the Supersport TT? He is still linked to Triumph with his World Speed Record attempt and the Daytona 675 is right on the pace at the TT, as Guy proved in 2015. Honda has discontinued its CBR600RR and, as such, may be open for Guy racing a Triumph. Though it might be a little awkward if Guy wins the Supersport TT on a Triumph and not the Superbike class on a Honda...