Monday 13th June 2011
Ginetta Cars Hit The Roads
Well...sort of. Le Mans road trip is part of final development
---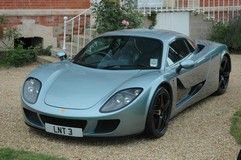 Ginetta's G40 R and F400 road cars should be on sale in the next three to six months, according to Ginetta boss Lawrence Tomlinson.
We met up with the owner of Ginetta cars just before Le Mans for a poke around the three prototypes he'd driven down from Leeds (not personally - you can't drive three cars at once, obviously) for the Supercar Parade in the French city's centre on the Friday before the race.
The cars that Ginetta brought down were all still very much prototypes but, after a long gestation period for both the baby track-car G40 R and the bigger almost-supercar F400 which has involved all manner of trials from factory relocations to fires, the cars are finally here.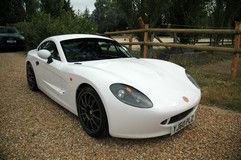 The specifications have evolved a bit, too. The G40 R, which originally started life with a 1.8-litre Zetec, now has a 180bhp version (thanks to a tweaked ECU an a bespoke exhaust) of the 2.0-litre Ford-sourced Duratec that also serves in the Mazda MX-5. In fact, pretty much the whole drivetrain, including the gearbox and differential, are now MX-5 items. Which should make the 800kg G40 R both pretty darn rapid and a capable handler.
And handle well the Ginetta ought to "We wanted to make a proper track car for the road," says Tomlinson. "That's why we've put a full FIA-spec roll cage in." He doesn't say as much, but the G40 R is clearly going to be occupying a lightweight, hardcore niche in the market recently vacated by a certain Norfolk manufacturer. At a predicted sub-£30k price point there certainly isn't anything else like it.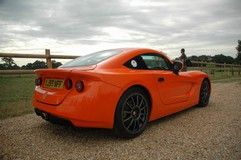 As for the F400, well details are a bit more sketchy on that front. There's no doubt that the Ford V6 which, like the G55 racer's, has been upgraded to a 3.7-litre V6 with 410bhp, is going to provide it with plenty of oomph (Ginetta talks of 0-60mph in 3.7secs, and a top speed of 185mph-plus), but what's less clear is exactly where it will fit in to the fast coupe market. And Tomlinson really won't be drawn on questions of price, saying only that it will be "less than half the price of a McLaren MP4-12C".
Your guess is as good as ours on that one, but that does seem to imply an expected cost of less than £100k.
Ginetta still has a long way to go before it can really call itself a manufacturer but, on the evidence of these prototypes at least, it's deadly serious about getting there.
Gassing Station | General Gassing | Top of Page | What's New | My Stuff