Thursday 23rd October 2014
West Berkshire loop: My Dream Drive
Getting up a gallop in a Ferrari F430 Spider through the valleys of the horses
---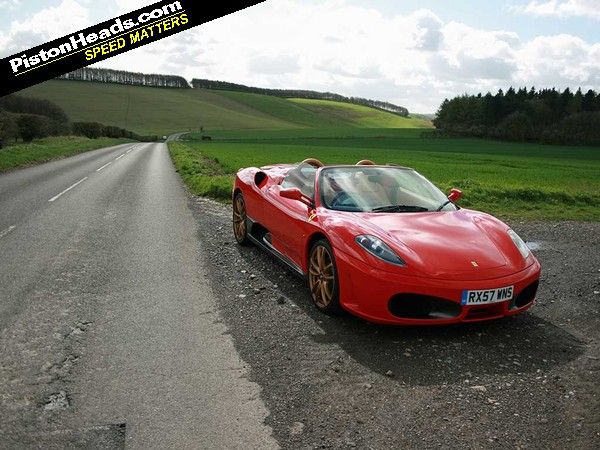 Name:
Chris Rees
Where:
Newbury and the valley of the horses
Car used:
Ferrari F430 Spider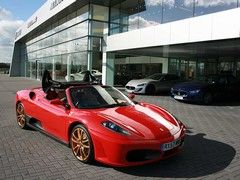 Appropriate choice for valley of the horses
The route:
"The journey starts in Newbury, a short hop off the M4. From here, the B4494 winds its way north to Wantage, starting off narrow and twisty as it rises out of town, but soon opening up to offer a series of high-speed bends, changes of elevation and challenging cambers.
"Reaching Wantage, I point the Ferrari's nose west on the B4057, eventually picking up the B4001 to Lambourn, ground we've covered once before in a more condensed Dream Drive. We're now in the 'Valley of the Racehorse' - so named because an estimated 1,500 horses in over 50 racing yards live and train here. Thank the springy turf and uninterrupted open spaces for that - it's pretty much the ideal environment to foster Ascot winners. Not bad for our own prancing horse either!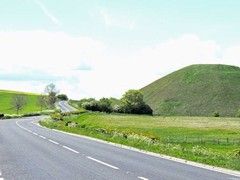 Roads like this are what it's all about
"After taking a right turn on the B4000 to Ashbury, it's impossible to resist a detour and head east on the B4057 again, as far as the turnoff for Uffington. Heading up this tiny road to the famous white horse carved on the hillside is memorable indeed - you're rewarded with simply stunning views across the landscape below. But at the top, right above the white horse itself, it suddenly turns into a rutted track more suited to 4x4s than Ferraris, so it's time to turn around and go back on the B4057 westwards.
"At Ashbury, I head for Bishopstone. Desperate to avoid Swindon, I'm tempted by a ring around the south. At Hinton Parva, a left turn signposted Foxhills takes you up a narrow hill and up on to some more fabulously open country. You pass over the M4, then go straight over a staggered crossroads (crossing the A346) heading towards Wroughton on the B4005. Once at Wroughton, it's time to head south on the A4361. Once again you climb up the landscape and reach glorious open country. With light traffic, there's plenty of opportunity for more sweeping cornering and opportunities to overtake slower-moving machinery.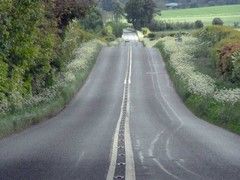 That's a dream drive right there
"I reach the A4 and head west for a couple of miles where there's another white horse in the hills on the left just before reaching Cherhill. It's time to turn around here and head back east along the A4, which on this stretch is very little-trafficked and extremely wide. As a result, it's very easy to find yourself going, ahem, rather more quickly than perhaps you'd expected; and there are speed camera signs up here, so take care. The A4 remains superb all the way to Hungerford and on to Newbury, with plenty of stretches suitable for overtaking.
Why it's a dream drive:
"As someone who suffers the arterial cloggery of south-eastern English roads every day, identifying decent driving roads not too far from my Berkshire doorstep is a real obsession of mine. Luckily, not far west of Reading this series of valleys that really do it for me.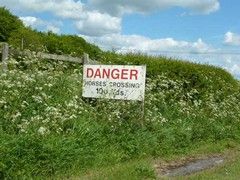 Pay heed to this sign...
"What better way to experience West Berkshire's white horses than in a car with a prancing nag badge on its nose? The Ferrari F430 Spider booked in for another feature is pretty much the perfect tool for the challenging combination of sweeping high-speed A-and B-roads, punctuated by spectacular views of the downs."
Highlights and lowlights:
"One thing is paramount on this route: keep a very, very keen eye out for racehorses. Approaching the town of Lambourn, a gamut of stallions suddenly appears on the road, performing a shuffle between stables. I haven't the first clue about horses but even I can tell that these animals ooze the sort of pedigree that would make the Ferrari a cheap nag in an insurance claim. It's time to haul up sharply and slot out of 'Race' mode, and shush the exceedingly loud exhaust. Unfortunately I can't shush the ultra bright paint and blingy gold wheels, which perhaps explains why the horses are passing by so nervously. In full auto mode, the F430 switches seamlessly from an intense gallop to the docile pace of a donkey through Lambourn.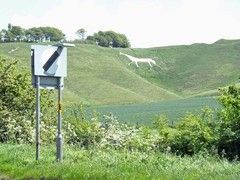 A white horse, not a prancing one
Sights, stop-offs and diversions:
"Avebury announces its presence with spectacular avenues of stones on either side of the road, imbuing an atmosphere of other-worldliness. And luring hundreds of tourists, of course. As I'm one of them, Avebury makes a great stop-off point. The Red Lion here is the only pub in the world built in the middle of an ancient stone circle - and in fact was actually built out of old standing stones.
If your stomach is growling there are several lunch options on the route. The budget one (well, not too expensive, anyway) is to hook a left to Stitchcombe and follow the River Kennet as far as Ramsbury, where you'll find The Bell- regularly voted one of the best pubs in Berkshire. If you're feeling flush, just as you reach the junction with the A34, take a left on to the B4000 and look out for The Vineyard at Stockcross - a very fine noshery, with prices to match. The wine cellar here is world-renowned, so take care choosing your favourite plonk. The most expensive bottle on the wine list is £8,880!"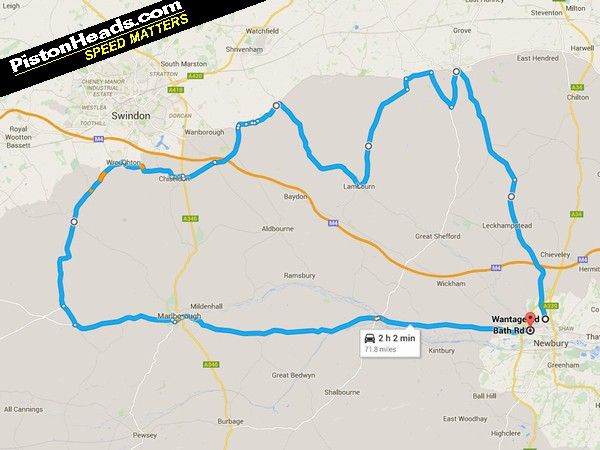 Gassing Station | General Gassing | Top of Page | What's New | My Stuff