RE: The £70K M3 CSL: Spotted
Tuesday 7th July 2015
The £70K M3 CSL: Spotted
It's not just E30 M3s climbing into the stratosphere...
---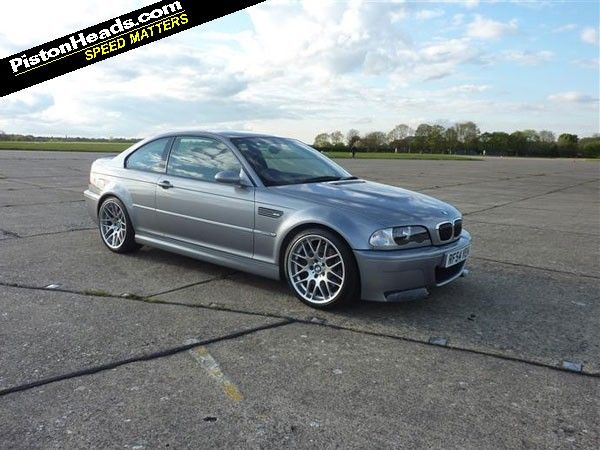 How to spec the lightweight special? That's the quandary for today. Something with an RS, GT or CSL badge typically presents its buyer with a tricky decision: specify the options for everyday usability and early resale or play the long game, adhere to the purist ethos and hope that a stripped out spec becomes a collectors' item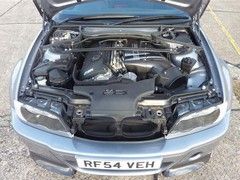 Key part of the appeal still here
Sat in the queue to drive the Goodwood hill
in a Cayman GT4
, its lack of air-conditioning seemed a very daft oversight. Yes, first world problems and all that. It's a no-cost option saving about 15kg, which may well be of benefit through Molecomb (or Maggots, say) but what about driving to the track? That time you may commute? Let's see how the commitment would hold out then.
Hence a lot of no-cost options are indeed optioned back in. Trophy-Rs and the like tend to have the radios, navigation systems and air-con added back in; they're useful things to have. But what about when they're not fitted? Welcome to the 'no options' M3 CSL.
We've covered the lightweight M3 plenty on PH but this car is interesting as one of very few without air conditioning, a stereo, sat-nav, xenons and parking sensors. According to this advert that saved 35kg and contributed to a 7:50 'ring time. Even 12 years on that's damn fast.
Apparently there are just three such cars in the UK, the ones that adhere most strictly to the Coupe Sport Leichtbau mantra. One has been crashed and, allegedly, the owner of the other won't part with it for less than £100K. This one is up for sale at £70,000. Seventy grand!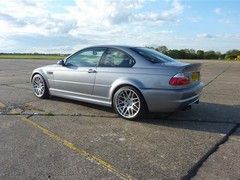 Very covetable, but £70K covetable?
CSLs have
been going up
and up since bottoming out at around £25K a few years back. There aren't any below £30,000 now with low mileage cars comfortably above £40,000; indeed, those hoping to grab a CS fairly cheaply will be disappointed as rising CSL values have pulled the former up to c. £20K.
Obviously this CSL has been specced and purchased as an investment, especially given it has only covered 18,000 miles. Question is though, can CSLs continue to climb? Yes, E30 M3s are even up near £100,000 now but they are cars with genuine competition provenance and still the archetypal M3 to many. Could a £100K M3 CSL actually happen? With BMW committed to a turbocharged and hybrid future that gorgeous straight-six will of course hold considerable appeal.
Even if it does appreciate and make its next owner some money, it does seem a shame to have an M3 CSL solely as a collectors' item, sat barely used waiting to be recognised. Oh well. Should you just want a regular a M3 they're still loitering very temptingly at around £10K. Finally, let's hope whatever that M4 'Safety Car' actually is can deliver another six-cylinder special that M Division can be truly proud of.

---
BMW M3 CSL (E46)
Engine: 3,246cc 6-cyl
Transmission:
Power (hp): 360@7,900rpm
Torque (lb ft): 273@4,900rpm
MPG: 23.7 
CO2: 287g/km
First registered:2004
Recorded mileage: 18,000
Price new: £58,000
Yours for: £69,995
View the advert here.
Gassing Station | General Gassing | Top of Page | What's New | My Stuff