RE: Suzuki Swift Sport: PH Fleet
Thursday 13th October 2016
Suzuki Swift Sport: PH Fleet
It's the last naturally aspirated hot hatch on sale, of course we had to run one!
---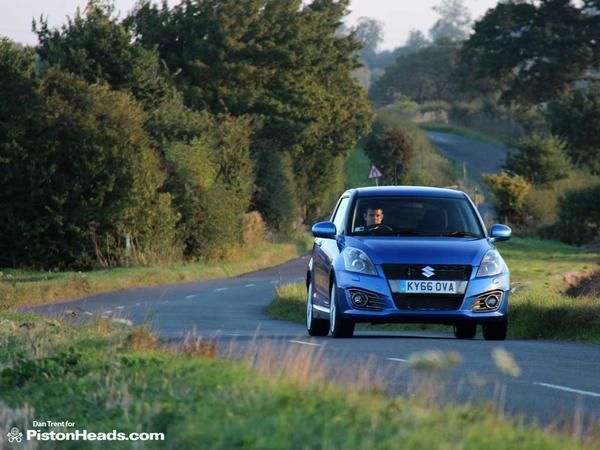 Now truly is a great time for the hot hatch buyer. There are cars to suit all tastes, demands and budgets, with everything from traditional pocket rockets to 400hp hyper hatches all available. Many are damn good too, making the buying decision even trickier.
But something has been lost in recent developments: the naturally aspirated engine. Indeed the Suzuki Swift Sport you see here is the last hot (ish) hatch on sale without a turbo. It makes its 136hp peak at 6,900rpm and needs 4,400rpm before it will muster its full 118lb ft. Figures from an older hot hatch then, but also the promise of a traditional driving experience. Because aren't hot hatches all about revs and last minute shifts?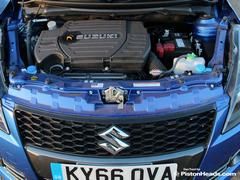 No turbo to be found here!
In addition, the Swift boasts a refreshingly old fashioned kerbweight of just 1,045kg. Even a Fiesta ST is 100kg more, a Focus RS half a tonne (!) heavier. There are no modes either, simply a well sorted passive suspension set up, three pedals and a six-speed gearbox. All this time we've been bleating on about the detrimental effect of turbos and the unnecessary complexity of modern cars; the Swift would appear to be the answer to those concerns.
First impressions - it's only been with us for a week - are very good indeed. KY66 OVA doesn't have a single option fitted to it; there are a few extras listed on the Suzuki site, but none appealed especially. And if we're using this car as an example of simple being best, completely standard seemed appropriate. For £14,399, you get plenty of equipment too: Bluetooth, DAB, sat-nav, keyless entry and curtain airbags are all standard.
Enough of the worthy stuff though; what's it like to drive? As you can probably tell from the ridiculous look on my face, rather good fun. Suzuki had already covered 300 miles in the car, their parting advice being that "it loves revs" and meaning we could get on with driving in a, er, traditional hot hatch style.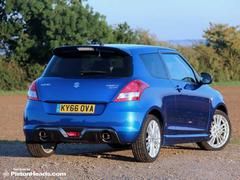 Three-door too, like a proper hot hatch
It does love revs! As mentioned in our
five-door review
, the Swift perhaps doesn't quite zing like the best Japanese engines, but it feels really keen between 4,500 and 6,500rpm. With fairly modest performance you can use those revs too, and drive the Swift so much harder than most modern performance cars. If the engine loosens up just a fraction over the coming miles, it promises to be really good fun.
It's a simple car too: you start the engine, switch the ESP off if you really want to, select a gear (yourself) and drive away. There's nothing to configure, no adjustable steering weights and not a paddle in sight. Jolly good!
The Swift is with us for six months, during which time we're hoping to get it out on track, explore its rallying success and pitch against a few other classic hatches too. Eager would be an understatement!

---
FACT SHEET
Car: Suzuki Swift Sport
Run by: Matt
On fleet since: October 2016
Mileage: 422 (delivered on 300)
List price new: £14,399
Last month at a glance: From one of the most expensive hot hatches to the most affordable!
Photos: Dan Trent
Gassing Station | General Gassing | Top of Page | What's New | My Stuff