RE: Aston Martin DB11 vs. Porsche 911 Turbo S
Monday 17th October 2016
Aston Martin DB11 vs. Porsche 911 Turbo S
The first Aston of its 'second century' against the latest uber 911, but which is the best?
---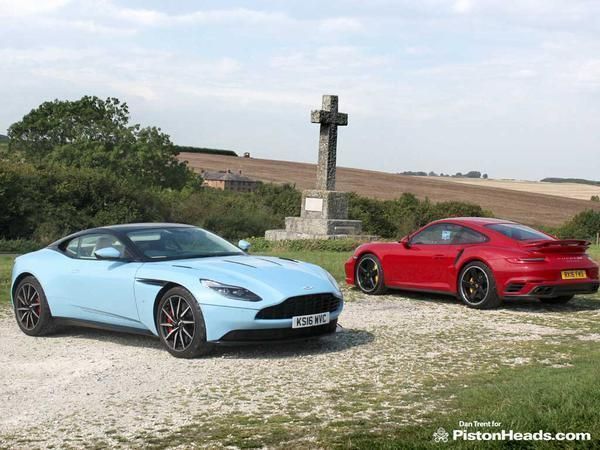 The premise of this test was simple. While the Aston Martin and the Porsche don't initially appear conventional rivals, there's a reason the
911 Turbo S
always comes up in tests like this: it covers damn near every base you could expect for £150,000. It's supercar fast, it's practical, the size is manageable, it's thrilling and it'll do 30mpg. To most people it's just a 911 too, although perhaps not in Carmine Red with big black wheels.
So if the DB11 can match that range of abilities, inject some style and bridge the gap between the 'everyday supercar' and grown-up sporting GTs like the Bentley Continental GT or Mercedes-AMG S63 Coupe, Aston may well be onto something.
There was no track element to this test because, frankly, who is going to take them on circuit? Instead we ventured down the M4 - guess which received more attention - to the roads around Lambourn. Not exactly Monte Carlo or bust, granted, but there would be ample opportunity to test both GT and sports car credentials.

---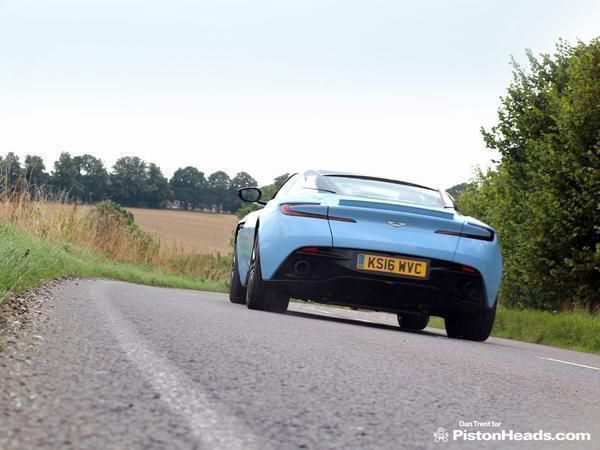 Aston Martin DB11
Having initially been unconvinced by the DB11's styling, it's a pleasure to see one in the real world and think very differently. Perhaps it isn't classically beautiful like a DB9 or V8 Vantage, but the proportions are spot on and there are some lovely details too. It looks dramatic without being in your face, elegant while still assertive and confident.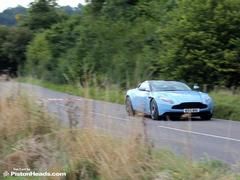 A big car, yes, but also a great handling one
Despite some major range anxiety rather spoiling the motorway mood (long story), the DB11's cabin is sumptuous and intensely relaxing. As somewhere to de-stress and isolate yourself from the world, there really can be few better. The combination of lovely materials (though perhaps not in this exact spec), plush design and general opulence create a sense of occasion miles beyond the Porsche and arguably beyond this price point too. It's as lavish as you would expect, while no longer requiring excuses. Alright, perhaps the infotainment isn't quite as logical as the 911, but this is a significant (and needed) step on from
the DB9
.
Even on the motorway though the DB11 feels like a large car, an impression heightened on smaller roads. This increase in size over a DB9 has of course allowed proper rear seats to be installed, the unfortunate result being that it never feels as wieldy or agile as its rival.
Encouragingly however, even just a brief stint on more interesting roads begins to reveal how dynamically accomplished the DB11 is. The new V12 is a triumph, feeling to rely only very gently on its turbos and retaining nice throttle response with a willing, eager, exciting top end. Only now there's a muscularity to the mid-range so conspicuously lacking from the old V12, making the DB11 more flexible and perhaps just a bit more enjoyable too; no longer must you extend every gear to derive some performance (and fun) from it. The ubiquitous eight-speed ZF auto (here in a transaxle, as only Aston does) performs its duties willingly, albeit lacking the Porsche's ability to do both mooch and maximum attack so convincingly.
The electric steering is one of the best systems yet, the three-mode Bilstein damping is spot on and the brakes are confidence inspiring. The first impressions are very, very good, in fact.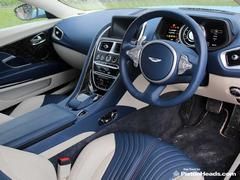 Finally, a decent Aston interior
A brief go in the Porsche begins to put things in perspective. How exactly is it that 580hp in a 911 can punch so much harder than the 600 Aston horsepower, even allowing for the weight advantage? How can a 911 turn in like that? And the brakes are beyond reproach, stronger and with a firmer pedal than the Aston. This isn't going to be easy...
That being said, it's important to note the two cars are occupying slightly different spaces at the same sort of money. Switching back into the Aston shows it to be beautifully well balanced, the efforts Matt Becker and his team put into keeping the weight between the axles really paying dividends. Considerable though the weight is, it feels well contained and never intimidating. As a car that moves around a little more than the Porsche you feel more in the position to exploit and adjust the balance with your inputs, rather than holding on for dear life. That's really satisfying.
Faults? The Mercedes donated infotainment still isn't the best, the haptic buttons not always the most responsive and a few of the menus baffling. Some of the graphics aren't all that crisp either, a point exposed by the updated 911. And it never stops feeling like quite a large car. Other than that the DB11 presents an excellent case for itself, its range of talents impressively broad while retaining that roguish charm the best Astons are known for. What challenge can the Porsche offer in response?

---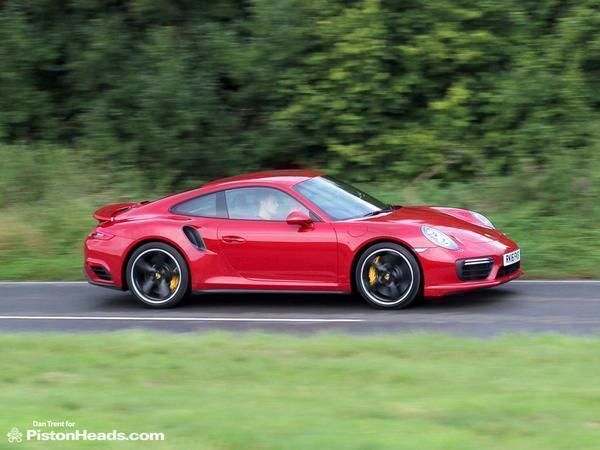 Porsche 911 Turbo S
A Porsche 911 Turbo has never been the most extravagant way to spend an awful lot of money, but in the company of the DB11 it's hard to believe they cost anywhere near the same. Then you check the Aston spec sheet and find it has £45K of options, compared to just £3,000 for the Porsche. The stereotype is reversed! That will largely be accounted for by cosmetic embellishments though; even in beige with a cloth interior and tiny wheels the DB11 would triumph on visual drama. Again however, it's a question of priorities and their slightly different remits. For many the appeal of a Turbo S has always been its ability to fit in unnoticed, where something as overt as the Aston may be too much.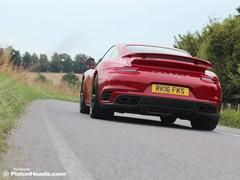 Hold on!
The interior of a £150K car deserves to be more special though. No doubt the
new Panamera
will influence the next 911, but for now drivers are left with a fairly ordinary cabin. Certainly the driving position and contact points are great, but surprise and delight are conspicuous only by their absence. Apple CarPlay is well integrated and the new GT sport steering wheel is lovely, but it's function rather than form inside the 911.
A run through second and third gear will make you forget all about the interior though. Quickly too. The Turbo S is shockingly rapid, even with the notion of a 200mph 911 no longer being a silly one. With 1,400cc less swept capacity than the Aston there's more reliance on the turbos but, once up and running, the 911 is decisively faster. And lag is rather exciting when it's so bloody fast. The gearbox is sharper, the torque staggering and the top end rush addictive. Of course opportunities to use it are limited, and the Aston sounds miles better, but to be able to deploy such performance in any weather is quite incredible.
Moreover the Turbo S is a far more engaging experience than you might imagine. Sure, it's not suddenly been transformed into an Exige, but there's more sound from the powertrain, some much improved electric steering and just a hint of old 911 to how it drives. Largely that's in the front going light with the awesome traction and performance, but it's a pleasant reminder nonetheless.
Predictably perhaps it's a less relaxing experience on the motorway than the Aston, which the 911 then counters on a twisty road. With four-wheel steer, fat tyres and those sublime brakes, the way the Turbo S approaches and dives into a corner is phenomenal. Of course you're nowhere near the limits on the road, but it still feels outrageous. With some rain later in the day the 911 also shows a more - let's be frank here - intimidating side too with the PSM Sport mode engaged and a bit more confidence. 911 Turbos dull and desensitised? Not a bit of it.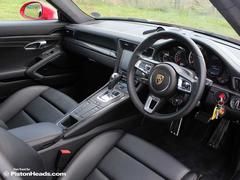 Stark contrast to the Aston here!
It also feels a more suitable size than the Aston, nimble and narrow where the DB11 - while never cumbersome - you have to be more wary of. There can be no doubt it's more of a sports car than the Continental GT or S-Class Coupe, but the Aston simply isn't as devastatingly capable when you're driving fast. Where a 911 Turbo is concerned it's a struggle to think of anything that is.
Then when you've finished obliterating your chosen road that day, the Turbo will settle into a 30mpg-plus cruise, fit in children and shopping (while being easy to park) and not be noticed by anyone bar the real fans. There's a danger that cars covering all the bases can be dull - an accusation fairly levelled at previous 911 Turbos - but, by just letting you into its workings a little more, the 991.II Turbo S avoids that. By the end of the day there's little doubt that the Aston has a formidable adversary. The Porsche is mega.

---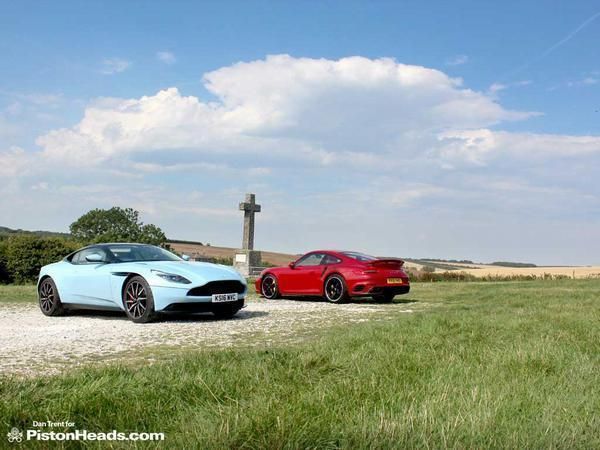 Verdict
The DB11 deserves to be a great success for Aston Martin: it's a great car and a great GT, just the car to replace the DB9. It occupies a very clear and defined role too, leaving plenty of space for a sportier V8 and a more outlandish V12 flagship.
The 911 can still show it a few things though. By cold, hard facts it's faster, cheaper and more efficient. On the road it has the better brakes and transmission as well. And no longer does brutally effective mean characterless either.
Yet it's the Aston that leaves the more lasting and positive impression. Sure, some of that will be accounted for by it being the new car, but the way it combines supercar performance with GT luxury and genuine practicality is a fine achievement. Being an Aston it's cool as well, intensely covetable and with arguably a better image - because people care about these things, don't forget - than the Porsche.
The 911 Turbo will continue to be popular (deservedly so) as a car capable of so much with the minimum of fuss. But the Aston Martin nearly matches its sheer usability while boasting an additional dose of glamour, desirability and panache. It's an excellent car, a fantastic start to Aston's 'second century'. We can't wait to see what's coming next.
---
PORSCHE 911 TURBO S
Engine: 3,800cc, flat-6 twin-turbocharged
Transmission: 7-speed PDK, four-wheel drive
Power (hp): 580@6,750rpm
Torque (lb ft): 516@2,100-4,250rpm (on overboost 553@2,200-4,000rpm)
0-62mph: 2.9sec
Top speed: 205mph
Weight: 1,600kg (unladen DIN)
MPG: 31 (NEDC combined)
CO2: 212g/km
Price: £145,773 (As tested £148,930 comprising of £1,805 for Carmine red paint, £930 for wheels painted in black, £300 for light design package and £122 for Isofix child seat mounting points on front passenger seat)
ASTON MARTIN DB11
Engine: 5,204cc V12, turbocharged
Transmission: 8-speed automatic, rear-wheel drive
Power (hp): 608@6,500rpm
Torque (lb ft): 516@1,500-5,000rpm
0-62mph: 3.9 seconds
Top speed: 200mph
Weight: 1,770kg (dry)
MPG: 25.0*
CO2: 265g/km*
Price: £154,900 (As tested £199,300)
*Provisional figures
Gassing Station | General Gassing | Top of Page | What's New | My Stuff