RE: Bollinger B1 electric SUV due in 2019
Friday 28th September 2018
Bollinger B1 electric SUV due in 2019
The American-made B1 is pipped to be a go-anywhere EV with 360hp and a 200-mile range
---
An electric off-roader might not have seemed like the greatest idea a few years back, what with the limited range on offer and concerns for reliability. But today things couldn't be more different, so much so that some people think electric power is actually the optimum choice for a 4x4. The key reason? Instant torque.
You won't be surprised to hear that New York-based Bollinger Motors is among the supporters of this opinion because, well, it's building a new electric 4x4 called the B1, for which new specifications have been released. The vehicle is simple and focused, an aluminum chassis with bodywork developed specifically for easy manufacture and a steel roll cage form the bulk of the structure. It's fairly compact at just 3,810mm long (the Defender 90 was 267mm longer) and stands with a 15.5-inch ground clearance, so it's got the right proportions for a rugged vehicle.
But the key difference between it and other rugged machines is that its power comes exclusively from two electric motors, one powering the front wheels and another powering the back via their own electronic locking differentials and two-speed gearboxes. With batteries located in the floor supplying the energy, the system's combined peak outputs are 360hp and 472lb ft of torque, the latter of which is available from the get go, which is probably quite handy when you're trying to navigate up steep inclines on a rocky surface.
Two versions are due, an entry-level 60 kWh B1 with a range of 120 miles and a 100 kWh B1 with a 200-mile range. Bollinger reckons these distances are more than enough to satisfy the B1's expected customers, who range from farmers to hobbyist off-road enthusiasts.
The B1's boxy shape has been crafted with a focus on simplicity and ease of production. The car will, however, come with the option of a glass roof, which is made up of panels that slot between its skeleton structure. Along with the side and rear windows, these panels can be removed for an open air experience.
The B1 will first be offered to the US market from mid-2019, but the company hopes to introduce it to other regions, including the Middle East, which has quite the appetite for high performance SUVs at the moment.
This has a ludicrous payload rating- the US version has a GVWR of over 10,000 lb, which means it only has to meet truck safety standards (no need for airbags etc).

Of course any European version would either have to be significantly downplated or only be legal to drive on a C1 licence...

pb8g09 said:
Sorry that looks like sh*t.

Did Hammond and Clarkson put that together in a hanger?
I think it looks great. Nice it's not all rounded and without the big plastic bumpers of modern cars.
It's got a few Bronco II and EB styling cues.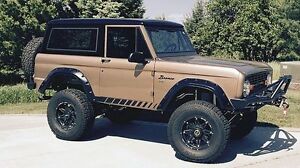 Maybe even a little bit of International Harvester Scout.
Gassing Station | General Gassing | Top of Page | What's New | My Stuff