RE: New Lancia Stratos Spied In Italy
Wednesday 4th August 2010
New Lancia Stratos Spied In Italy
One-off or all-new sports car hero from Lancia?
---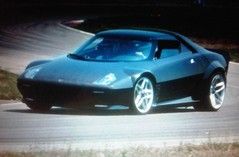 These two enigmatic shots of a Lancia Stratos-esque car have filtered out onto the web. Originally broken by Italian car blog
Italiaspeed
, the shots were taken back in June at Alfa Romeo's Balocco test track in Italy. But exactly what it is, nobody seems quite sure.
Rally fans, Lancisti and those with good memories may remember the Fenomenon Stratos concept from the 2005 Geneva motor show (bottom right), and this seems to be the best bet for the original source of the new car, although the nose appears to have been mildly redesigned.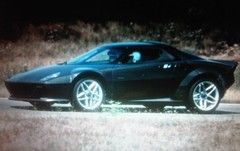 Chris Hrabelek, the man behind the Fenomenon Stratos, still owns the rights to the name, but as far as we can make out the project is a one-off for a wealthy enthusiast, rather than a revival of the original series production plans for the Fenomenon car.
As for the drivetrain and chassis, the situation is as clear as the fuzzy spy shots. The general consensus seems to be that the Stratos will use a Ferrari V8 and a chopped-down Ferrari chassis, though whether these will come from a 360 Challenge Stradale, an F430 or even an F430 Challenge racer is unclear.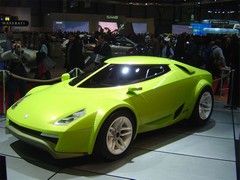 An F430 basis seems most sensible, but even though the use of the Balocco facility means the project has Fiat Auto's implicit approval, it's unlikely that neither Fiat, Ferrari nor Lancia will have anything more than a tangential involvement with the project.
On the other hand, these could just be the first images of an Alfa 8C-style halo car for Lancia. Here's hoping...
Gassing Station | General Gassing | Top of Page | What's New | My Stuff