Noise, engagement, personality - all the things allegedly missing from the
standard M4
. What cost would you put on putting them back in? BMW
can tell you
- it's a doubling of the price tag, some spangly wheels, a noisy exhaust and a bolt-on rear wing.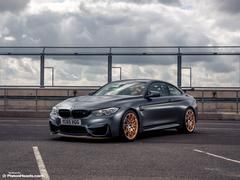 It really is a lot more than wings and wheels. Honest
Quite a few seemingly can't get past that aftermarket appearance, the GTS looking like an escapee from one of Geneva's more questionable tuner stands. Especially with those spidery '666 M' wheels, highlighted in polished aluminium and Acid Orange paint. Then cynics see the £121,280 pricetag and might reasonably consider the joke is on the 30 owners who'll be taking delivery of the GTS in the UK. That's positively common compared with the previous one though - in total that car numbered just 150, the new GTS extending that run to 700 cars. Thank the US market for that - this is the first M3/M4 special to be officially sold Stateside and BMW expects nearly half of that run to be taken up by American M fans.
Those rather silly looking wheels are actually a pretty neat analogy for the car as a whole. Sure, they're loud and attention seeking and one of the things marking the GTS apart from regular M4s. But study the detail and you'll discover at 9.5 and 10.5J they're actually half an inch wider than those on the standard M4, of mixed size - 19s at the front, 20s at the rear - and wear Cup 2 tyres. Composite aluminium/carbon wheels are an additional option. Making room for the wider front wheels required fitting bespoke asymmetric pivot bearings on the steering gear, this in conjunction with revised front geometry, a new torque curve for the power assistance and removal of the standard steering column's 'elastic' damper for improved response.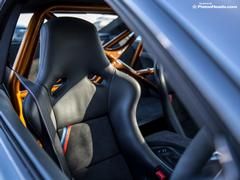 Fixed back seats, cage and extinguisher set the mood
Reading into the detail it starts to dawn on you that this is a bit more than a set of big rims and a bodykit. Though you may yet struggle to convince doubters otherwise. All due respect to Halfords but last we checked it didn't offer upgrades that'll slice 30 seconds out of your
'ring lap time
alongside the usual air fresheners and cleaning products...
And we could prattle on and on about the M4 GTS's technical geekery. But there's driving to be done.
First thing you notice - mainly because it'll leave your ears ringing - is the noise. As in there's a lot of it and it ain't coming through the speakers. The titanium silencer still has two flap operated settings but for start-up it's fully open and if the looks hadn't attracted attention already, the outrageous rev flare certainly will. Don't expect a sympathetic response from everyone. Especially at the track day noise test - we took the GTS to Castle Combe and, although it sailed through at 98db in Comfort mode, in Sport Plus it blew 111db. At 4,500rpm.
From the outside it's got a wicked, metallic crackle that hopefully silences any worries the turbocharged M4 couldn't sound exciting without electronic assistance. Inside it's if anything even wilder, the GTS thankfully released from the pretence of not being turbocharged and instead offering up all manner of whooshes, gurgles, barks and ripples depending on what you're doing with throttle and gears. Confidence lift on that 'it's flat, honest' corner at the back of the track and the resulting crackle will betray your lack of commitment to your mates in the paddock - there's no hiding if you're not completely on it, in other words.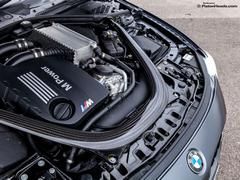 A nice round 500hp will do very well!
For the 69hp and 36lb ft gains you might be fooled into thinking the throttle is a little softer than the standard car's. It's possible there's been a tweak to the map - peak torque is now listed at 4,000rpm rather than 1,850rpm - but the more likely answer is that it's the stability control quietly having a word. Because this is seriously, seriously rapid car.
On the road it's possibly a little too much. The three-way adjustable passive dampers have a fluidity and composure about them absent in the button configurable items on the standard car, seemingly without too much compromise in ride quality either. And the increased body control actually benefits traction to the point where you have a lot more confidence in the car, especially with a little heat in the tyres. Front end bite was never lacking either but here it's so much more natural in feel and offers a real sense of something to lean against, rewarded with huge drive out of the corner rather than a bonfire of tyre smoke and armfuls of opposite lock. On a bumpy B-road it's a busy car to drive at pace, the more responsive steering and aggressive geometry eager to sniff out cambers. But it's actually more confidence inspiring to have some communication about the car's intentions, rather than just going very fast in a blaze of DSC warning lights.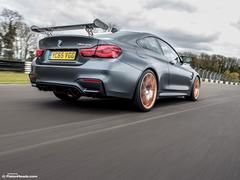 You need a track to fully appreciate the GTS
Any doubt of this car's priorities is soon blown away - this car is about lap times first and foremost, and borderline too fast for the public road. It's never dull. But you'd be missing out if you never took it on a circuit.
One of the M4 GTS's more interesting track-oriented features is its water injection system, developed initially for the MotoGP safety car and a claimed first for a road car. Those with longer memories will recall this isn't the first occasion German built engines have benefitted from this technology, Second World War Luftwaffe fighters using a 50/50 water/methanol mixture known as MW50 injected into the intake system to provide a temporary power boost. Incredibly enough this heritage isn't mentioned in the BMW press material but the engineering goal is the same - by reducing the temperature of the charge air, boost pressures can be raised without the risk of knock or detonation.
In the case of the GTS BMW says the air exiting the turbo can be cooled from 160 degrees to just 70 through intercooling, water injection reducing this by another 25 degrees. There's a five-litre tank in the boot, which disappears about the same rate as the fuel on track. In normal use it's reckoned to be more like every five tanks of petrol. When it runs out the timing, boost and other settings simply default so there's no actual harm in driving around without it, bar the loss of power.
It's a neat trick and lets the 3.0-litre - suitably strengthened - punch well above its weight. Such is the DSC's paranoia its extra clout is constantly reined in on track though, the GTS tugged back by its choke chain under even apparently mild throttle inputs. A switch to the more relaxed M Dynamic Mode feathers the throttle with a very public rasp but maintains the car's stability more tactfully. So far so M4 - if you've spent time in the normal car you'll be accustomed to the warm orange glow of the flickering DSC light.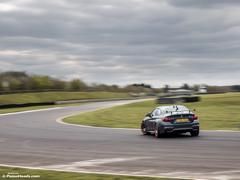 Doing this is far harder than you may think
But traction is so much better in the GTS the seemingly macho stance of turning everything off isn't such a huge leap after all and, in fact, the car feels a lot more predictable and controllable. With heat in the Cup 2s it's actually very, very hard to unstick the rear and, helped by damping that lets you keep your foot flat even on fast direction changes that rapidly load the back axle from one side to the other. Try that in the standard car and see how far you get... This is just more M4, more of the time. Indeed, there's now so much grip from the rear it's ultimately the front end that gives out first, a most surprising sensation for anyone accustomed to the more lurid throttle adjustability of the standard car. And though the steering is improved it's still, ultimately, a little light and lifeless at maximum attack.
But the noise, the extra power, the sequential-like shifts through the DCT... in all other respects the GTS is convincingly hardcore and intense. And defies cynicism by just being bloody exciting to drive fast. It's one of those cars that feels like it could do this all day too, the provocation of 'mere' BMW able to mix it with GT3 Porsches and GT-Rs in a track environment rather appealing, albeit at a price. And if you option the nav and stereo back in there's just about enough refinement remaining to make the long drive home bearable too.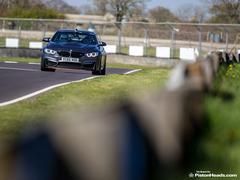 One of the M greats? Undoubtedly
A pity then much of the good work in the engineering is undone by an appearance many will write off as immature and attention seeking. Snootier types may sneer that for all the heart on sleeve circuit accoutrements it's too heavy and too compromised to be a 'real' track car and lacks the provenance of homologation credibility. Leaving it the four-wheeled equivalent of wearing your Alpinestars pixie boots to dinner.
Let 'em sneer. The M4 GTS revels in being lairy, loud and a little uncouth. It's massively exciting at all times and proves M still has the engineering talent to build proper driver's car when it wants to. Let's hope a few owners actually live the dream and enjoy them as intended; ideas above its station or not, the motoring world is a more exciting place for cars like the M4 GTS and the sheer exhilaration it brings is something to be celebrated.
---
BMW M4 GTS
Engine: 2,979cc, twin-turbo straight-six
Transmission: 7-speed M dual-clutch gearbox, rear-wheel drive
Power (hp): 500@6,250rpm
Torque (lb ft): 442@4,000-5,500rpm
0-62mph: 3.8sec
Top speed: 190mph
Weight: 1,585kg (EU, with driver)
MPG: 33 (NEDC combined)
CO2: 199g/km
Price: £121,280 (£123,670 as tested comprising of £825 for head-up display, £95 for internet, £160 for online entertainment, £220 for speed limit display and £1,090 for Carbon-fibre interior package)