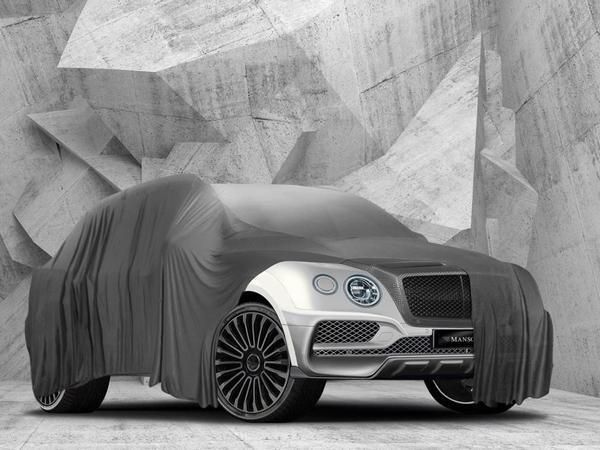 There was a sense of inevitability about this. The
Bentley Bentayga
, a car with what's best described as divisive styling, was always going to be pounced upon by the aftermarket soon enough. Mansory appears to have been the first, and has just released a preview of its finished product. Or some might call it an advance warning...
Promising "mountainous performance", the Mansory Bentayga will do more than just add to the standard car's 608hp. Oh yes. As this image shows, the wheels have been switched for 23-inch 'XXL light alloy wheels', and there's a sneak peek at the bonnet carbon fibre too. Mansory says "we do not scrimp on using carbon", so expect usage somewhere between the liberal and the gratuitous.
Whatever is found outside will be replicated within also, Mansory suggesting the "carbon-based design... brings the exclusive look of the exterior into the vehicle itself." Brace yourself, basically. That's in addition to as much leather, wood and Alcantara as they could lay their hands on.
You may (or may not) be pleased to hear that not a great deal else has been released by Mansory yet. Prospective customers can keep up to date on the Mansory website, but it doesn't sound like they will be waiting long. Finally, while the specifics of what those customers will receive is to be confirmed, Mansory is in little doubt as to the overall project goal: "There is no other vehicle that is as exclusive and well-equipped as this vehicle, both on and off the road." Full details (and more pictures) as they become available.
[Sources: Mansory, autoevolution]