'Fitness for purpose' is something that often comes up in car assessments, how well a vehicle performs in the role designed for it. Understanding customer needs and requirements is vital. It may seem an obvious thing to say but it's also applicable to customer events as well. It will also explain why, ridiculous though it may sound, the Lamborghini Italian Tour wasn't as fantastic as I expected. Yet it did appear to make for very happy Lamborghini customers. Fitness for purpose, you see. Who was paying for the trip?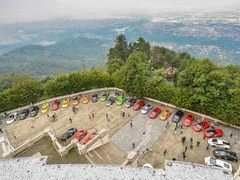 The premise was simple: a weekend in Italy experiencing the finest food, wine and culture of northern Italy. Oh yeah, and the roads. The hotels were sublime, the locations spectacular and the meals extraordinary. You get the picture.
Walking into a room of Lamborghini owners you don't know is quite odd actually. How will they react to freeloading media? Do I admit I've never driven one before? What if I don't like the wine? But they're great, very friendly and we're soon chatting about their journey down (including a stay in a castle, of course), previous Lamborghini events and how you can make e-gear work.
Another journalist and I are swapping between a Huracan and Aventador Roadster over the weekend because we're jammy swines. I start in the Aventador and, despite what you've heard about it being a bit understeery and far easier than the old Lamborghinis, there's plenty of intimidation on first acquaintance thank you very much. The gearbox is jerky, the engine feels monstrously powerful and the car is gigantic.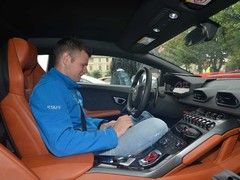 Could have dressed for it you scruff
But that's how it should be, right? V12 Lamborghinis are meant to be a bit (alright, a lot) scary initially because that's part of the allure. There's some fear factor to overcome. Once up and running it's reasonably docile, the size always a factor but the car much easier to drive than you might imagine. For me the single-clutch automated manual was better than expected and - wouldn't you know - works better with a lift on upchanges. The engine is always magnificent, fabulously responsive and urgent throughout the rev range. You must know about the noise too; a wild, furious V12 wail that goes all the way to 8,250rpm and feels like it has more to give even then. And wickedly fast. It's just spectacular.
As for actual driving though, there's nothing much of note. The organisation is superb but the route wasn't that exciting. Narrow Italian country roads that aren't well surfaced and autostrada forms most of it. Again though, those who had paid to be there were very happy and a high-speed Lamborghini convoy, in Italy, is pretty special. High-speed being 130km/h, of course...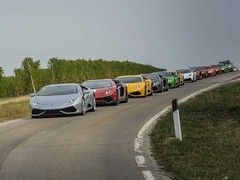 Watch the Audi do 'em all on the next straight
Only in Italy could an event like this take place. Drivers stop on roundabouts to let you through, coaches of tourists film the convoy and fuel stops become impromptu car shows for all around. To be overtaken by a dozen Lamborghinis while you're going to the shop in a Fiat Stilo must be unbelievable.
Sunday is miserable. Really miserable. The rain is so bad the route is changed, the fear being narrow and sodden Italian country roads probably aren't best suited to 30 supercars. So sadly, even if the roads were better on Sunday, we didn't get chance to try them. And, whatever car you're driving, wet motorways are never much fun.
However, when the roads do become a little twistier and the rain less torrential, the Huracan I've swapped into (hate mail to the usual address) proves pretty excellent actually. It's exploitable, very fast and looks stunning. Once more, it's key to appreciate what the Lamborghini customer wants; I ultimately prefer a McLaren 650S to drive but owners I spoke to loved their Huracans and the relative ease of use. The fact Lamborghini can't build enough of them at the moment would back that up. Rumours are there's a rear-wheel drive car coming...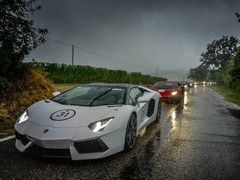 The factory visit that concludes the tour reinforces how well Lamborghini is doing at the moment. A good move when the customers are visiting! Both Superveloce Aventador models are sold out, the Huracan line is busy and the Urus factory build is underway. Perhaps the motoring press doesn't rate the models as the absolute best in their class but what do Lamborghini care when the customers keep coming back for more? When I mention a fondness for a
, a dealer says he would think very hard about taking one in because of a difficulty in selling it on again. The difference between journalist and customer wants couldn't be more stark.
Possibly true of the event itself too; discussing supercars with those who actually own them and seeing them in action in a beautiful country that celebrates fast cars so unashamedly is a real treat. Personal taste would put roads before wining and dining though - North Coast 500 and bunkhouse accommodation will do me! Proving, neatly, what my wallet already knows; I probably don't fit the profile of a typical Lamborghini customer. But Lamborghini knows exactly what its buyers want, whether that's the cars, the gifts or the driving tours. Which is what it's all about as a supercar company, right?

---
The Italian Driving Tour was offered to UK owners following the success of the Grande Giro in 2013 and a tour for European Lamborghini customers recently. If you would like to attend something similar in future then make contact with your dealer now!