that can't be answered by MX-5. Especially when it's got a supercharger lashed to the engine.
Mazda performance specialist BBR has now added the 1.8-litre version of the latest generation car to its supercharger conversion list, promising an increase of power from 126hp to much more satisfying 220hp.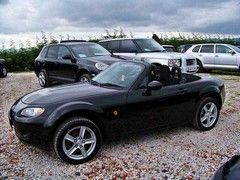 Your sub-£5K blank canvas awaits...
"The 1.8 is tedious, it can't be considered a sports car by any means," says
development manager Neil Mckay. (Tell it like it is Neil! - Ed.) The Brackley, Northants, company will solve that for £5,995 in a conversion he reckons drops the 0-60mph sprint time to under six seconds, depending on the tyres.
OK, the 2.0-litre version launched in 2010 with the same fourth generation Eaton MP62 supercharger will make 238hp (244hp for the higher-revving facelift version), but Mckay reckons the 1.8 is the smoother engine.
He also points out that prices for the smaller-engined Mazda have now dropped below £5,000 (here's one) with a fair few high-spec special edition cars knocking about.
Yes, a conversion that costs more than the car sounds like man maths gone tonto, but that amount of power is transformational (see our review of the 2.0-litre here). For the money you get the supercharger, a new intake manifold originally designed by Cosworth, an intercooler, high-flow injectors, uprated hoses and the firm's StarChip ECU remap. Conversions take three to four days.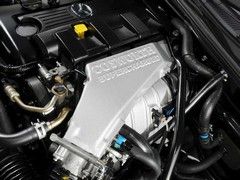 Supercharger offers a more torquey feel
If you want to include a performance exhaust then the Stage 2 version ups the power again to 234hp and costs £7,674. Too much? BBR also offers the cheaper
(clue's in the name) conversion for a couple of grand.
Mckay reckons his customers' insurance bills rise on average between £100-150 over the standard car when a specialist such as Adrian Flux is used. He even reckons that fuel economy is better, simply because the standard car runs so rich. You get a warranty on the parts but not the engine, which like the two-litre is a version of the Ford Duratec. So fairly bombproof.
BBR is more famous for the turbo version of the Mk1 MX-5 first launched as a Mazda-backed special to celebrate the firm's Le Mans win all the way back in 1991. That Mk1 turbo conversion was resurrected in 2010, but the layout of Mk3 car wasn't friendly to a turbocharged fitment.
So far BBR has sold 40 of the two-litre conversion and is bullish that the 1.8 will be popular too. So what do we think: a financial outlay of Hellenic idiocy, or a sensible investment to create the perfect sports car? Anyone already with a BBR supercharged conversion should pipe up too. How are you liking it?