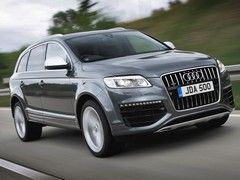 With the VW Group's next large SUV platform to spawn a top-end Bentley (as VW's Crewe offshoot guns for 30,000 sales a year) you might be forgiven for expecting the next Q7, Cayenne (and whatever the Bentley is called) to be a bit of a biffer.
But weight loss is key to efficiency, and the next Q7 is set to lose up to 300kg (or about the weight of two very large fellows) thanks to the use of Audi-developed aluminium spaceframe technology.
That should peg the Audi at a smidgen over two tonnes. Its Porsche and Bentley siblings, meanwhile, could save around 200kg using the same underpinnings.
So while we can hardly call them light weight, at least the kerb weight seems to be going in the right direction. But as for the reports currently doing the rounds that the Bentley SUV will get a V8 turbodiesel, we'll leave it up to you lot as to what you think about that...