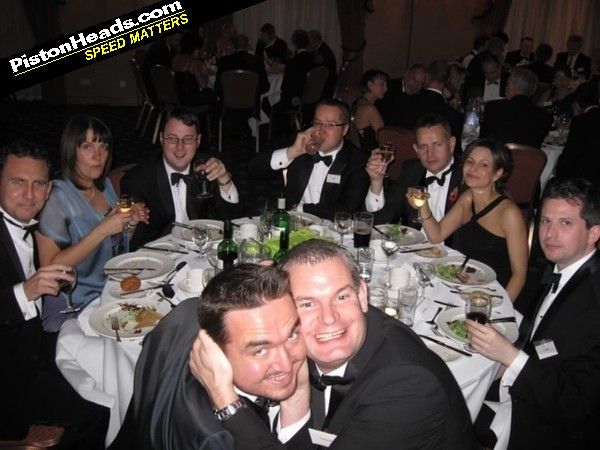 With BTaP only a few weeks away we wanted to remind you that it's not too late to buy tickets to the best party of the year. BTaP is the traditional end-of-year PistonHeads party where guests wear black tie (BT) and we eat pie (aP). This year we'll be enjoying the sumptuous ambience of 
Tortworth Court Hotel
in the heart of Gloucestershire's Cotswolds, creating what is known wordwide as THE event to be seen at.
Here's the plan for the night.
Three-course meal featuring pie
Wine on the table
Entertainment before and during dinner
After-dinner bar tab
Dancing to the DJ
A few words from the PH team
Charity raffle
Alcohol breath-testing for the morning after
A selection of fine watches on display
Blackjack and roulette tables
Lots and lots of fun
Last week PistonHeads visited Tortworth Court to sample their food and to have a look at the improvements made to the venue and we are pleased to say that both aspects were superb. The pie has been tasted and approved (although we did request they make the portion size larger), the wines were tasted and the starters and puddings were tweaked to perfection. 2012 will see the best food yet at BTaP.
In addition to the great food, the hotel has undergone a remarkable makeover with the bars, dining room and reception areas all looking absolutely superb. We think you'll approve as the improvements are immediately apparent as you walk through the door.
Tickets to the event are priced at £75 per person and can be purchased from our shop using this link
Tables for dinner seat eight comfortably but can accommodate 10 if required. Please send all table requests to us by email as soon as possible.
---
Hotels
For those of you yet to book tickets and rooms please be aware that guest bedrooms at Tortworth are now fully-booked. However we can offer convenient alternatives with two local hotels, and to assist those staying off-site we will have a fleet of taxis circulating from 23.30 to take guests to other hotels.
A Best Western hotelis a two-minute drive away and they offer double rooms at £65 bed and breakfast. To book please contact the hotel directly on 01454 260502
The Aztec Hotel offers high standards of accommodation and is a 15-minute drive from Tortworth. Double rooms are available at £149.50 for bed and breakfast.  To book please contact the hotel directly on 01454 201090
We look forward to seeing you on the night
Thanks to Black Tie and Pie 2012 sponsors Watchfinder.co.uk, HPI vehicle checks, Adrian Flux Insuranceand Oracle Finance