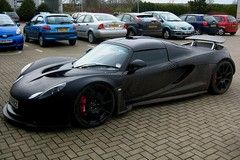 As we reported last week,
30 March is the big day
for tuner John Hennessey's latest project
, when his 1000hp Venom GT will be officially revealed.
But the PistonHeads super-sleuths have been hard on the case. PHer Adam Thorby spotted the elusive Venom GT - which is expected to get its first proper public outing at the Goodwood Festival of Speed - parked up in Silverstone business park.
These are the most detailed snaps yet of the twin-turbo LS9 V8-powered hypercar, which is based on the humble Lotus Elise.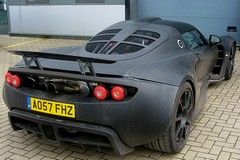 Although the nose remains recognisably Lotus-derived and the tail is Exige-esque, the proportions are more akin to those of a Porsche Carrera GT, and there is very little Lotus-related stuff from the engine bulkhead back.
Mr Thorby - legend that he is - also found time to take a quick walk-round vid of the Venom, which you can see below.
See more of Adam's Pics on his website