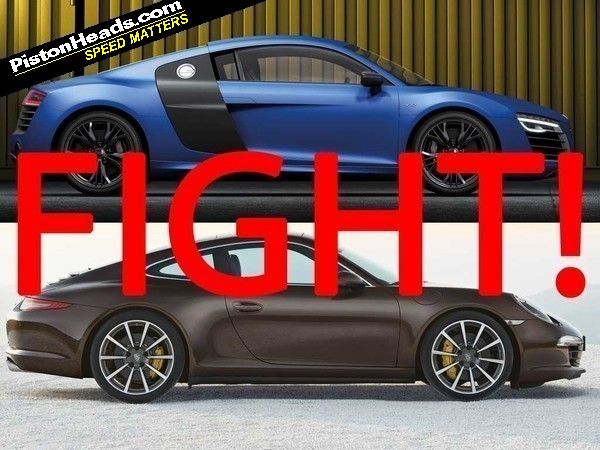 It's probably absolutely no coincidence whatsoever that Audi holds the launch for its
facelifted R8
range on exactly the same day as Porsche invites hacks to drive the all-new
991 Carrera 4
. The comparison of how the two actually square up to each other on the road is something that'll likely involve Mr Harris and some tyre smoke. In the absence of that, in the meantime at least, here is how the two face up to each other on paper.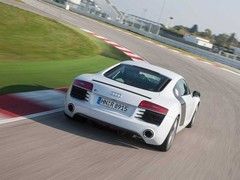 V8 R8 compares well with Carrera 4 S
Truth be told the two ranges aren't exactly in line, the Carrera 4 starting at £77,924 for a manual coupe and peaking at £99,006 for a 4 S Cabriolet with PDK. The R8 is, arguably, a class above and starts at £91,575 for a V8 manual coupe, rising to £127,575 for the new V10 Plus.
It's the same in power terms, the entry level 911 offering 350hp against the R8 V8's 430hp and the 4 S's 400hp falling way short of the 'basic' V10's 525hp.
Fundamental similarities remain though. Both are junior supercars with respectable prestige badges that won't scare the neighbours in the way something saucier like an Aston Martin, Ferrari, Lambo or McLaren might. An affirmative nod rather than a raised eyebrow and the whiff of trying too hard, if you will. Both are built from aluminium and are four-wheel drive, all-weather capable, happy to be used every day for 'normal' driving and both, now, can be had with seven-speed dual-clutch gearboxes that pretty much tick all the boxes of ease of use, residual protection and a nod towards real world fuel consumption and CO2. Crucially both are now acceptable choices in two-pedal form for the more purist end of their respective markets too. Quietly both have become, for the sake of a few options, six-figure purchases too.
And in the middle of the ranges - Carrera 4 S and R8 V8 - the overlap is pretty close. Price, performance, weight - all are to within a smidge of each other meaning anyone with £90K-plus to spend and the desire to own a prestige, four-wheel drive German sports car should be bending the ear of both Audi and Porsche sales execs.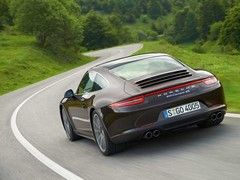 Head says Porsche has it. Heart though?
So which is it to be? Well, having gone through the numbers if you're looking for an everyday option there's little doubt the Porsche absolutely nails the Audi in one crucial respect. Two, if you include token rear seats. But stats wise 218g/km and 31mpg for a PDK 4 S are figures you could just about live with on the daily commute. 22.9mpg and 289g/km are big improvements for the new S tronic V8 R8 but, running costs wise, put you in a very different league indeed. And the 991 is essentially a brand-new car, the R8 an updated version of one that's been on the market six years now. Against that, even with the Audi badge on it, it does come across as a lot more exotic than the near ubiquitous (in some districts) Carrera.
Numbers for your crunching pleasure below. But which is actually the more desirable? Over to you...

---
 
Carrera 4
Carrera 4 S
R8 V8
R8 V10
R8 V10 Plus
Price (from)

£77,924

£80,311*

£87,959

£90,346*

£91,575

£94,475*

£112,675

£115,575*

£124,675

£127,575*

Engine
3.4 flat-6
3.8 flat-6
4.2 V8
5.2 V10
5.2 V10
hp@rpm
350@7,400
400@7,400
430@7,900
525@8,000
550@8,000
lb ft@rpm
288@5,600
324@5,600
317@4,500
391@6,500
398@6,500
kg (EC)
1,505/1,525*
1,520/1,540*
1,560/1,585*
1,620/1,645*
1,570/1,595
g/km
219/203*
234/215*
332/289*
346/305*
346/299*
mpg (comb.)
30.4/32.8*
28.5/31*
19.9/22.8*
19.0/21.6*
19/21.9*
vmax
177/175*
185/184*
187/186*
196/195*
198/197*
0-62mph
4.9/4.7*
4.5/4.3*
4.6/4.3*
3.9/3.6*
3.8/3.5*
 
*PDK
*PDK
*S tronic
*S tronic
*S tronic
All figures and prices for coupe variants.