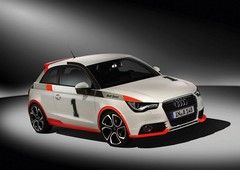 Remember the
Quattro-liveried Audi A1 concept
from a month or so back? Well it seems Audi does, and a fast A1 might be more than just a concept - folks at Ingolstadt are investigating the possibilities for a hot version of its baby hatchback.
PH editor Chris-R is currently in Berlin on the Audi A1 press launch, and has phoned up the PH office with the intriguing news that the all-wheel drive hardware from the Audi A3 - and its faster four-cylinder engines - could fit into the A1.
"We are definitely exploring some of these performance options," Said Lars Adler, head of A1 product marketing, to Chris-R, "but first we have to be confident that a market exists."
The transverse four-cylinder engines from the 'A' (Audi A3) platform will drop into the AO (Audi A1) platform with little trouble, although the quattro all-wheel-drive system would have to be adapted to fit the supermini - although Audi knows it could be done.
Don't go heading down to your local Audi dealer to pop a deposit down on a 208bhp, four-wheel-drive A1 2.0T just yet though. Even if it does happen, fast A1s will take at least four years to get to market.