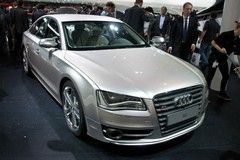 The Audi S models are strange beasts. On paper there are very PH-worthy power outputs and lots of technical intrigue but on the road it rarely adds up. Perhaps the flurry of new S Audis comprising S6, S7 and S8 here at Frankfurt will convince us.
Audi has dropped the Lamborghini-sourced 5.2-litre V10 and replaced it with a twin-turbo 4.0-litre V8 in the all-new S8. Power is up to 520hp and torque rises to 479lb ft. 0-62 disappears in just 4.2 seconds making this one fast limo.
Adequately green too, 27.7mpg apparently achievable thanks to cylinder deactivation - clearly this year's must have for otherwise thirsty V8s given its appearance on the SLK55 AMG too. There's also a new active noise cancellation (ANC) system. It works like a set of (very big, admittedly) noise cancelling headphones - 'hearing' the noises in the cabin and playing an anti-phase sound to cancel it out.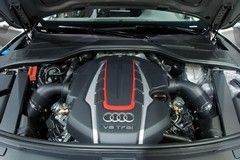 Joining the S8 is an all new S6 (saloon and Avant) and S7. They're losing the Lambo V10 as well and get the same 4.0-litre V8 in a lower state of tune.
Pegged at 420hp there's a 15hp reduction in power over the V10 but a smidge more torque. Each car gets the S8's cylinder deactivation technology and ANC system as standard.