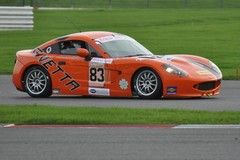 A pair of G40s should be racing...
If anyone's going to the Britcar 24hrs this weekend - for the racing,
and not just for the beer
- you might want to keep tabs on the combined Ginetta effort.
Ginetta will boast one of the largest numbers of same-marque entries on the grid, they tell us, ahead of Porsche and second only to BMW - with two G40s running in class 4, five G50/GT4s in class 3 and a G55 in Class 2.
Ginetta Boss Lawrence Tomlinson will also be making a return to 24hr racing with team Rollcentre Racing, in a G55 'mule' that's part of the test programme for Ginetta's newest machine, the G55 GT3.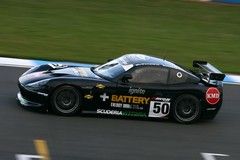 ...five (count 'em) G50s...
Due for launch later this year, the new G55 GT3 will be a £147,000, 3.7 litre racer, boasting 58 carbon fibre panels, a wider track making maximum use of the GT3 permitted dimensions, a new aero pack and 10"/12" rims for increased traction and handling, along with a striking 1.8m curved swan neck rear wing assembly.
The aero pack won't be on the car that's racing at the weekend, but Ginetta has promised to bring along a static demo car with all the new bits fitted so you can see it in the paddock.
Says Tomlinson: "I'm excited to be back at Britcar this year following the amazing success of our G40 last year. With the new design and continued engine development programme we expect the G55 GT3 car to be every bit as competitive as the GT3 Ferraris, Audis and Porsches.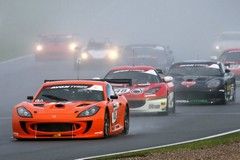 ...and this G55 - upgraded to GT3 spec
"Our G50 GT4 model has become a proven race winner beating the competition at every stage since its launch back on 2008; we hope our G55 GT3 car will mirror that success in GT3."