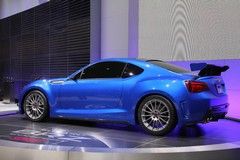 Feels like the Toyobaru coupe project has been going on for years, but we're finally getting close to the point where the
Subaru BRZ
and
Toyota FT-86
become a reality.
Here at the LA show Subaru is finally showing a STI-branded concept while Toyota – here under its US 'youth' brand Scion – has the latest take on the FT-86, known here as the FR-S. Both show real promise and tick all the PH boxes of light weight, rear-wheel drive and genuinely stunning lines. Both brands have had to make compromises to make the project work, Subaru dropping signature four-wheel drive and Toyota having to adopt the circa 200hp 2.0-litre direct-injection flat-four engine, but the result could well be the best of both worlds.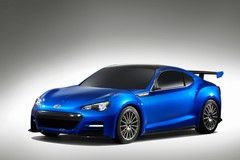 No bonnet scoop or 4WD but WR Blue prevails
The STI BRZ here previews a promised production-ready version due to debut at Tokyo at the end of November. And in 'WR Pearl Blue II' and boasting a suitably lairy wing it looks the business, the boxer engine meaning a super-low bonnet line and the compact shape suitably pumped up and aggressive. Subaru boasts of the fact the engine sits 119mm lower and 238mm further back than the Impreza, underlining the improved weight distribution the layout brings. This STI version also boasts a carbon roof, Brembo brakes and special 18-inch wheels. Looks have usually come a fair way down the Subaru list of priorities but the BRZ is a real stunner and we can't wait to get our hands on the real thing.
The Toyota FT-86/Scion FR-S alternative lo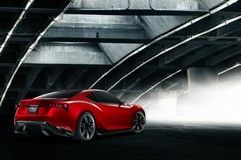 A lightweight Lexus LFA you can actually afford?
oks more concept and less production-near reality but clearly shares much in the metal, especially around the rear quarters. But there's a lot more going on up front, the arched wings rising proud of the bonnet and the whole package offering a real junior Lexus LFA look. Which is no bad thing.
Both should be with us in the metal by next summer. Can't come soon enough.