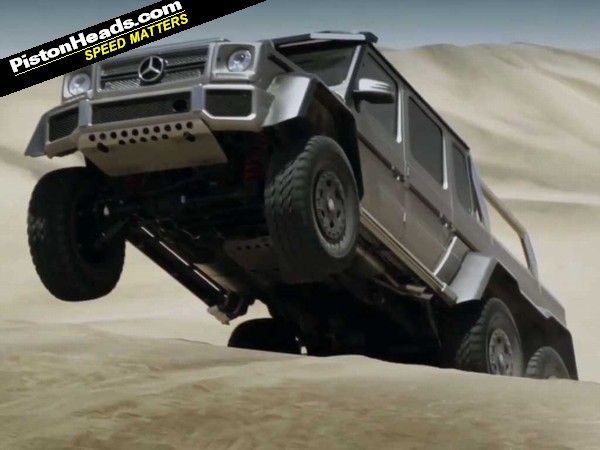 This is the new G63 AMG 6x6, and it's going to enter production. And let's face it: it's a huge, steaming pile of awesome.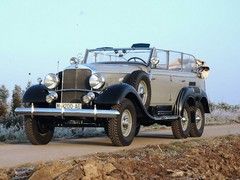 Merc has form with six-wheeld G-Wagens...
Entrants into the unnofficial '
most over the top G-Wagen
' competition at this year's Geneva show displayed a range of weird and wonderful creations. But this one – well, we just can't hate it. Not when it's as utterly barmy as it is. It's based around the diesel-powered G-Wagen 6x6 which has been in production since 2011, and which has been supplied to the Austrian military since. In fact, Mercedes has a long history of producing six-wheel-drive vehicles; as early as 1920, the company was producing its Gelandewagen, a six-wheeled monster with huge, knobbly tyres that featured three rows of seats and enabled ... groups of gentlemen to travel off road together. You know, for exploring the countryside and stuff.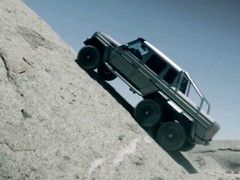 ...nothing quite like this, though
The G63 6x6 won't take so many passengers, but it does feature a dirty great pick-up rear end that'll hold... ooh... lots of stuff. Of greater import, though, will be the 'normal'
G63
's twin-turbocharged 5.5-litre V8 under the bonnet that'll produce 544hp, and which will drive all six wheels through Merc's 7G-Tronic and and five – count them – electronic locking differentials to all three axles in a 30:40:30 F:C:R split. As you've probably guessed, though, it's no flyweight; in fact, the G63 6x6 will tip the scales at 3,775kg. You wouldn't want it to roll over your foot, then...
Despite all that weight, it's no slouch. 0-62mph comes up in "under six seconds", says Merc, while top speed is... erm... 100mph, actually – an electronic limit necessitated by those monster tyres. And, if this video is anything to go by, it's pretty much unstoppable off road – check out the point at which it creams up  a near-45-degree rock face almost as though it wasn't there. Blimey.